Alicante Nudists
For Adults Only
Bed and Breakfast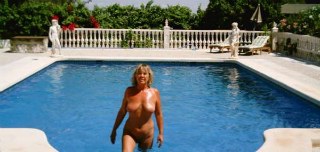 The Alicante Nudists adults only location is ideally situated 15mins north of Alicante airport, between the town of "San Vincente" and the village of "Agost".
Maggie and Ian welcome all adults to their wonderful bed and breakfast villa and cabins, which are set in a beautifully private setting in the lovely Costa Blanca area of Spain.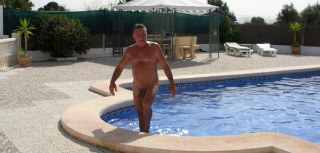 Accommodation at Alicante Nudists is on a bed and breakfast basis but, as you will see from the guests comments, Maggies evening meals are thoroughly recommended!
Self catering is also possible in the villa. Transport with a driver is also available to enable you to sample the excellent local restaurants so, all options are covered for catering!
You can certainly go for that all over tan here. It is so private that you can be naked for 24 hours a day!
During the day, when you are not sunbathing by the pool, you may want to stroll around the grounds. You then have a chance, when in season, to sample the home grown fruit and vegetables.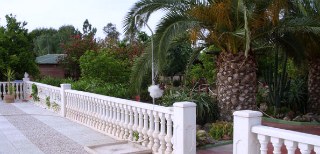 Maggie and Ian are very welcoming to singles, couples or party groups.
The villa takes up to six people and consists of three bedrooms (one double and two twins), a fully equipped kitchen, a lounge with sky television and a bathroom/shower.
The air conditioned cabins, both of which sleep two people, have tea and coffee making facilities and their own shower room just a short walk away.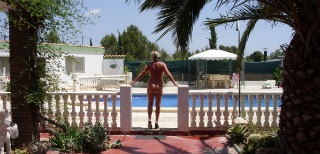 If you are able to tear yourselves away from Alicate Nudists, there is plenty to do in the area.
You may want to visit one of the various naturist beaches within 25 to 30 minutes away!
If it is shopping, bars and restaurants you are looking for then Benidorm is just 30 minutes away! More locally, just 10 minutes away, is the town of San Vincente and the village of Agost.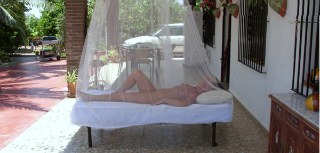 These all have local markets on various days of the week.
For the golfers amongst you there is a choice of six courses all within half an hour!
Don't forget, transport is available for hire for any of these excursions to enable you to enjoy the local wine!
However you wish to spend your holiday, you are guaranteed a wonderfully relaxing time with Maggie and Ian at Alicante Nudists!
If you should contact Maggie and Ian please could you mention that you read about them on The Naturist Holiday Guide. Many thanks!

---
Testimonials
A very lovely place. Peaceful, beautiful and clean. I was there in a quiet period, but it was perfect for me. The owners, Ian and Maggie, are very helpful and service minded. And they know the area. And I also like the fact that they respond quickly on mail and phone. The location is near to the airport, but very quiet. I will be back, for sure.
Ole, Norway
********************
Stopped at Alicante nudists 3 times now. We are a couple in our late 30's. Twice we have had the place to ourselves and once with some other similar minded guests. Great food, great hosts, lovely pool. The most relaxing holiday we've ever had. Be back again August 2011. Truly a five star relaxing break. We were first time nudists and have totally clicked with this way of life. What a refreshing change to go back to nature 2 weeks of the year!
Gary and Kath
********************
We have just returned from an extended great weekend break. Ian and Maggie made the experience truly memorable. We were togther with our friends and we enjoyed every moment...Maggie's food is simply GREAT...
Highly recommendable naturist place
J&M
********************
Thank you so much Maggie and Ian for a great weekend break in your little paradise, it was just what we needed. You made us feel so comfortable and welcome as it was our first time in a naturist resort, even though we regularly spend our weekends on the local nudist beach. From the fab English breakfasts in the morning to the home cooked evening meals,the accommodation was fantastic, our break there complete. Will definitely be coming back...in fact next week.
See you soon.xx
Dave and Michelle
********************
Mags and Hodgie were fantastic. It was our first experience and from the moment Hodgie picked us up from the airport we were made to feel at ease.
Having arrived at the villa we were met by Maggie who was a real star. Our inhibitions left us within minutes and we had the most wonderful, relaxing, peaceful and comfortable time of our lives. Our only regret was we only planned a week.
Mags could not do enough for us, her cooking was superb and the accommodation was great, mix this with Hodgie's sense of humour and it made our holiday a truly memorable experience.
We met some wonderful people during our stay including Australians, Swedish and English who were all repeat visitors and which we will keep in contact with.
We now realise it's something we should have done years ago and are already planning a return in September.
Many thanks Mags and Hodgie for making our experience so special.
Tony - Shaz
********************
My wife and I have have just returned from our first naturist holiday at Alicante Nudists.
The owners Mags and Hodge are excellent hosts. Nothing is too much trouble for them. The food was first class and both the cabins and pool excellent.
If you are a first timer please try this resort, you will not be disappointed. We will be returning next year!
Patrick and Dorothy
Click here for more testimonials

---

Visit WWW.ALICANTENUDISTS.COM website

Return from Alicante Nudists to Naturist Holiday Guide home page
Please subscribe to our newsletter Naturist Times. It tells you regularly about updates to our website plus other interesting naturist bits and pieces.