Nudist Accommodation
in Australia?
Look No Further!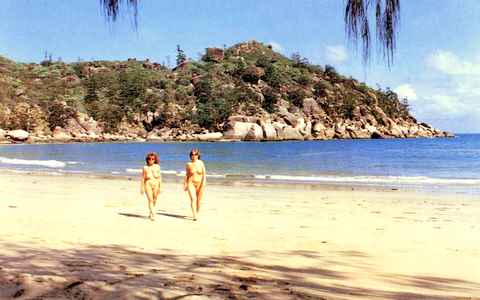 If you are planning a holiday to Australia, or maybe you live there, and are looking for naturist accommodation then we can help you! We have linked up with one of the countries top Travel Agencies to offer you a wide range of naturist accommodation.
At the following specialist naturist accommodation nudism is the norm.

Just over an hours drive from Brisbane, and situated in 42 acres of Australian native bush, Tironui offers the ultimate in naturist freedom.
Robalwin , in Far North Queensland, is a quiet & private nudist B&B with a large solar heated pool, hydrotherapy spa, infrared sauna, cooking facilities and professional massage.

boBrene , situated between Brisbane and the Gold Coast in Queensland, is 6.125 ha property backing onto Tamborine State Forest, and is part of the Land for Wildlife program. It is a private naturist retreat with swimming pool and spa.

Sunland Holiday Village in Southern Australia is the only ocean beach nudist resort in the country with magnificent sand dune walks and a beautiful sandy beach.

We have also just heard of Cabins in the Clouds which is a private, bushland, adults only retreat with its own private tennis court, swimming pool and hot tubs!

However, there are many other properties in Australia that describe themselves as suitable for nudists. For convenience we have broken these down into States.


View Larger Map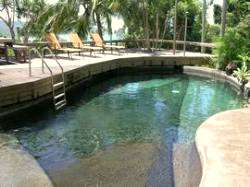 Starting in
QUEENSLAND
we have the already mentioned boBRENE retreat and Robalwin bed and breakfast.
Below we have listed some more properties that you might be interested in!
We must point out that, although we have never visited these, we selected them as seeming particularly suitable for naturists!
Daintree Views
in Far North, is a quality self contained eco-retreat, set on 20 acres of privately owned World Heritage Rainforest.
Still in Far North is
Rainforest Family Retreat
. Secluded, private and quiet, the only sound you will hear is the rainforest. Uninterrupted spectacular sweeping views across the valley.
Another property set in the rainforest is
Gap Creek Retreat
, a beautiful secluded hideaway right on the edge of the Cedar Bay National Park.
Also in Far North is
Mai Tai Executive Villa
, a fully self contained villa set on a magic 4 acres of the tropical rainforest.
Elsewhere, in the Whitsundays region is
The Ridge
, the perfect secluded adult retreat for your holiday.
On the coast at Sunshine Coast & Hinterlands you will find
Vue de Lumieres
, in secluded grounds, high above the Sunshine Coast where you can relax, recline and refresh in absolute luxury.
Also on Sunshine Coast, pamper yourselves at
Balinese Beach House
, rated one of Australia's Best Holiday Houses by VOGUE ENTERTAINING AND TRAVEL!
For your convenience we have created a shortlist of
our pick of Queensland properties
for you!
Here is a list of all Queensland properties that describe themselves as suitable for nudists.
We have another eight properties in NEW SOUTH WALES.

In the North Coast area you have several choices.
Set in Private Mt Warning Rainforest is Waterfall Hideout , a romantic, secluded wood fire & spa cabin for one couple only.

On a much larger scale, but also secluded and private in 12 acres is Marlowe which sleeps up to ten people.

Back to accommodation for two people is Valleydale Cottage with the entire cottage and its 90 acres, to yourself and partner.

RainbowStay , again in Far North Coast has its own very own large salt-water pool in five acres of secluded tropical gardens with bush & creek walks.

In New England is Tor Cottage a secluded cottage for two with spa and wood fire set amongst 2000 acres of private forest and granite boulders.

In Hawksbury River area is Singletons Retreat an 1865 yr old cottage in a private setting with a water front on the Hawkesbury River.

Set in an intimate valley in Central West is Paradise Mudgee offering complete peace and privacy by a wonderful river.

For your convenience we have created a shortlist of our pick of New South Wales properties for you!
Here is a list of all New South Wales properties that describe themselves as suitable for nudists.
Gypsy Falls Waterfall Retreat in the beautiful Lorne Valley now has specified naturist weeks.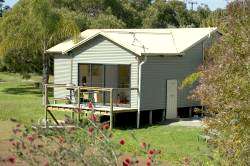 Further south on Phillip Island in VICTORIA is Mackaloucoo Retreat a breathtaking home that offers luxury living with total privacy.
Here is a list of all Victoria properties that describe themselves as suitable for nudists.
Relaxation, peace and privacy is assured at Kay Creek Cottage in TASMANIA, nestled snug into the side of the hill with extensive views over the Huon River.
Here is a list of all Tasmania properties that describe themselves as suitable for nudists.
In SOUTHERN AUSTRALIA is the already mentioned holiday village of Sunland, together with Clare View Accommodation a quiet Clare Valley getaway with 360 degrees of amazing views on top of a hill, close to everything you need.

On Fleurieu Peninsula is Hill View Retreat for peace and tranquility with sauna, spa and swimming pool.

For your own secluded, private bay stay at Dutton Park Beach Cottage , a stone cottage nestled in a small cove bounded by a wildlife sanctuary and a creek. Fully self contained with large kitchen living area which overlooks the beach and bay that are only metres away.
Here is a list of all SA properties that describe themselves as suitable for nudists.
Finally, in the Margaret River and South West of WESTERN AUSTRALIA you will find complete privacy for two at Borneholm Lakehouse in a luxurious setting with a 2 person spa, lakeside views and easy access to tourist sites.

Wolfes Landing is a rustic 2 level reproduction pioneer home which is surrounded by almost 30 acres of pristine native forest situated directly on the Nenamup Inlet.
Here is a list of all WA properties that describe themselves as suitable for nudists.
If you should stay at any of these properties please could you mention that you read about them first on The Naturist Holiday Guide.


Have fun and we would love to hear about your holiday in Australia!