Costa Natura Apartment
Every Couple's
Naturist Dream
Costa Natura on the Costa del Sol is Spain's oldest naturist resort. It is built like a traditional Andalusian mountain village with white-washed houses and terracotta roof tiles, which gives the resort great charm.


---
Apartment 169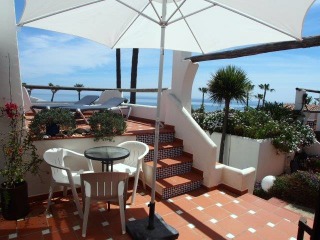 Costa-Natura 169 is a wonderful one double bedroom apartment. The 30m2 terrace with sea view has direct access to the 500m long naturist beach.

Fully renovated in 2011, the interior is of modern Scandinavian style and includes air conditioning and under floor heating making it attractive in all seasons.

Facing south, the apartment benefits from sunshine on the upper terrace from sunrise to around 6 or 7 in the evening. There are fantastic views from this terrace.

The lower terrace is covered by a white shade sail, ideal if you prefer to relax out of the sun.

The 30m2 interior includes a fully equipped kitchen enabling you to cook all your meals if you wish.

The sofa bed is of a very high quality and extremely easy to change from sofa to bed and back again.

The living room also has a 26" flat screen TV with built in DVD player. It is also possible to view some Spanish, German and English channels.

The spacious and light bathroom is tastefully done in white and Travertine marble, giving your Costa Natura naturist holiday a feel of luxury.

Click here for more information on Apartment 169
---
Apartment 170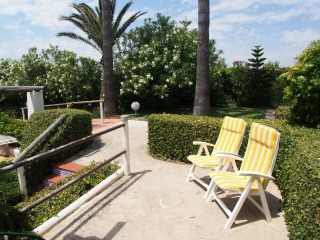 Costa Nature 170 is a 20m2 apartment with a 20m2 terrace, and suitable for two people. Although of studio size, every effort has been made to make the best use of the space, creating a bright and roomy feel.

The interior is of modern Scandinavian style and includes air conditioning and under floor heating making it attractive in all seasons.

The apartment faces south and west, with the sun reaching the terrace between 10 and 11 o'clock and ensuring the best of the evening sun.

The high quality patio furniture can also be used as indoor furniture.

The modern kitchen has a fridge, dishwasher and combination convection oven and microwave. There is also a spacious granite worktop thus enabling you to self cater if you should wish.

The living space is surprisingly good with sufficient space for you to eat comfortably indoors.

The double bed has a soft bed gable so you can sit and watch television or read. The flat screen TV has Spanish channels and free English and German channels.

The bathroom is tastefully decorated in white and Travertine marble, with a large shower and modern, high quality fixtures.

The apartment has a wardrobe and extra storage space under the bed.
Click here for more information on Apartment 170
---
Apartment 176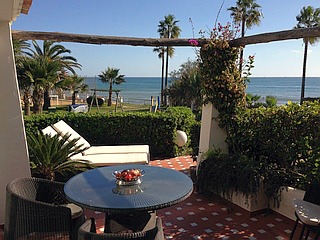 Costa Natura 176 is a 30 m2 apartment with a 16 m2 terrace, and suitable for two people.
The apartment has been completely renovated to an exceptionally high Scandinavian designer standard. It is equipped with full air conditioning.

The modern kitchen with a beautiful granite worktop is fully equipped, even with dishwasher, microwave oven, etc. You are able to cook all your meals in the apartment if you so wish.

The interior is modern and stylish, featuring high-end furniture and details and even two luxury reclining leather chairs.

The bedroom has a very comfortable full double bed measuring 150 x 190 cm and also a very large wardrobe of which the doors are mirrors.

The bathroom is spacious, light and welcoming, equipped with a luxury shower with Body Massage Spray Jets. As an extra touch of luxury, the bathroom features a washing machine and a dryer.

Costa Natura 176 is situated to the south and east, providing sun on the terrace from early morning until mid-afternoon. The location is absolutely superb in the first line and directly onto the lawn, beyond which the beach awaits.

As it is located far away from the road, traffic noise is no issue; you will only hear the sound of the waves.

Privacy is secured by a low hedge. The sweeping sea views from the terrace are breathtaking and inspiring. The patio furniture and sunbeds are of very high quality.
Click here for more information on Apartment 176
---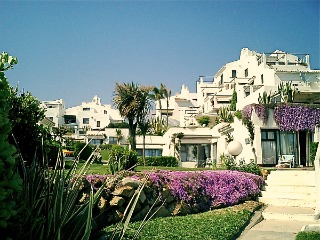 Costa Natura is an extremely family friendly naturist resort located directly on the naturist beach and only three kilometres to the west of Estepona town centre.

The beautiful, award winning gardens, are filled with Mediterranean plants and palm trees.
Beautiful shrubs provide wonderful colour and scents surrounding the many sun bathing lawns and pathways.

Because of its situation right on the Mediterranean, in summer there is a warm, pleasant breeze from the sea and in winter the resort enjoys the best weather in Europe allowing naturism all the year round.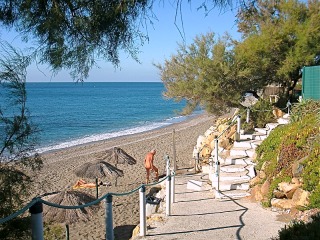 The resort has its own restaurant and bar serving a menu of food to suit all tastes, including local dishes. During the high season there is a variety of nightly entertainment.

Renato's Beach and Garden Kiosk provides a good range of snacks, salads, food and drinks and serves both direct beach access and the Renato's bar area within the resort.

For self catering there are two supermarkets just across the road from Costa Natura, providing a wide variety of fresh meat, fish and vegetables.
Among the leisure facilities is a huge outdoor solar heated pool with separate children's pool. The pool is heated with solar panels throughout the winter.


Beside the pool is a large eight person heated Jacuzzi. For complete relaxation, there is an eight person sauna which is available from three o'clock each day.

For the more active, there is a full sized, netted volleyball court, table tennis tables, and a purpose built Petanca / Boule area.

In other words, Costa Natura is the perfect resort for naturists of all ages, and ideal for a couple just escaping from the pressures of everyday life.
If you should contact Nina and Peter please could you mention that you read about them on The Naturist Holiday Guide. Many thanks!
Please click here for more information on Apartments 169 and 170
Return from here to Naturist Holiday Guide home page

---
Please subscribe to our newsletter Naturist Times. It tells you regularly about updates to our website plus other interesting naturist bits and pieces.