Relax at Naturist Resort Solaris
a Piece of Paradise in Croatia.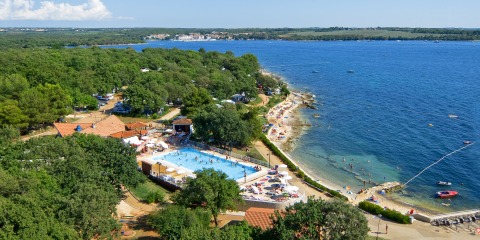 Naturist Resort Solaris is located on the peninsula Lanterna on the west coast of the Istrian peninsula.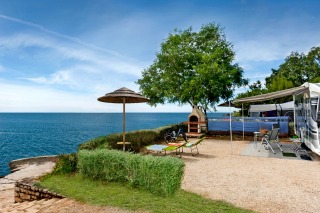 This area, due to an abundant plant world, is a true small paradise for lovers of a natural environment.
Here you can swim to your heart's content with its numerous coves and small islands on the coast.
Or maybe you would just rather relax in the resort, surrounded by the wonderful Mediterranean sounds and colours in this stretch of the Istrian peninsula.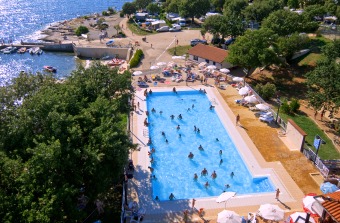 Visit the town Porec, twelve kilometres away, with its many historical and cultural attractions.
A summer evening can be spent strolling through streets full of life, with painters, musicians and artists.
Maybe just while away your time in one of the many cosy bars and cafés.
Naturist Camping Solaris is a part of a naturist resort which is amongst the best organised and equipped naturist facilities in all of Croatia.

Along the two kilometre long coast with its idyllic pebble beach, stretches a thick oak forest in which there are pavilions with a total of 128 rooms, 12 suites and 144 apartments.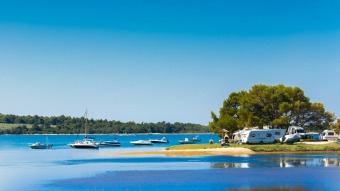 The shady and spacious pitches are situated with an unforgettable view of the sea. Enjoy the freedom of being nude and relax in the sun at the swimming pool.
There is a wide range of sporting activities both aquatic and on land. Various activities such as water aerobics are organised around the salt water pool whilst other sports include eight tennis courts, table tennis tables and mini golf.
There are organised sports activities as well as an animation programme for children between the months of May and September.
Amongst the services available at the Resort is free wireless internet at the reception. There is an A la carte restaurant and also a grill restaurant. There are bars at both the swimming pool and the beach.
Should you wish to cater for yourselves there is both a supermarket and a mini market. You can even arrange for a berth should you arrive in your own boat!

Contact details are as follows:-
tel: 00385 52 465 010
fax: + 385 52 460 199
e-mail: camping@valamar.com
If you should contact Solaris please mention that your read about them first on The Naturist Holiday Guide.
For further details please visit:-
CAMPING:- Naturist Resort Solaris - Camping

APARTMENTS:- Naturist Resort Solaris - Apartments


---