The Greek Islands!
Naturist Sailing
at its Best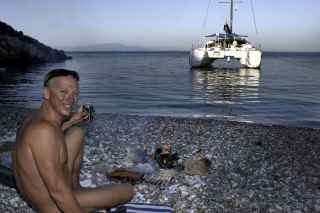 Have you ever considered going on a naturist sailing holiday? If so, then Vigla Natura may have come up with the perfect solution for you.
Vigla Natura are organising a one week naturist sailing trip around the stunning Ionian Islands. Their new catamaran yacht, (with Mark your naturist skipper), will allow you the freedom of having a sailing holiday without any prior sailing experience or qualifications.
*UPDATE*
New dates of 7th to 14th September 2013 (one cabin left)
The trip will take you to some of the most beautiful areas of Greece and give you the chance to learn to sail or just completely relax on board.
This charter is exclusive to Vigla Natura and will follow a route around the beautiful coastline of the Ionian Islands taking in some of the most stunning secluded bays, tranquil Greek harbours and spectacular scenery.

The yacht is designed with rounded bows giving it excellent stability for those who are new to sailing, as well as great performance for the more adventurous sailors.
The catamaran offers ample space on board to live, sunbathe and socialise. It boasts double bed cabins, toilets (heads), hot indoor showers, deck shower, large galley (kitchen) as well as plenty of outside space to enjoy the sun.
The living area is extremely spacious, both inside and out. The saloon provides seating for all guests around one table. The outside benefits from a large shaded cockpit area.
With a group maximum of eight people you will have the chance to enjoy both the social aspects of naturist sailing as well as obtain quality time to yourselves whilst on board.
This is a sailing experience and involves all the guests helping with the day to day running of a yacht. This includes sailing the yacht and mooring, cooking and preparing food (some food is supplied in the price) and washing up after meals on board. There is not a host/cook, but your skipper will be there to help.
You need to be fit enough to be able to move freely around the yacht.
Breakfast will be purchased and placed on board and there is plenty of opportunity to buy other food items for meals that are not included.
Included in the cost:-

Transfer to yacht from airport or club
All charter fees
Breakfast each morning with coffee and tea
Fuel
Linen
Complimentary naturist sailing towels
Harbour fees
Cleaning fees
Skipper
Transfers back to club or airport
Not included in the cost:-
Flights
Meals and drinks on board
(This trip will only run subject to numbers)
Private Charter prices are also available.
It is now possible to book for the week of 8th - 15th June 2013. You will have to act fast as these trips do sell very quickly!
Proposed Itinerary (may change due to weather)
Arrival Day
Drive to the north of Kefalonia and catch a ferry to Lefkas to join the sailing yacht. We then may need to motor and sail back to Kefalonia to meet any crew who are on a late flight.
Day One
Breakfast on board then depart in the morning. Stop for lunch and swimming at one of the stunning little coves on the Eastern side of Kefalonia. Sail to the east side of Ithaka and find a bay for the night. Stay naturist for the whole day!!!
Day Two
Short sail on the look out for a quiet bay for lunch, swimming and relaxing. Into Sivota on the south of Lefkas for the night
Day Three
Set off for a good sail to the unspoiled islands of Kalamos or Kastos. Lunch on board before heading to a secluded bay for the night
Day Four
Back west and to the island of Meganissi. Night in the stunning habour Spartihori.
Day Five
We don't need to cover so many miles today so this is an opportunity to try and get the best sailing out of our yacht. Lunch onboard. Stay overnight in a quiet bay.
Day Six
Back to Lefkas marina today but loads of time for sailing and relaxing.
Departure Day
All ashore for your trip back home or for a second weeks stay at Vassaliki Naturist Club.
To make a booking visit the naturist sailing page on the Vassaliki website.
If you should go naturist sailing with Vassaliki please mention that you read about them first on The Naturist Holiday Guide.