Nudefest2007 Update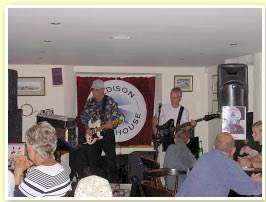 There have been updates since we wrote the page on Nudefest2007. The band for Friday night is Edison Lighthouse, a hit band from the 1970's, which guarantees a great start to the weekend.

On Saturday there will be a Naturist Exhibition Centre marquee where, amongst other stands, you will find the BN shop, a Peng Travel stand, Lifestyle Press who publish 'Bare Britain' and 'Bare Beaches' will be there as will Malcolm Mellon a reknown body painter. Jan, who is a trained holistic therapist, will be giving demonstrations of massage and reflexology.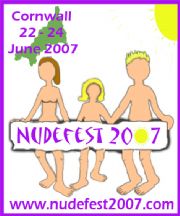 Nudefest 2007 'T' shirts will be on sale and there will be craft sessions for children. There will also be yoga and belly dancing sessions and a Mexican lady demonstrating hand made jewellery. In other areas there will be organised team games for adults and children and also 'silly sports' that might involve getting wet! A 'Prize Draw' is also planned. On a sightly more serious, but very important issue, Malcolm Boura, the BN Research and Liaison Officer will be running 'All about Naturist Beaches' sessions dealing with all aspects of care of our naturist beaches. A contingency 'wet weather' programme has also been organised.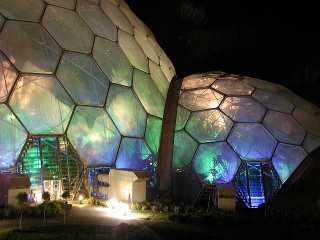 One of the highlights of the weekend will undoubtably be on Saturday evening when the world famous Eden Project will become totally naturist. The evening will end with a disco back at Newperran.
This all adds up to what promises to be a tremendous Nudefest2007.


FURTHER UPDATE
British Naturism have negotiated an excellent discount (about 40%) for Nudefest guests who want to get from Newperran Holiday Park to the Eden Project on the Saturday night from Explore South West (ESW) who run a fleet of bio-diesel taxis and minibuses (and have fingers in other pies too). They will be taking a stand in the exhibition hall to showcase their services and take bookings. BN are expecting that people won't mind sharing a taxi (and obviously they will pay more if they don't) and so ESW will be encouraging people to put their name on a general list and be allocated a place on the evening depending on the take up. Obviously, ESW will be doing return trips too, so make sure you book for both.
Booking and more detailsVisit the Newperran website , email them, or call them on 0845 166 8407 (calls charged at local rate) to book your pitch for Nudefest2007 or request a brochure to find out more about Newperran Holiday Park, including terms and conditions of booking.

Please subscribe to our newsletter Naturist Times.It tells you regularly about updates to our website plus other interesting naturist bits and pieces.
---
Return from here to British Naturism page Return from Nudefest2007 Update to Home Page