Naturist Times, 9 June 2007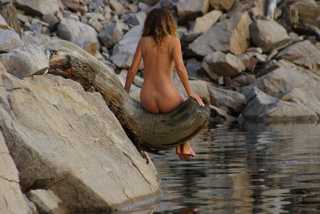 Naturist Times brings you news of updates to our website and other naturist 'bits and pieces'.
If you like this newsletter, please do a friend and us a big favour by sending it on.
If a friend did forward this to you, please subscribe by visiting www.naturist-holiday-guide.com



---

June is an important month in the British Naturism calender this year. This is because BN is organising Nudefest2007 at Newperran Holiday park in Cornwall between the 22nd and 24th June. This is an achievement in more ways than one. Firstly, this will be a major naturist event with many activities being organised. It is also very significant that the event is being held at, what is normally, a textile holiday park. The owners, Keith and Christine Brewer, have been extremely helpful and very enthusiastic towards the idea.

There have been updates since we wrote the page on Nudefest2007. The band for Friday night is Eddison Lighthouse, a hit band from the 1970's, which guarantees a great start to the weekend. On Saturday there will be a Naturist Exhibition Centre marquee where, amongst other stands, you will find the BN shop and a Peng Travel stand. Nudefest 2007 'T' shirts will be on sale, there will be craft sessions for children, and Jan, who is a trained holistic therapist, will be giving morning and afternoon demonstrations of massage and reflexology. In other areas there will be organised minor games for adults and children.
One of the highlights of the weekend will undoubtably be the Garden of Eden evening when the world famous Eden Project will become totally naturist. The evening will finish with a disco back at Newperran.



---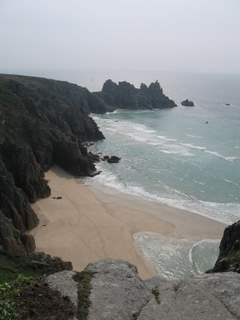 Partly due to the fact that we are busy most weekends at the moment but mainly down to the weather, we have only been to the beach once during the last month. That was at Pedn Vounder in Treen again when we camped with our friends Clare and Annette. I mention this because Jan and I have since realised that we both had our first time naturist experience on Pedn. Mine was over thirty years when I was teaching and used to take my children to the beach during the school holidays. Jan's was many years later after she had met me.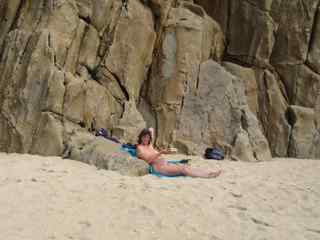 The significance of this, we decided, was that Pedn Vounder is the perfect place for a first time naturist experience. Naturists and textile bathers are totally acceptant of each other and so neither looks out of place. Consequently, for the first time naturist it is possible to arrive wearing a costume and remove it as and when the time seems right. Having done so we both wondered why we had waited so long before experiencing naturism and we now feel completely 'over dressed' when having to wear a costume on a textile beach, which is extremely rare!


---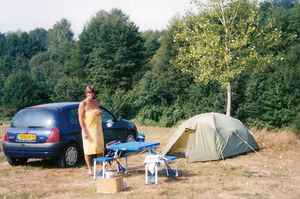 As we mentioned in an earlier newsletter, Jan and I are taking Harry camping this summer and are looking for somewhere inland, preferably south west France. If anyone has any recommendations that haven't already been mentioned on our website, please contact us because we are always on the lookout for new campsites.

Keep in touch!

Rog and Jan


---