Alicante Nudists
For Adults Only
Bed and Breakfast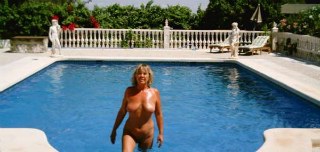 The Alicante Nudists adults only location is ideally situated 15mins north of Alicante airport, between the town of "San Vincente" and the village of "Agost".
Maggie and Ian welcome all adults to their wonderful bed and breakfast villa and cabins, which are set in a beautifully private setting in the lovely Costa Blanca area of Spain.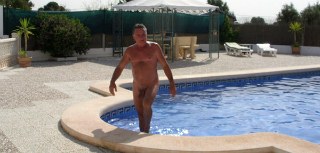 Accommodation at Alicante Nudists is on a bed and breakfast basis but, as you will see from the guests comments, Maggies evening meals are thoroughly recommended!
Self catering is also possible in the villa. Transport with a driver is also available to enable you to sample the excellent local restaurants so, all options are covered for catering!
You can certainly go for that all over tan here. It is so private that you can be naked for 24 hours a day!
During the day, when you are not sunbathing by the pool, you may want to stroll around the grounds. You then have a chance, when in season, to sample the home grown fruit and vegetables.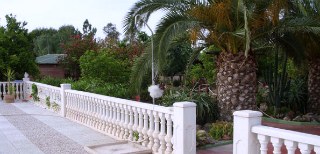 Maggie and Ian are very welcoming to singles, couples or party groups.
The villa takes up to six people and consists of three bedrooms (one double and two twins), a fully equipped kitchen, a lounge with sky television and a bathroom/shower.
The air conditioned cabins, both of which sleep two people, have tea and coffee making facilities and their own shower room just a short walk away.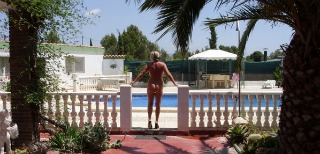 If you are able to tear yourselves away from Alicate Nudists, there is plenty to do in the area.
You may want to visit one of the various naturist beaches within 25 to 30 minutes away!
If it is shopping, bars and restaurants you are looking for then Benidorm is just 30 minutes away! More locally, just 10 minutes away, is the town of San Vincente and the village of Agost.

These all have local markets on various days of the week.
For the golfers amongst you there is a choice of six courses all within half an hour!
Don't forget, transport is available for hire for any of these excursions to enable you to enjoy the local wine!
However you wish to spend your holiday, you are guaranteed a wonderfully relaxing time with Maggie and Ian at Alicante Nudists!
If you should contact Maggie and Ian please could you mention that you read about them on The Naturist Holiday Guide. Many thanks!

---

Testimonials

I HAVE JUST RETURNED FROM THE MOST RELAXING HOLIDAY EVER.WHETHER YOUVE TRIED IT BEFORE OR NOT YOU MUST NOT MISS THIS OASIS OF RELAXATION.
THE TWO HOSTS MAGGIE AND IAN ARE TWO OF THE NICEST PEOPLE YOU COULD WISH TO MEET.FROM THE MINUTE YOU ARRIVE TO THE MOMENT YOU LEAVE THEY ARE SO ATTENTIVE.EVERYTHING UNDER ONE ROOF IS THE WAY I WOULD DESCRIBE IT, WHATEVER YOU ARE LOOKING FOR IN A HOLIDAY.
I ENJOYED JUST 3 DAYS..FAR TOO SHORT. THE LOCATION IS EXCELLENT,BEING JUST 15 MINUTES FROM ALICANTE AIRPORT,MAGGIES COOKING IS TO DIE FOR AND IANS SENSE OF HUMOUR JUST ADDED TO MY FIRST NATURIST EXPERIENCE.
I AM ALREADY CHECKING MY DIARY FOR MY RETURN DATES.OTHER GUESTS WERE JUST AS FRIENDLY AND WELCOMING.CANT WAIT TO RETURN.

KEITH, UK
********************

Well, we had to dress and drive away yet again....... But with more fond memories of Maggs and Hodgies hospitality. Are there no lengths this pair won't go to please us all ? ? ?
They are at your beck and call all day. They cook lovely meals, drive you around ( if you can tear yourself away from the pool) - there are so many lovely places to visit in the area.
And with the airport just a short drive away it's easy enough to get to for a weekend break.
We guarantee that even a short break will not fail to de-stress you, and if you can stay longer, mores the better.
 
We highly recommend giving this a try! Get back to nature and meet up with some lovely like-minded people from all walks of life.
Thanks again Maggs and Hodgie, see you soon x x
Marlene and Boycee, UK
********************
I stayed with Maggie and Ian from the 8th May for a week and had a very enjoyable holiday. This was my second time with them and will definitely be back, hopefully later this year.
The other guests were good fun and conversation round the dinner table was always lively. Maggie's food was excellent and her massage memorable.
Colin, UK
********************

We have been to Maggie and Ian's place half a dozen times now. It has become our destination of choice when looking for a relaxing few days away in the sun.
What better way to unwind and to get an all over tan. Maggie and Ian are always very welcoming and make us feel that we are staying at a home from home.
The place is clean, the pool very welcoming when it is hot and Alicante is just a few minutes away for an evening out. A big plus for us is that we don't have to book a whole week from Saturday to Saturday so giving us flexibility in the length of our stay.
We would definitely recommend Alicante Nudists to anyone contemplating a naturist holiday and in fact invited some friends of ours to go with us on our recent stay of 4 nights at the start of May.
J & A, UK
********************

Within 20 minutes of leaving Alicante Airport, we were happily naked and enjoying the sun around Maggie and Ian's beautiful swimming pool.

We had seen our room, been offered a drink and invited to enjoy a wonderful home cooked meal with Maggie and Ian and their other seven guests that evening. Already we felt relaxed. Maggie quickly explained how her system worked so we could help ourselves to drinks whenever we felt like it. She had introduced the other guests who were all kind and friendly like-minded folk.

After a cooked breakfast the next morning, Maggie took a few of us down to the local market and then on to an amazing local pottery before returning for lunch and an afternoon of serious sunbathing.

We quickly felt at home and enjoyed the company of all Maggie and Ian's guests for the five days we were there. We shall certainly be returning to Alicante Nudists for more sunshine and great hospitality, especially the after dinner stories. Thank you, Maggie and Ian.
Ros and Geoff, York, England
********************

10th May
This was my first experience of naturism and was a little nervous.
Maggie and Hodge are fantastic hosts and made the experience very relaxing, accommodation is lovely, just what I need for a few relaxing days, I will definitely return to Alicante Nudists, hopefully in the very near future.
If you are thinking of trying naturism I would highly recommend a booking here.
Mark, UK
********************
I stayed with Maggie and Ian (Hodge) at Alicante Nudists in May 2014 and had a great week of chill-axing as they say these days !

The facilities are second to none and the hosting magnificent. Nothing is ever too much trouble for Mags or Hodge and they go out of their way to ensure no problems spoil or may your holiday.

All in all, a wonderful, tranquil place and one I will not hesitate to visit again.

Thanks Mags and Hodge

John, UK
********************

Third visit sadly over - would have loved to stay on for another 2 weeks. It certainly won´t be my last visit. Better hosts than Maggie and Ian will be hard to find.

Friendly, kind, helpful, - and the homecooked food by Maggie - mmmmm delish!!!

I belong to the crowd of return visitors and recommend anyone to try a visit to Alicante Nudists - you will not regret it!!

Thank you Maggie and Ian for a brilliant 2 weeks. See you again soon as possible. Big hugs to you both.
Eileen, Durham, UK
********************
An amazing break with the most wonderful hosts - If you are looking to recharge your batteries with a relaxing holiday, fabulous food and all the attention you could ever need, then look no further than Maggie & Ians.
You will be made most welcome and put at ease in an instant. Whether you are a regular naturist or fancy the idea of slipping your things off for the first time, then look no further.
Conveniently located close to Alicante airport you can fly and flop with plenty of local attractions should you fancy a break from the sunshine & beautiful pool. I visited Alicante Nudists in April 2014 for a week and this was my second visit and I will definitely be back many more times.
Martin, UK
********************
We arrived for a night or two and stayed six. We would stay the whole summer if there weren't kids at home!

This was by far the most relaxing atmosphere we have experienced in a very long time. Maggie and Ian are warm and hospitable and we couldn't ask for better hosts. They made sure we needed for nothing and had great suggestions of a few highlights to see in the surrounding areas.

Our highlight was simply relaxing by the pool on a chaise and taking in the sun. We feel we have made friends for life and will do our best to get back to here as time permits.

Our stay with Maggie and Ian will be close to our hearts for years. We left refreshed with a spring in our step! Till next time dear friends......

Dahna and Derrick, Vancouver, Canada 
********************

Testimonials, Previous Years
A very lovely place. Peaceful, beautiful and clean. I was there in a quiet period, but it was perfect for me. The owners, Ian and Maggie, are very helpful and service minded. And they know the area. And I also like the fact that they respond quickly on mail and phone. The location is near to the airport, but very quiet. I will be back to Alicante Nudists, for sure.
Ole, Norway
********************
Stopped at Alicante Nudists 3 times now. We are a couple in our late 30's. Twice we have had the place to ourselves and once with some other similar minded guests. Great food, great hosts, lovely pool. The most relaxing holiday we've ever had. Be back again August 2011. Truly a five star relaxing break. We were first time nudists and have totally clicked with this way of life. What a refreshing change to go back to nature 2 weeks of the year!
Gary and Kath
********************
We have just returned from an extended great weekend break. Ian and Maggie made the experience truly memorable. We were togther with our friends and we enjoyed every moment...Maggie's food is simply GREAT...
Highly recommendable naturist place
J&M
********************
Thank you so much Maggie and Ian for a great weekend break in your little paradise, it was just what we needed. You made us feel so comfortable and welcome as it was our first time in a naturist resort, even though we regularly spend our weekends on the local nudist beach. From the fab English breakfasts in the morning to the home cooked evening meals,the accommodation was fantastic, our break there complete. Will definitely be coming back to Alicante Nudists...in fact next week.
See you soon.xx
Dave and Michelle
********************
Mags and Hodgie were fantastic. It was our first experience and from the moment Hodgie picked us up from the airport we were made to feel at ease.
Having arrived at the villa we were met by Maggie who was a real star. Our inhibitions left us within minutes and we had the most wonderful, relaxing, peaceful and comfortable time of our lives. Our only regret was we only planned a week.
Mags could not do enough for us, her cooking was superb and the accommodation was great, mix this with Hodgie's sense of humour and it made our holiday a truly memorable experience.
We met some wonderful people during our stay including Australians, Swedish and English who were all repeat visitors and which we will keep in contact with.
We now realise it's something we should have done years ago and are already planning a return to Alicante Nudists in September.
Many thanks Mags and Hodgie for making our experience so special.
Tony - Shaz
********************
My wife and I have have just returned from our first naturist holiday at Alicante Nudists.
The owners Mags and Hodge are excellent hosts. Nothing is too much trouble for them. The food was first class and both the cabins and pool excellent.
If you are a first timer please try this resort, you will not be disappointed. We will be returning next year!
Patrick and Dorothy
Click here for more testimonials

---

Visit WWW.ALICANTENUDISTS.COM website

Return from Alicante Nudists to Naturist Holiday Guide home page
Please subscribe to our newsletter Naturist Times. It tells you regularly about updates to our website plus other interesting naturist bits and pieces.