AlcoSense
A Breathalyser that
Passes the French Test
A new breathalyser law is being introduced in France. As of the 1st July this year, it will become law in France to have two working breathalyzers in every car on the road, with enforcement of the law taking effect from November 1st and a fine of eleven euros for non compliance!
This means that, even if you are not staying in France, but driving through to another country, you will still need to conform to this law!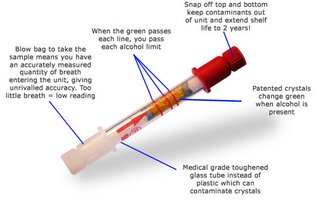 British company AlcoSense has launched a new single-use disposable breathalyser, the AlcoSense Singles NF, specifically to meet the French requirements.
Priced at only £4.99 for a twin pack, AlcoSense Singles NF offer a very cheap way for UK holiday makers to comply with the new regulation.
Many British drivers may not realise that the law in France means you will have to carry in your car two NF approved breathalysers like the AlcoSense Singles NF.
This means that they must be stamped with "NF" to indicate that they meet the "norme française" which is deemed suitable for use in France. (NF is the French equivalent to the UK BSI Kite Mark).
If you carry the wrong type of breathalyser without an NF mark it's as good as not having one at all in the eyes of the Gendarmerie.
The fine of eleven euros is not really the issue. If the Gendarmes find a reason to have a good look over your car, they could well waste a great deal of your time, and find reasons to give you a lot more than an eleven euro fine.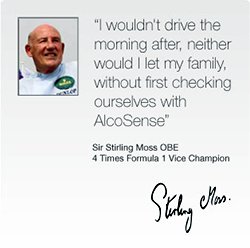 'Morning after' drink driving occurs when someone unintentionally drink drives the following day after drinking, unaware they still have alcohol in their system and may well be over the drink drive limit.
This could quite easily happen whilst driving to the local boulangerie for your morning croissants!
In all likelihood, reusable digital breathalysers will become a standard item when drinkers realize they are paying £2.50 every time they go for a drink, or test themselves the morning after.
What we intend to do is have an AlcoSense Elite to test ourselves and just carry AlcoSense Singles which conform to the French NF standards.

TESTIMONIALS
The AlcoSense Elite was deemed the What Car? Best Buy in the £40-£100 price range, with 'good performance at a reasonable price'.
The AlcoSense Elite has been featured among the Gadgets for Drivers on the Sunday Times 100 best tech list. The list is a definitive guide of 100 of the world's best gadgets and collates all the best in technology.
Describing the Elite as 'The Breathlyser in your pocket', the Sunday Times said it: 'promises to give you the most accurate reading possible with a simple display'.
AlcoSense have also won many Business Awards!
If you should go ahead and purchase an AlcoSense product, when at the checkout please could you enter
Advert Code:- NHG
and/or put Naturist Holiday Guide in the 'Which Search Engine or Publication' box. Many thanks!
Visit the AlcoSense Singles page

Visit the AlcoSense Elite page

Return from the Breathalyser page to Naturist Holiday Guide home page