Eagle Peak
Luxury Naturist Apartments
in Southern Spain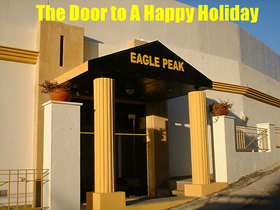 For an idylic setting and naturist escape, look no further than Eagle Peak in Southern Spain.

Situated overlooking the beautiful sub tropical coastline, this is a small complex of 6 luxury apartments and an adjoining villa.

Owners, Peter and Liz, have a wonderful attitude of 'keeping it simple' and, as such, have a naturism optional policy.

In other words, if you are both new to naturism and this is your "first time", or maybe one of you prefers to keep a costume on, then Eagle Peak is an ideal environment to begin your naturist life. You can be totally at ease there is no pressure to conform, its up to you.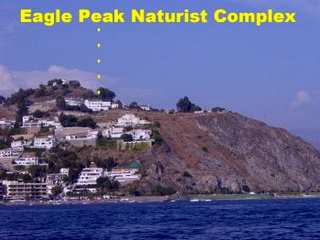 Situated on the west side of Almunecar and being Europe's only sub tropic region, you will enjoy a remarkably warm, pleasant climate with little rain and over 320 days of sunshine a year.

Wintertime temperatures average 18 degrees centigrade with summer temperatures ranging from between 25 and 40 degrees.

Combine that with the fact that Eagle Peak is built into the hillside overlooking the beautiful coastline, a marina and an unspoilt naturist beach, with five other naturist beaches nearby, some with restaurants, could life get better?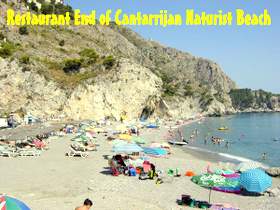 The nearest of these is the unspoilt naturist beach Playa del Muerto which is only two minutes drive away from Eagle Peak, or a ten minute walk (perhaps longer coming back up!).

Another, but more commercial naturist beach at Cantarrijan is about eight km drive to the west where for most of the year you can drive down onto the beach, enjoy the sunshine, swim and have a super meal at one of the beaches first class restaurants (in July and August a minibus service operates to and from the beach).
Four other naturist beaches El Ruso, La Joya, Maro and Almanate are less than thirty minutes away.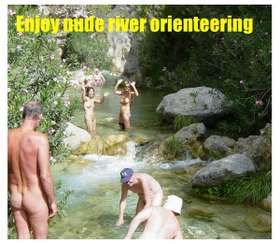 Peter and Liz also have an inflatable boat with outboard which is available for guests use.

You can use the Avon by yourself, dependent on experience, or they can crew it for you. Life jackets and snorkels are provided.

Where possible Peter and Liz offer free trips for snorkelling or a visit to Cantarrijan Naturist Beach.

It may also be used for dolphin seeing trips or going in search of a hidden cove!

Also included in the cost is, circumstances permitting, a free trip by Landrover to see some fantastic local scenery. 

Here you can swim nude in fresh water pools, or go nude exploring.
At Eagle Peak you can be as private or sociable as you wish. You can stay in your apartment on your private sun terrace, or join other naturists, and make use of the facilities, and what great facilities there are!

The Clubhouse is situated at the same level as several apartments and adjoins the Boule Court (enter the World Nude Boules Championship!).

Here you can meet friends or enjoy a quiet evening relaxing in the four person spa while watching a DVD, a video or catching up with news via the TV satellite.
Also available is a drinks fridge with beer, soft drinks, ice, etc. operated on a help-yourself tally system as is the cold drinks cabinet serving the sunroof area, together with tea and coffee making facilities.

If required, there is a 54mbps WiFi computer network which also enables you to operate your laptop from your apartment.

There is a covered area adjoining the clubouse where you can relax in the shade to escape the heat of the day, or in the evening perhaps enjoy a meal with friends on the powerful gas BBQ which is available for general use.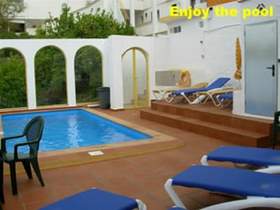 One evening, if agreeable, Peter and Liz arrange a meal out at a super local restaurant for all who want to go, then, on return relax over drinks in the clubhouse or on the roof sun terrace.

The beautiful swimming pool with surrounding sun terrace is situated in the garden below the clubhouse and sheltered from any wind.

Here there are hot and cold showers, sunbeds, and table and chairs. The clubhouse and pool areas tend to be the social meeting points for parties and BBQ's.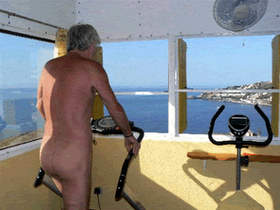 Another area that we would certainly use is the well equipped gymnasium which is located on the roof sun terrace.

It has a multigym, powered teadmill, exercise cycle, sit up bench, aerobics trampoline and other equipment.

What a way to exercise while admiring the fantastic views and enjoying the fresh sea air. There is a terrace with table and chairs to rest and recover outside the gym.
Within the complex there are six very well equipped self-catering apartments and an adjoining luxury detached villa.

All rooms enjoy uninterrupted views of the fabulous Mediterranean's rugged coastline, a beautiful blue sea, naturist beach and the Marina Del Este.

Staircases link all apartments to the reception area where there is a washing machine for general use, an exchange book library, and a serve yourself an ice cream cabinet.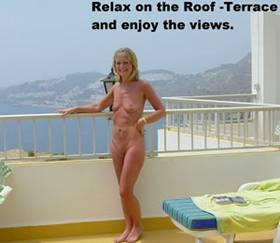 You can also get from your apartment to the large roof sun terrace which gets sun from sunrise to sunset.

On the roof terrace you will find sun-loungers, tables, chairs and sun umbrellas.

It is an ideal place to socialise or just cool off with a cold beer, take a cold shower and enjoy an evening barbeque.

What a fantastic way to end the perfect day!

This is a perfect area for a naturist holiday. Discover Almunecar and the beautiful Costa Tropical area of Spain!
For more information please visit the Eagle Peak website.
Or, you can find out more about the booking details at Eagle Peak by filling in the contact form below.

If you should contact Peter and Liz please could you mention that you read about Eagle Peak first on The Naturist Holiday Guide.
 

---
Please subscribe to our newsletter Naturist Times. It tells you regularly about updates to our website plus other interesting naturist bits and pieces.

Return from Eagle Peak to Naturist Holiday Guide home page