Montalivet - Great for Little Kids
and Big Kids!
Our summer camping holiday with Harry in 2007, took us to Montalivet, situated on the Medoc peninsular about an hour up from Bordeaux.
We had intended to have an inland adventure type holiday as Harry loves kayaking and cycling. However, the lure of the Atlantic Ocean proved too much for all of us and so we found ourselves at Monta.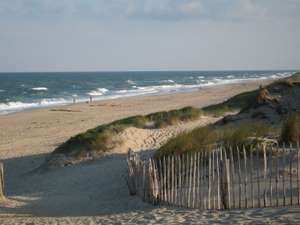 This was Harry's first visit here. Jan and I had visited back in 2000 when Montalivet was still recovering from the devastation of the 'Tempete' of the previous year.
The Medoc is a very attractive area with many vineyards scattered throughout the journey from Bordeaux.
The route from Bordeaux is fairly straightforward. If you have travelled down the A10, travel in an anticlockwise direction around the city, in the direction of the airport, and take either exit 7 or 8, heading for le Verdon.
Drive through Lesparre and after about 6 kms look out for a left turning for Vendays Montalivet. Turn left at the traffic lights and the campsite is just down there on the right.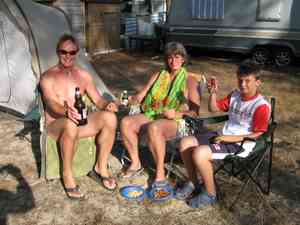 Park up in the car park and go to the reception. A Naturist License is necessary here but it is possible to purchase this on arrival.
You will also need passport sized photographs of everyone for the passes which are issued on booking.
If you forget it don't worry because there is a photo booth in reception. The passes are needed for entry to the beach and the Aquatic fun park and should be carried with you.
The campsite covers 200 hectares and has nearly 600 camping and caravanning pitches. There are also tents, bungalows, apartments and chalets for rent.
Having booked in we were given a list of vacant pitches and allowed to go and choose the one we wanted. We camped in the area 'Sables' which is convenient for beach 2.
Beach 1 is about 600 metres along to the right and is where you will find a restaurant, bar and more importantly for Harry, the Aquatic fun park.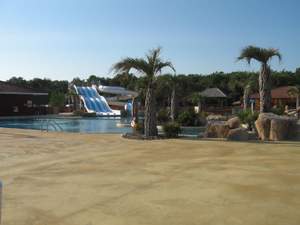 This consists of one slide wide enough for four people and another twisting water chute for one person. We went there every afternoon for a couple of hours.
There is plenty of sunbathing space for adults although many (including us) spent much of their time on the slides and in the water.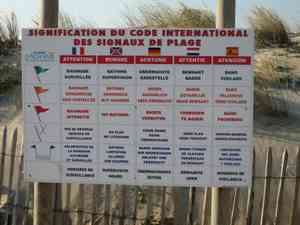 There is a large naturist beach area stretching away to the left of beach 2 and to the right of beach 1 and so it is easy to find your own 'space'. Also plenty of room to play boules or 'bat and ball' with Harry.
The sea is very well patrolled by lifeguards and obvious swimming areas are marked by flags.
Also, if you decide to cycle to the beach there are plenty of bike racks available.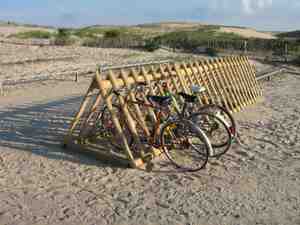 Bikes could be quite useful if you are a distance from the beach but cycling is very safe here with bikes certainly taking priority over cars.
If you don't have one it is possible to hire one at the 'Centre Commercial' where you will also find shops catering for most needs whilst camping, including an organic shop.
There are small supermarkets, clothes shops and a selection of restaurants and bars.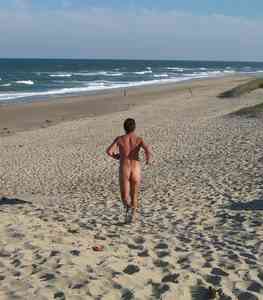 There are many organised activities and events at Montalivet. For the more energetic there is Aquatic gymnastics, swimming lessons or maybe you would like to learn to scuba dive.
There is a separate swimming pool from the Aquatic park where Jan and Harry went swim training. I preferred to go running. If relaxation is more your thing it is possible to arrange beauty care or to have a massage.
There are also many Arts and Crafts sessions and cultural events, and in the evening there are a large variety of Entertainments.
Yet another successful summer camping with Harry. He loved it, we loved it, and I am sure that we will return to Montalivet.
If you should contact Monta please mention that your read about Montalivet on The Naturist Holiday Guide.
For more details about Montalivet or to make a booking please click here.

---
SPECIAL OFFERS 2017

Montalivet has some great money off SPECIAL OFFERS for 2017!
---
* UPDATE 2008 *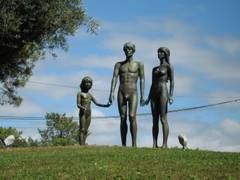 And so we did return to Montalivet during the summer of 2008! Harry was keen to return (we think the water slides may have had something to do with it!) and of course so were we.
We stayed in Sables again, but on a different pitch closer to the beach. We enjoyed it just as much as last year although the weather wasn't quite as good.

In fact we spent more time at the water park because of this and everyone seemed in good form despite the weather!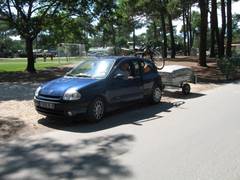 The two photos show the amazing statues at the entrance to Monta, and us about to leave the campsite. We have had to start taking a trailer with us as Harry has got older, so that we can fit in all the body boards, bikes and equipment!
It looks like we will be returning here again next year as we discovered that there is a marathon organised here each year. Unfortunately it was taking place on the evening that we were leaving, but Rog is keen to have a go in 2009. Harry and I, of course would be his support team!
We look forward to returning here in 2009!
---
* UPDATE 2009 *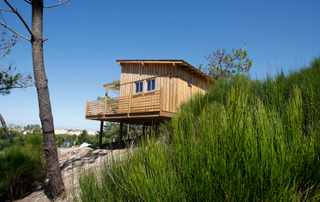 Montalivet has started a great new campaign promoting the respect of naturist values:
You will be soon able to see the following four short films on the Monta website
* Live the natural way, live nude
* Use your bicycle instead of your car
* Separate your rubbish for recycling
* Water is precious, let's save it

Each visitor to the resort also receives a flyer "Follow the CHM attitude"
Following the same theme they are building a new small bungalow in the Ajonc area which will be fully supply by solar energy (electricity and water). They also intend to build a small village with this type of accommodation for sale and rental.
As you will see they are really motivated to deliver this message to their customers.

If you should contact Monta please mention that your read about Montalivet on The Naturist Holiday Guide.
For more details about Montalivet or to make a booking please click here.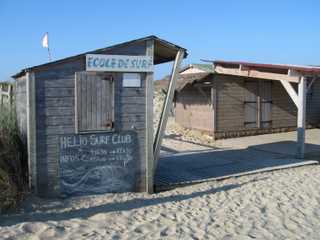 ---

Return from Montalivet to France page

Return from here to home page
Please subscribe to our newsletter Naturist Times. It tells you regularly about updates to our website plus other interesting naturist bits and pieces.