La Huerta Villas
in Spain
Naturist Paradise


During the past six years, the owners of La Huerta Villas in Spain have created both a tranquil space in the countryside, as well as an exhilarating experience for the body and mind.
Situated in the heartland of the Raisin and Avocado producing area of
Andalusia, you can experience the amazingly welcome sub-tropical weather which lends itself to great outdoor living and contact with the elements.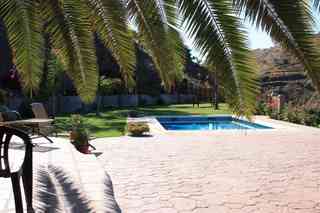 La Huerta is built on a small hill between the El Borge and Almáchar rivers.
The landscape is dominated by avocado, mango and olive trees with almond groves and vineyards.

Situated a few Kilometre's from the local village and away from main stream life, you will find yourself able to totally relax and pursue the naturist lifestyle.

Combine that with the nature of this beautiful area and the result is a perfect naturist holiday.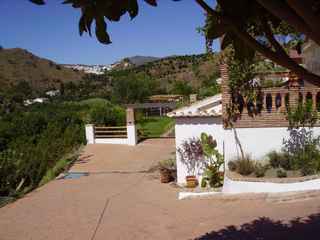 Tucked away in the rolling hillside, La Huerta Villas in Spain creates a sense of calm in which one can relax and unwind whilst lying by the pool, in this wonderfully secluded garden.
La Huerta Villas can accommodate six guests in three bedooms.
One is a master bedroom with a double bed, and of the other two, one has two single beds and another has a double bed .
Linen and towels are available. There are two bathrooms and a toilet/laundry room.
There is a fully equipped kitchen with cooker, fridge, freezer, combination oven, microwave and dishwasher. There is also a dining room, and living room with television and free internet access.

Outside there are three terraces which include an outdoor living room and also a dining area.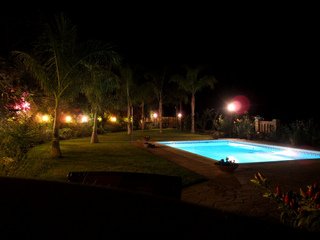 Within the garden area is a 4x8m swimming pool and sunbeds. There is also a barbeque for the balmy summer evenings.

On the slopes are various varieties of seasonal fruit trees and a healthy selection of vegetables on the lower terrace where you can pick all your own produce.
The owners experienced lifestyle in Asia for several years and have reproduced it in certain areas to offer a taste of the East to their visitors .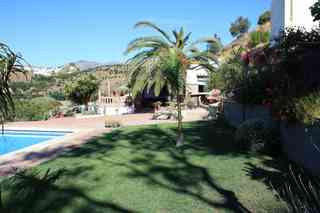 In the secluded garden a Jet Spa has recently been introduced which can be reserved for the afternoon or evening.
Here at the end of a day you could have a full body oil massage together with a cooling sundowner and some tasty treats from the East.
What a way to end a perfect day!

You could even arrange a morning massage and spend the rest of the day soaking up the sun. Any attention to particular needs can be discussed with the owners and they will do their best to fulfill your requirements.
If you can tear yourself away from La Huerta Villas then you will discover that Andalucía is an autonomous community with many kilometres of nudist beach - or more accurately, beaches where nudism is habitually practiced.

From secluded coves and busy urban beaches to great wide sweeps of sand that disappear into inifinty, there are loads of places in Andalucía for you to work on that all-over tan.

For further details of the wonderful La Huerta Villas in Spain just visit their website.
If you should contact the owners please could you mention that you read about La Huerta Villas on The Naturist Holiday Guide.

Return from La Huerta Villas in Spain to Naturist Holiday Guide home page

Please subscribe to our newsletter Naturist Times. It tells you regularly about updates to our website plus other interesting naturist bits and pieces.