Hello


Naturist Times, 30th April 2022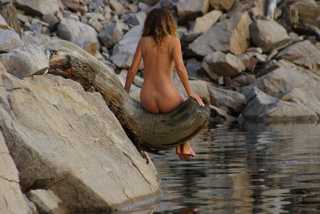 Naturist Times brings you news of updates to our website and other naturist 'bits and pieces'.
If you like this newsletter, please do a friend and us a big favour by sending it on.
If a friend did forward this to you, please subscribe by visiting www.naturist-holiday-guide.com


---
Fuerteventura and French Cooking
Today we travel from France to the Canary Islands, and tell you about a potential summer job opportunity.
---
La Petite Brenne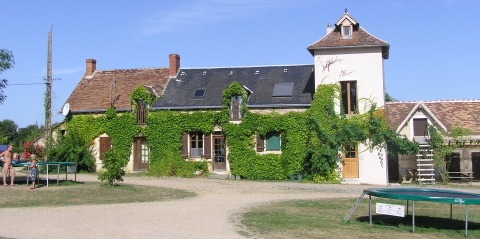 The stunningly beautiful naturist campsite la petite Brenne is situated in the heart of the Brenne regional nature reserve in the centre of France.

The campsite consists of 105 acres of forests and meadowland, bordered by high hawthorn hedges, blackberries, ferns and trees. There are many wild flowers and much birdlife within the grounds.

The courtyard is the center of "la petite Brenne", there, you will find terraces, the bar, the chip shop /pizzeria and the restaurant. The restaurant is based in an charming 200 year old barn where you will be served typical home made meals and will also have kids' menus.

They offer a wide activity program; daily activities will be announced on the board in the bar. Most of them are free. Horses and donkeys are part of them, 6 days a week you can look after them, brush them and ride them for free.

They also have two horse-drawn carriages: an antique one for the donkeys and a ten people carriage pulled by our superb mare Bellefleur. Anyone can join in. Should you want to go for a ride the Brenne's forest, you will find horse riding clubs around the campsite.

They also organize creative activities such as arts, sculpture or mosaics.

For more information visit the La petite Brenne page.

---
Chateau Rieutort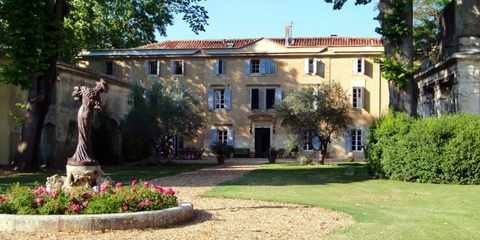 Still in France, we find the beautiful Chateau Rieutort which is situated in the Languedoc-Roussillon region of France on the banks of the river Hérault.

It is situated in the middle of a 2,5 hectare park and has 25 hectares of its own vineyards.

The bed and breakfast accommodation consists of one double bedroom and four suites of which two are air conditioned. They are furnished with new but pretending baroque period furniture, hand made for the chateau. They all look on to the park and have a private bathroom and WC.

All the gites have been renovated to a very high quality and have outdoor space with a table and chairs. The kitchens are fully equipped and there are also washing machines.

In the winery which is attached to the château, the partner of Chateau Rieutort, Blanville, makes high quality wines (especially Château Haut-Blanville) which are regularly rated amongst the best in Languedoc.
Job Vacancy
Karina and Peter are looking for a cook for this summer season.

They say it can be from June to September inclusive, or longer or shorter. They would like someone full time but a part time would also be a great help.

To contact them on this, or for accommodation information please visit the Chateau Reiutort page.

---
BHH NATURIST VILLA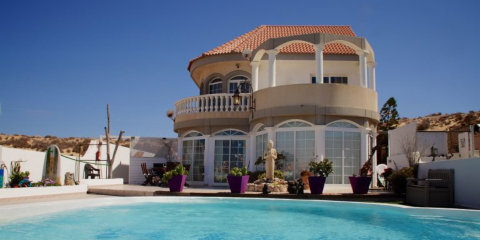 BHH Naturist Villa is private and secluded, and a perfect setting for a naturist holiday.

The Canary Islands have always been at the forefront of naturist holidays in Spain.

Situated in sunny Costa Calma, BHH Naturist Villa is close to some of the best naturist beaches in Fuerteventura.

The Villa can accommodate between two and eighteen guests in three self contained apartments within the Villa.

Outside, there are spacious sunbathing areas including a large swimming pool, surrounded by sun terraces.

Although BHH Naturist Villa is fully set up for self catering, they will also happily organise meals, including their infamous 'themed' events including a Paella Night, BBQ Buffet or American Diner night.

If you can bare to leave BHH Naturist Villa, the naturist beaches are within walking distance in under ten minutes, including the wonderful Sotavento Beach which is only five minutes by car.

We know that there are still several vacancies in May and June. With average temperatures in the twenties, this may be an ideal time to visit. We are looking into it ourselves. For that early season suntan visit our BHH Naturist Villa page.

---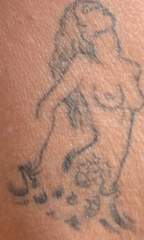 You may have been hearing a lot about GDPR lately. It's a new thing in Europe around data privacy laws.

At Naturist Holiday Guide we take your data and personal information very seriously and we want to ensure you are happy to continue receiving newsletter emails from us. You can read our Privacy Policy here.

Every single newsletter we send you has a Manage Subscription link at the bottom so you can unsubscribe at any time.

Having got that out of the way, if you should contact any of the many wonderful naturist accommodations that appear on our site we would really appreciate it if you mentioned our names. Many thanks!

We love hearing from you and thank you very much to all our fellow naturists who contact us. We will always try to reply to you.

May we take this opportunity of wishing you all a great summer!

If you see a man with this tattoo on his hip, come and say hi!

Rog and Jan