La Petite Brenne
Nature as
Naturists Intended
The stunningly beautiful naturist campsite la petite Brenne is situated in the heart of the Brenne regional nature reserve in the centre of France.

The campsite consists of 105 acres of forests and meadowland, bordered by high hawthorn hedges, blackberries, ferns and trees. There are many wild flowers and much birdlife within the grounds.

Camping pitches are spacious and varied and you are able to choose whichever available pitch there is.
Perhaps you would like to camp in the woods or near the lake. Maybe you would prefer to be nearer the bar, restaurant and play area. The choice is yours.


The campsite is accessible for disabled people because the ground is flat and also because the facilities are adapted for wheelchairs.

Access is limited to 150 families at the same time so, if you want to come between 15 July and 10 August, it is better to book in advance to be sure to get a place. However, in low or middle season it not necessary to book.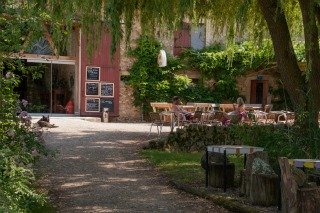 Almost every part of the camping area is equipped with 10A electrical sockets.

Six washrooms are spread around the area for easy access to them.

The courtyard is the center of la petite Brenne. Here, you will find terraces, the bar, the chip shop /pizzeria and the restaurant.
The restaurant is situated in a charming 200 year old barn where you will be served typical home made meals such as Roti de Porc, Confit de Canard or d'Angeau a l'ail, or any other dietary needs. Children are also very well catered for.

Special evenings are organized regularly such as pizza buffets and barbecues.
In the main building you will find a small grocer's shop to buy essential products such as butter, eggs, cheese, fresh vegetables, sun cream, toothpaste and also fresh bread and croissants.

This building also houses the library where you can borrow or change books and magazines, but also take a seat in a peaceful area and read.
For those who like music, musical evenings are often organized to which anyone can take part by singing, playing music or simply by enjoying the good atmosphere.
The music room is available to practise with their musical instruments such as piano, guitars and bongos at your disposal.

On the first floor is the games lounge, an enormous place to relax in front of the big screen TV, where you will also find games and some information about visits to make in the surrounding area.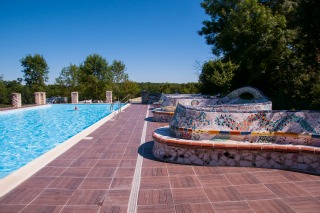 There are also two swimming pools and paddling pools for children. The biggest is an outdoor elevated swimming pool (160m²) offering an amazing view of the field and the lake.

The second one (70m²) is heated by solar panels and has an average temperature of 26 – 28°. Thanks to its structure the pool can be covered in inclement weather.

Between the building and the indoor swimming pool is located the authentic Finnish wood burning stove sauna. The cabin is so big that 25 people can get in together.
Paid Wifi access is available on the whole campsite.
It should be noted that dogs are not accepted on the campsite.

As well as camping, it is possible to rent fully equipped mobile homes or chalets.
 
The chalets are typical wood made 40m² buildings with a traditional French tiled roof. They all respect standards for disabled people, the rooms are big enough to move with wheelchairs, cabinets are spacious and the ground is flat.
 
In each of them you will find an opened plan kitchen and dining room, a bedroom with one double bed, a second one with three single beds and, on the second floor, a platform with a double bed and two single beds. They are made for five to nine guests.

It is worth you considering buying a Brenne Card

---
La petite Brenne Activities

A wide activity program is offered with daily activities being announced on the board in the bar. Most of them are free. Horses and donkeys are part of them and six days a week you can look after them, brush them and ride them for free!

There are also two horse-drawn carriages, an antique one for the donkeys and a ten people carriage pulled by the superb mare Bellefleur. Anyone can join in. Should you want to go for a ride the Brenne's forest, you will find horse riding clubs around the campsite.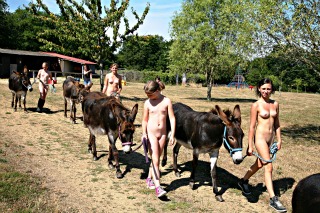 You can take part in creative activities such as arts, sculpture or mosaics, as well as many other sporting and musical activities.

La petite Brenne is the ideal place for sports. Near the football pitch are two volleyball courts that can be used between July and August.

You can play petanque (French bowling) on one of the four petanque fields either in the courtyard or on la Loge.

There are also outdoors fitness machines that you can use at any time for training.

It is possible to rent go-carts either for fun or to train for the great weekly go-cart competition open to everyone.

The children will enjoy the playground with swings, the big climbing pyramid, the turnstile, the sandbox and the great big trampolines. You can also play Ping-Pong or to try to get out of the vegetable labyrinth strewn with mosaic doors to help you find your way out.
 
A circus is organised regularly, made by and for the campers. At your disposal you have circus material to train yourself for the show: set of bowls, skittles, juggling rings, tightrope, unicycle, diabolo or big balloons to stand and walk on.

Within the grounds of la petite Brenne are three tagged naturist hiking trails to discover the area. The longest will take you one hour. Once a week a French guide will organize a hike around the camp for you to benefit from its wildlife. Perfect for adults and children alike.

Should you wish to venture outside la petite Brenne, there are many attractions to visit or activities to take part in.

These range from riding cycle tracks, canoeing, fishing or golf, to visiting places such as the Futuroscope parc in Poitiers, Zoo Parc de Beauval and various brocantes and markets in the area.
 
However you plan your stay at la petite Brenne you can be assured of a wonderful naturist holiday in beautiful surroundings.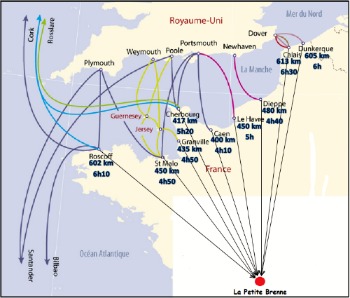 Visit la petite Brenne website
Return to Naturist Holiday Guide home page
---
Please subscribe to our newsletter Naturist Times. It tells you regularly about updates to our website plus other interesting naturist bits and pieces.