Experience our Naturist Holidays at Wonderful Arnaoutchot
Arnaoutchot, or Arna as it affectionately known by many, is a naturist resort situated in the beautiful pine forests of Les Landes de Gascogne in South West France. It has the added advantage of being right next to the Atlantic ocean.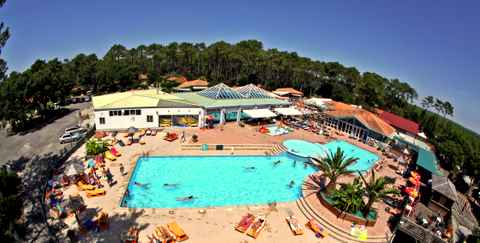 Arnaoutchot is about one and a half hours drive south of Bordeaux down the N10. Exit at Junction 12 to Castets and head for Leon. We try to arrive at Leon at mid morning for coffee and croissants in the main square (or maybe a lunchtime pizza!!).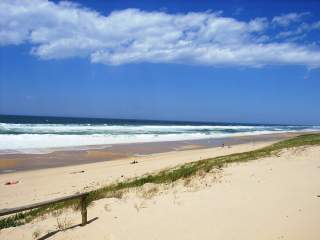 Arna is no more than fifteen minutes drive from here heading north up the D652 and turning left at a painted tower (you'll understand what we mean when you see it!).
You will find the resort in about five minutes down this road. Having gained access through the barrier the reception is situated just up the lane on the right.

You may be able to choose your site depending on the time of year but all the pitches are spacious and close to the sanitation blocks.

For our first ever visit to Arnaoutchot we had a camping pitch in an area called Le Tuc.
It was a very peaceful pitch right next to the woods and about five minutes walk from the beach.
Luckily for us it was also situated close to the jogging circuit which winds its way through the pine trees and passed various exercise points. For the less energetic it is still a lovely walk.
Whenever we have camped at Arnaoutchot since then, we have stayed in the areas Far West or Sauvages, both of which are conveniently situated closed to the jogging track and the beach.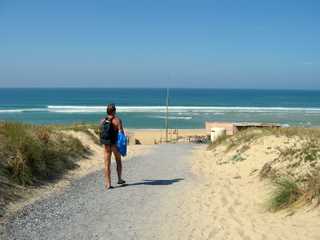 This was particularly useful when we first started taking Harry, our grandson, with us because it became his job to cycle to the lifeguards hut at the top of the beach to check on the colour of the bathing flag indicating the state of the sea.

It is very unusual for the red flag to be flying indicating 'No Swimming', and whenever swimming is allowed there is a specific area marked by flags between which you are allowed to swim.
This is patrolled by lifeguards who are also policemen.
Jan and I have both been lifeguards in the past and we can appreciate what an excellent job these 'guards' do.
The beach itself is vast and backed by sand dunes so there is always plenty of room.

It would be possible to spend the whole of your holiday on the campsite without having to leave.

There are several bars and restaurants with a variety of menus, a mini-market with ample fresh meat and vegetables plus other necessities, a newsagent and also a bakers where you can buy fresh baguettes and pastries.
However, we mentioned Leon and it is well worth a morning visit to see the bustling market and have a coffee at one of the cafe's in the square.
We have mentioned only camping at Arna. One year we spent several very enjoyable days staying in a chalet. The chalets are comfortable and well equipped.
This particular holiday was spent with, as well as Harry, our very good friend Clare. This was her first experience of a naturist holiday and, as ever at Arnaoutchot, the holiday was very relaxing.
Since then we have had several stays in a chalet. Fantastic! It is like being home from home!
We also spent several days in one of the three wonderful Nid Perche (tree houses).

New additions in recent years are Roulottes (a traditional looking wooden caravan).

Other forms of accommodation include mobile homes, cottages or canvas bungalows.

NEW IN 2017 - Cabane Marensin
We have looked around a new Cabane Marensin. What fantastic accommodation, ideal for a family of five, or two couples.

One bedroom has a double bed and the other has two singles and a bunk bed. There is a well equipped kitchen and a shower room with a separate toilet.

A lovely lounge/dining room leads out onto the covered terrace with hammock and griddle.

We were too late to book these really popular Cabines so, to avoid disappointment, Book Early!

---
NEW IN 2018 - Bassins d'Arna
The Bassins d'Arna lie in the heart of a 5,000m2 green space.
Opened in 2018, this magnificent complex includes a spa, relaxation garden and four treatment rooms.
There is a lovely path through native plants and dune grass to reach the new facilities, which blend seamlessly into their surroundings.

Amongst the wonderful facilities here is a sauna, a bubble bath and Turkish baths. An idyllic solarium is situated by ornamental pool, where bushes and plants hug the bank.

Unwind in the neighbouring relaxation garden, with its terraces surrounded by grass lawns, and the herbal tea plantation, where aromatic plants are grown. Relax, bathed in sunshine, surrounded by lush vegetation and soothed by birdsong.

To pamper your body, go to a completely new area overlooking the garden, which has 4 treatment rooms, including a two-person room, for beauty treatments, massages and balneotherapy.
It has everything you need for relaxation, well-being and inner peace.

---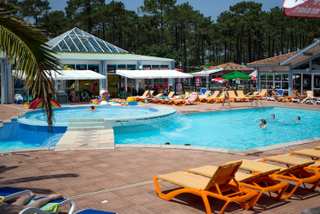 Relaxation can take the form of lying on the beach or, if you prefer, beside one of three pools.
The Arnaoutchot water park has three big pools, one of which is covered and heated (28°) and equipped with a water slide and a heated solarium. The two other pools, set around a hot tub, are outside. Finally, there is a paddling pool for the little ones.
For the more energetic there our over sixty activities organized during the season and there are other facilities such as tennis, badminton, boule, table tennis and a fitness room. There are also aqua aerobic sessions.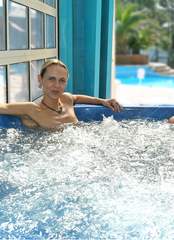 Other services include a first aid post, doctor, osteopath and hairdresser. Thankfully we've never needed any of these!

Very popular with people is the hydrotherapy spa, Arnaforme.You can choose from many different body and facial treatments or treat yourself to a luxury package. There is also a sauna, the Hammam or a bubble bath!

We have experienced many different naturist holidays and intend to explore many more areas. However, Arna in south west France is one place we hope to return to for many years to come.
If you should contact Arna please could you mention that you read about Arnaoutchot on The Naturist Holiday Guide.

For more details and information about Arnaoutchot or to make a booking please click here!

****************************************

**UPDATE 2017**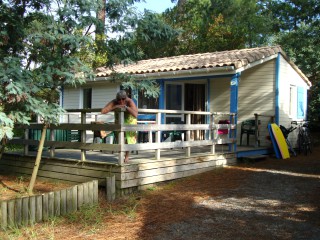 Yet again, we managed to get our 'Arna fix' this year.
The summer would not seem complete without spending some time here!
Again, it was towards the end of September and we spent most of the days sunbathing either on the beach or by the swimming pool.

This year we stayed in a Chalet Chevreuil in Chibottes, very close to reception and wonderfully secluded.

We had plenty of space as it can accommodate up to six people.

The restaurant was open and we, yet again, had a fantastic meal there. We would certainly recommend you put that on your 'wish list' for your stay.

We also visited a Cabane Marensin which are new for this season. Lovely accommodation and definitely worth considering for your stay. They are very popular and we left it too late to book one. Book early to avoid disappointment.
---
**UPDATE MAY 2016**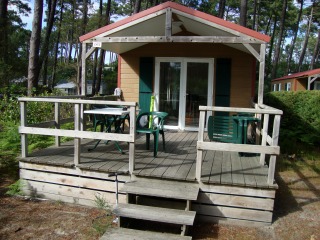 We have just returned from five brilliant days at Arnaoutchot.

For the first time we stayed in a Cottage Duo which was perfect for us. It is the ideal size for two people.

The weather was really good and we went to the beach on most days. If not, we just lay by the pool.

The supermarket was open each day where we bought our food for self catering. On the final evening we had a great meal at the restaurant, as you can see from the photographs.

Arna is a lovely resort and off peak is a great time to stay there if you are able to.


---

** UPDATE 2014  **
We spent a week in a chalet at the end of September. Absolute bliss!
We stayed in a chalet because the evenings were drawing in earlier and it would have been quite cold sitting outside the tent.
However, the days were fantastic.  Each day on a very quiet beach, as you can see with the picture of Jan, with temperatures in the mid twenties. Perfect!
If you are able to get away at this time of the year it is well worth considering. The weather can often be really good, the sea is still warm, and it is a great way to end the summer.
Also, in 2015 Arna is staying open until 4th October!

** UPDATE 2013 **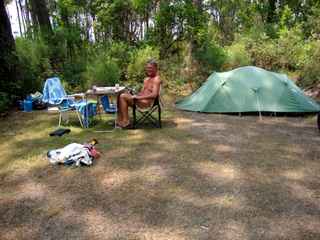 We have just returned from three wonderful days at Arna. In the middle of a mini heatwave, so a lot of time spent by the pool or on the beach, sea temperature 23 degrees.
We had a really good pitch in 'Far West', but all the pitches are very spacious.
We had  a lovely meal at the restaurant on our last night. There is a very wide choice ranging from sea food, to pizzas, to steak, to what we had, duck breast, which was cooked perfectly. Children are also very well catered for.
Can't wait to return!

** UPDATE 2011 **
Just returned from another wonderful few days at Arnaoutchot. Mid September is a great time of year to visit, if you can! Weather was hot, campsite very peaceful and all facilities open!
Fantastic pitch in Le Tuc area and we had a good look at the Nid Perche as you can see from the photographs below!
| | | | | |
| --- | --- | --- | --- | --- |
| | | | | |
** UPDATE 2009 **
Back again!!! This time with Harry. We can't keep away!

** UPDATE 2008 **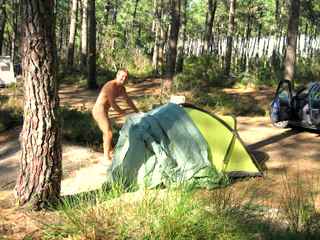 Thankfully we managed to spend a few days in September at Arna.
One of the advantages of going during school time is the quietness and space, although it can be a little cooler!
We stayed in the 'Sauvages' area and had the pick of the sites, just as we did last year.

We chose a lovely one very close to the beach and jogging trail.
The weather was mostly fantastic, so we managed to spend a good amount of time relaxing at the beach. The sea was a lovely temperature, but we had to be a little more careful as there were no lifeguards.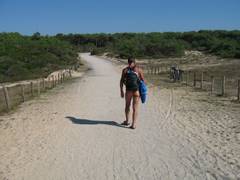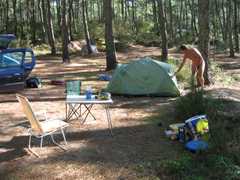 We brought our road bikes with us for the first time this year, and cycled into Leon for breakfast a couple of times. They really cater for cyclists here - it was practically cycle path the whole way! Next year we may try and cycle even further afield.
The evenings and nights were warm enough to sit outside the tent (we had no choice of course!) and play numerous games of backgammon as well as cook up our lovely meals.
We really enjoyed our break here again and cannot wait to return to Arna in 2009.

Click here to visit the Arnaoutchot website

Return from here to the France page
---
Please subscribe to our newsletter Naturist Times. It tells you regularly about updates to our website plus other interesting naturist bits and pieces.