Vritomartis Resort
Naturist Bliss
on Crete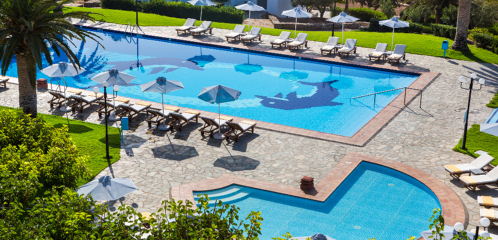 Vritomartis Resort took its name from an ancient Minoan goddess worshiped in the area. She was often depicted as a mermaid - how appropriate!
The family run hotel and bungalows offer quality naturist holidays and are located near the village of Hora Sfakion on the south coast of Crete. This region is one of the most spectacular and unspoiled coastal areas of this beautiful island.
Why stay at Vritomartis? Well, one very good reason is that, being a family run resort you are guaranteed the very best of service from a dedicated staff! 

The hotel and bungalows have 180 beds in 85 beautifully appointed rooms, of which 42 are located on two floors in the main building and 43 in 9 separate bungalows all of which have either a mountain or sea view.
All the rooms have air conditioning, telephone and radio. They also have satellite television ,free internet access, a mini fridge and a hairdryer.

The hotel reception is open 24 hours a day and provides many services such as medical services, currency exchange, taxi bookings and internet access.

Find out about the new health protocols and Covid-19 safety measures of Vritomartis.

Within this area is a spacious lobby with a bar and a TV corner set a little away from the main bar. The bar has a large veranda overlooking the garden where the evening activities take place.
One of the highlights of the entertainment is the traditional Greek dance night. Once every two weeks local musicians and dancers are invited to perform Cretan dances in the beautiful setting of the veranda.
Also on the bar terrace there is International live music and dancing three nights a week.
The breakfast and dinner buffet is served in the hotels wonderful restaurant which also provides a wide variety of Greek and International dishes.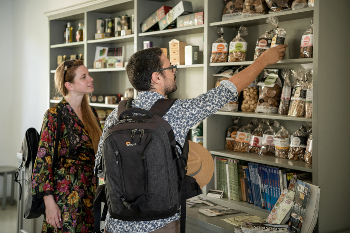 Another facility inside the main building is a shop selling toiletries, cosmetics, books, postcards, cigarettes, souvenirs and drinks.
Vritomartis is a licensed naturist resort broadly following the guidelines set out by the International Naturist Federation. Guests are requested to remain clothed inside the hotel whilst all the outside areas are naturist from sunrise to sunset.
There is a 25 metres swimming pool, which is a designated naturist area, a children's pool and small playground, set in a garden with sea and mountain views.
These are the central point around which the hotel and bungalows are situated. In this area you can soak up the sun on the sunbeds, or find plenty of shade under the trees and umbrellas. There is also a pool bar that serves a wide variety of beverages and snacks.

There is a choice of four different naturist beaches nearby, one being sandy! These offer plenty of opportunity for activities such as swimming in the beautiful warm sea, snorkelling in the crystal clear waters or exploring the caves by canoe.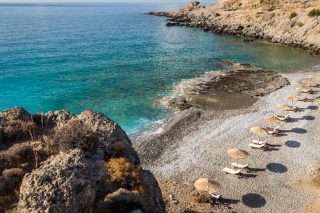 Maybe you will just want to lie in the sun! Canoes can be rented at the resort's nearby Filaki beach, the only official naturist beach on Crete.
On the beach there is also a snack bar operated by the hotel, umbrellas and sunbeds.
Filaki beach is only seven hundred metres away and it is possible to walk there in the nude from the bungalows but, if you really want to be pampered, the resort runs a shuttle service there!

Amongst other outdoor facilities at the hotel and bungalows there is a tennis court, a garden chessboard, boules, a volleyball court and table tennis.

The tennis court even has lighting if you prefer to play at night when it is cooler.
There is certainly never a shortage of things to do!
Vritomartis also arrange regular naturist boat trips for their guests.
Amongst these are a day trip to the island of Gavdos, the southernmost point of Europe. Other trips include visits to deserted beaches, the exotic palm forests of Preveli and a search for beautiful dolphins.
For the more energetic there are also ten different walks organised to stunning gorges and local villages.
For naturist freedom on Crete and a luxury naturist holiday you need look no further than Vritomartis.
Whether you want activity or relaxation, your every need will be catered for!
Hidden Ladies Suites
The Hidden Ladies were constructed to provide an exceptional experience of vacations focused on privacy and extra space giving you a place to isolate.
Breathe in deep whilst simultaneously watching the stunning view from your bed, which is illustrated by a composition of the Libyan Sea inside a wild, natural landscape.

All of this, together, becomes a totally private getaway!

Huge openings offer magnificent views to the natural landscape, while the minimalistic decoration with white colour combined with warm wooden furniture contribute significantly to making you feel at home!



For further information please link to our Hidden Ladies page!

If you should contact Vritomartis please mention that your read about them first on The Naturist Holiday Guide. You could even send us your own testimonial!

For a full resort price list visit their website.
Vritomartis Naturist Resort will be open from April 22nd till October 31th, 2022.
Don't miss the exceptional offers for 2022, which we mention below and are also under the price list on the website.
For arrivals between 22/04/2022 - 10/05/2022 and 03/10/2022 - 31/10/2022:
stay 7 nights or more and get 20% discount
stay 14 nights or more and get 30% discount
For arrivals between 11/05/2022 - 18/05/2022 and 26/09/2022 - 02/10/2022:
stay 7 nights or more and get 5% discount
stay 14 nights or more and get 15% discount
For arrivals between  03/10/2022 - 31/10/2022:
stay 7 nights or more and get 20% discount
stay 14 nights or more and get 30% discount
 Visit the Vritomartis website

Return from here to Naturist Holiday Guide home page
Please subscribe to our newsletter Naturist Times. It tells you regularly about updates to our website plus other interesting naturist bits and pieces.