Enjoy The Freedom Of Naturist Holidays!
WELCOME to the Naturist Holiday Guide!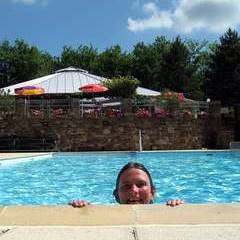 We are a husband and wife team, Rog and Jan Randall, who have experienced many different naturist holidays over the years.
We have lived in France for over twenty years in the beautiful South Charente.
We have had many naturist holidays, either just the two of us or with Harry, our grandson. We especially love exploring to find new campsites and beaches.
Read about our wonderful years of camping trips on the Atlantic Coast at Arnaoutchot in the region of Les Landes.
Inland there is Creuse Nature , a true small paradise in the Limousin.
In the Languedoc there are two wonderful naturist opportunities.
Situated on the banks of the river Hérault is your opportunity to experience naturism at the beautiful Chateau Rieutort.

If you are driving to the Mediterranean beaches, then L' Ancien Tabac is a lovely naturist bed and breakfast about 45 minutes drive from the coast
The wonderful naturist campsite La Petite Brenne is situated in the heart of the Brenne regional nature reserve in the centre of France.

After your ferry crossing to France, or perhaps before your return crossing, you could enjoy a night in one of the pretty French ferry port hotels.
Naturism.com is a collection of six campsites in France united by the common theme of naturism in harmony with the natural environment! These are Creuse Nature, Domaine Laborde, Bagheera, Le Colombier, Les Lauzons and Origan.
Greece is fantastic for naturist holidays, and here you will find some wonderful naturist resorts.
Fig Leaf Villas is a wonderful and popular naturist destination situated in Messinia in the Southern Peloponnese in Greece.
Visit Vritomartis for nude freedom on the island of Crete.
For a naturist holiday on Corfu stay at the Villa Atraides . There is also a wonderful villa for sale on Corfu!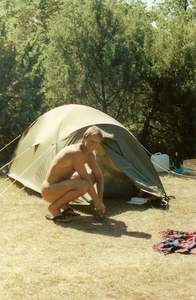 We stayed on Skiathos for our honeymoon, where we were known as the 'mad English couple'!

Two years later we visited the Greek Islands again to try Greece the Island Hopping Way. Read about the great beaches on Antiparos and find out why Donoussa was not our favourite Cyclades Island. Also our exploration for beaches on Koufonisia and our long cycle on Naxos.
Visiting Cyprus? Look no further than Serenity if you have been looking for a unique vacation getaway.

Whilst in Spain experience the wonderful Casa Patricia, run by Ken and Pat, an adult only villa sleeping up to eight people and located in rural Andalucia .

Located just off the west coast of Africa, the Canary Islands are ideally placed for all year round climate suitable for naturist holidays.
On the naturist friendly island of Fuerteventura there is a large selection of apartments, flats and villas available through Lazy Days Holidays. 
Also on Fuerteventura, BHH Naturist Villa is private and secluded, and a perfect setting for a naturist holiday.

You have the opportunity to buy a luxury villa on Lanzarote!
Villa Elephante Blanco (Penas Blancas) is on the market but if you want to experience living there it is, at the moment, available to rent.
We love Portugal and spent several weeks in 2005 and 2019 in search of naturist beaches there.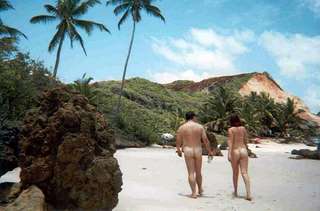 If in the USA, have a real treat and stay at Nuance Naturist B&B in South West Michigan.
Read about George and Diane's trip to Cuba.
In the UK, Croft Country Club, known as "the friendly, family naturist club", is located in the middle of the Fens on the Norfolk / Cambridgeshire border.
Having both been brought up in Cornwall it is easy to understand why we love the county so much.

Within touching distance of the Isle of Skye you will find secluded, two bedroom Craig Cottage in Kyle of Lochalsh.
Visit the rugged North Coast from Bude to St.Ives or discover the secluded little coves in West Cornwall between St.Ives and Lands End. Travel further round to Pedn Vounder, our favourite beach , which is situated between Lands End and Penzance, and on to the South Coast between Penzance and Plymouth.

British Naturism organizes various events throughout the year, such as Nudefest, the BN event which is to be held in Somerset in July.

Maybe you have never been to a naturist resort, beach or event! We have all been through that experience. Read about our first time at a nudist resort! Perhaps you have been a nudist for many years. Why not share your first time nudist experience with us. Sharing your experiences will help potential first time naturists. Perhaps you could tell us your favourite campsite, beach or accommodation.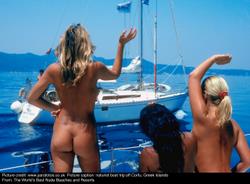 If you are looking for friendship then visit Naturist Friends our dating site.

Planning your naturist holiday? The World's Best Nude Beaches and Resorts will be a great asset, describing 1000 nude beaches and resorts and, as you can see, fantastic photographs!
You may want to know a little more about us and our life in France.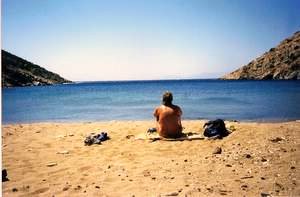 Our Travel Tips page offers suggestions to, hopefully, make a happier holiday. From the Journey, advice for travelling abroad to our Holiday Tips page for ideas for a safe and enjoyable holiday. Perhaps you could share Your Holiday Tips with us!
We have a selection of Bits and Pieces which is our holiday page of campsites and photo's. For links to other sites have a look at our Resources page.
To keep 'in the know' why not subscribe to our Free Newsletter for regular updates and new information on our site. Another way would be to click on Our Naturist Blog for instant updates to our site
We would really like you to Contact Us to ask us questions or just say 'Hello'!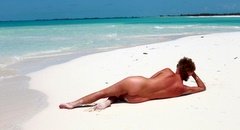 Our aim is to pass on to you suggestions and ideas to help you choose your perfect holiday.
Have fun and keep in touch!
Jan & Rog
______________________________________
Let others know about this site by bookmarking it at your favourite social bookmarking engine:
_______________________________________
_________________________________________________
Our <B>Naturist Holiday Guide Blog</B> keeps you up to date with all additions and changes to the <B>Naturist-Holiday-Guide.com</B> Web Site. Subscribe here.
A depiction in naturist fine art of the female figure in a stylized, beautiful and ethereal way portrayed in a combination of photography and painting by Jeff Wack
Are you looking for a naturist property for sale? Would you love to run your own naturist business? At last you may have found the answer to your dreams!
It is not always easy for a single naturist to find the perfect partner. Naturist Holiday Friends helps you meet many nudist friends. Find out how!
This guidebook is a must for naturists all over the world in search of nude beaches and resorts. One thousand beautiful places for bathing naked are listed.
How to advertise simply and cost-effectively with the Naturist Holiday Guide. Find out our advertising rates for nudist holiday accommodation.
Discover France and the diversity of naturist resorts, campsites,
French ferry ports offer more than a ferry crossing. Break your journey, stay in an hotel and savour the wonderful first impressions of France!
Our years of naturist holidays at Arnaoutchot situated in the pine forests of South West France and why Arna will always have a special place in our hearts.
Beautiful Chateau Rieutort in the Langudoc region of France is opening its doors to nudists this summer for naturist bed and breakfast, and gites.
La Petite Brenne naturist campsite is Situated in the stunning Brenne Regional Nature Reserve. The perfect location for a wonderful naturist holiday.
Naturisme.com is a naturist association of five beautiful, environmentally friendly campsites and resorts in France. Relaxation is guaranteed.
Escape to the freedom of Creuse Nature campsite, a true small paradise in the Limousin region of central France and the ultimate in rural naturist camping.
Visit Bagheera, a Natustar member and naturist paradise on the spectacular island of Corsica. Discover some of the best beaches in the Mediterranean.
Find naturist peace at Domaine Laborde, a member of Natustar, situated on a wooded hillside bordering the beautiful Dordogne region of South West France.
Make Le Colombier, a Natustar member, your naturist holiday destination this year. Discover tranquility and sunshine in the Vendée, France.
Discover Les Lauzons, a member of Natustar, and relax in the tranquility and sunshine of this natural and spacious naturist campsite, situated in the heart of Provence .
Origan Village, is nestled in the hillside above the river Var in the Haute Provence region of France, ensuring a Mediterranean climate naturist holiday.(174)
Spain is becoming more and more of a naturist holiday option. Find out about naturist accommodation such as b&b, apartments and guest houses
Formentera boasts beautiful sandy white beaches and clear turquoise seas. This beautiful island is located in the Spanish Balearic Islands and truly is an undiscovered gem.
If you are looking for privacy and seclusion, Casa Patricia is the perfect villa for an adult only, naturist holiday. Within easy reach of the Costa del Sol in Spain.
Visit The Canary Islands for the wonderful all year round climate and the idilic naturist beaches on Fuerteventura, Lanzarote, Tenerife and Gran Canaria
The Don Luis Apartments are situated in Corralejo on the naturist friendly island of Fuerteventura in the sunny Canaries, close to clothing optional beaches!
Secluded BHH Naturist Villa on Fuerteventura is a superb setting for a Naturist Holiday. Here you are close to some of the best naturist beaches in the Canaries.
Our search for naturist beaches, campsites and accommodation in Portugal and our experiences along the way...
Descriptions and reports of wonderful naturist beaches and resorts in Greece and the Greek Islands from our experiences and adventures of fellow naturists.
Our naturist holidays in Greece including our honeymoon in Skiathos and our Greek island hopping adventures on Naxos, Antiparos, Koufonisia and Donoussa.
Escape to Greece and the naturist freedom of Vritomartis Resort! Unwind on Filaki, the only official nude beach in a spectacular coastal area of Crete.
Greece for your next naturist holiday? Corfu is one of the most beautiful islands! Villa Atraides is one of the most beautiful naturist villas on Corfu!
Enjoy the tranquility of naturist Fig Leaf Villas, the seclusion of the many deserted beaches, and the wonderful climate in a beautiful area of Greece.
Read about Skiathos in the Sporades group of Greek Islands where we honeymooned, explored and discovered wonderful
Thinking about a naturist holiday in Greece? Then Naxos could be your perfect destination. Here are the best beaches for naturism. Find out more!
Cyprus enjoys over 300 days of sunshine a year. What better place to enjoy a clothing optional holiday than Serenity, a haven of tranquillity!
Nuance naturist bed and breakfast offers a romantic naturist friendly setting in forty acres of secluded grounds in the lovely south west of Michigan, USA.
Visit Cape Town and stay at naturist Sun Kissed Villa or Vasnat near the naturist beach of Sandy Bay, and many other stunning attractions South Africa.
George and Diane visited Cuba in 2008! Read of their stay on Cayo Largo and their wonderful naturist experiences on the vast deserted, sunkissed beaches!
Croft Country Club is a friendly family orientated Naturist club located in the Fens. Pitches for caravans, motor homes and tents. Also log cabins for rent.
Discover secluded coves and beaches in Cornwall where it is possible to sunbathe and relax in the nude. Results of
This holiday cottage give you the opportunity to enjoy a naturist holiday and, at the same time, explore the Isle of Skye and the lochs and other beautiful islands of the Inner Sound!
A naturist club is an ideal place to meet like minded families, couples or single people for social occasions, whether a lifelong naturist or your first time.
Greece for your next home? Corfu is one of the most beautiful islands! A rare opportunity to buy a Corfu Villa. This beautiful property is for sale!
Luxurious Villa Elephante Blanco on naturist friendly Lanzarote is for sale. Why not rent it first to experience the beauty and seclusion of this stunning naturist villa!
Property for sale in Vera Playa naturist resort in Almeria, Spain, ranging from one bed apartment to a three bedroom home. Wonderful opportunity for home or income.
Goiko Aldatxea, which is situated in the stunning mountain area of North West Spain, is for sale. There are two acres of secluded garden, ideal for the naturist.
The thought of a first time naturist experience can be pretty scary. That's how we felt before our first visit to the naturist campsite, Euronat.
Owning a motorhome has always been a dream. It is now a reality. Read about why we bought the van that we did and our adventures since.
You have chosen your naturist holiday! Here are some travel tips to help make your journey to, and stay there, a memorable and enjoyable experience.
Visit our naturist holiday collection of campsites and photo's that haven't already appeared on other pages.
About us and why we created our website
Share your Naturist Experiences and Photos of beaches, campsites and accommodation with other Naturists Around the World and help spread the word of naturism!
Keep in touch by signing up for the FREE Naturist Times Newsletter
Please contact us at Naturist Holiday Guide if you have any questions about or experience of a naturist beach or naturist campsite.
The Site Policies including the Privacy Policy and Disclaimer for the Naturist Holiday Guide Website
An Information Site Map for Naturist Holiday Guide - A Complete Listing of all general Information Web Pages at Naturist-Holiday-Guide.com
A Site Map for Naturist Holiday Guide - A Complete Listing of all Destination Web Pages at Naturist-Holiday-Guide.com
Naturist travel tips from fellow naturists aimed at helping with your naturist holiday
Going to a naturist beach for the first time? Here are some tips on the etiquette expected!