Etiquette on a Naturist Beach
Going to a naturist beach is becoming more and more popular, whether it is part of a naturist holiday, or whilst staying in conventional (textile) holiday accommodation. There are some beaches where nudists and people who are not naturist mix together, but usually there are naturist zones which tend to be furthest along a beach from the point of access.
So, are you thinking of visiting a naturist beach for the first time? Are you feeling unsure about what is expected? Well don't worry, because it is quite natural to feel like this! Quite often, just observing what others do, or simply asking for advice will be enough, but here are some general pointers to some questions you may have!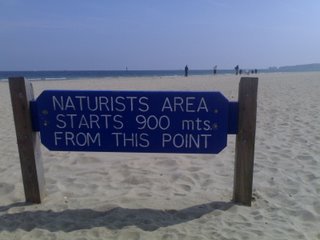 Where can I undress?
It's not worth risking offence by stripping off in a textile area! Wait until you are in a naturist zone which is often marked by signs created by the regular users or other natural boundaries. Respect these boundaries and the people that wear swimsuits on the other side. Always wear a swimsuit near the boundaries and when moving to and from the naturist zone. If it is unclear where this is then common sense and discretion are your best aids. If there are other people in the nude then you will be fine, but it is probably best not to be the first one!
Can I take photographs?
Many naturists are camera-shy and you should never take photos of anyone without permission. Taking pictures of family and friends is fine, but be careful about including anyone else in the shot - make sure you ask their consent first.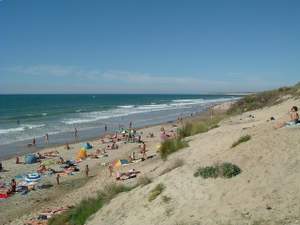 What about privacy?
Naturists are a very friendly crowd, but many people go to the beach for a quiet and peaceful time. If there is lots of room, give people a respectable distance. Body language is always a good indicator of whether people wish to be disturbed.

What will I need to bring?
Come prepared! A minimal "kit" should include a towel, sunscreen, sunglasses, a bathing suit/clothes (for entering and exiting the area), water and food (many naturist beaches do not have amenities!) and a rubbish bag. Always leave the beach as clean, if not cleaner, than you found it!

The most important thing to remember is to relax and enjoy yourselves. Once you have visited a naturist beach you will never want to wear a swimsuit again!