How Greece Won Our Naturist
Island Hopping Hearts
Our love affair with Greece and the Greek Islands in particular started with our honeymoon in 1998 on the island of Skiathos.
Because Jan was still teaching at the time we had no option but to go during the school holidays.
Friends had warned us that the island would be really crowded but we decided to go ahead anyway and rented a tiny chalet in the hill overlooking Koukinaries, about 12 kilometers from the main town of Skiathos and within walking distance of the world famous naturist Banana beach.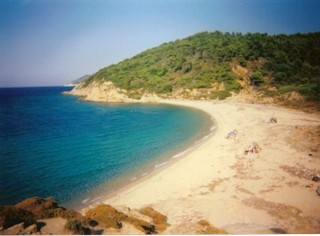 However, Banana beach would have been the easy option and as we have always enjoyed exploring to find the more secluded naturist beaches we decided to hire bicycles.
This helped with our search and also gave us the label 'the mad English couple' by people who had driven past us in their 4x4. But because of the bikes we were able to cover most of the island and discovered several wonderful beaches and also the ancient monastery of Evangelistra.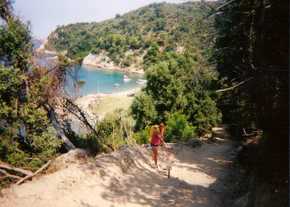 One day we met with friends and hired a little speedboat exploring some of the coastline, visiting Lalaria beach which can be reached only by boat.
We also had barbequed sprats at the 'cafe' on Tsougria Island.
These experiences combined with a couple of lovely meals in Skiathos town made it a great honeymoon and left us with fond memories of Greece.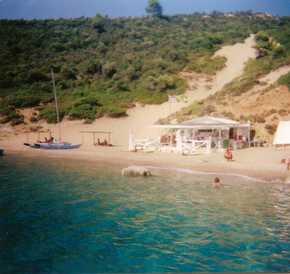 This holiday certainly whetted our appetite for more of Greece but our next excursion a couple of years later was of a different nature.
We decided to go island hopping in the Cyclades group of Greek islands with the idea of camping during our three week trip. We flew to Athens and caught a ferry from Piraeus to the first of our stops, Naxos.
As our friends know we will occasionally make plans but change them if a better idea turns up. This was certainly the case the moment we stepped ashore at Naxos and were surrounded by people offering apartments and rooms at ridiculously low prices.
The outcome was that I spent the next three weeks carting a tent around the Cyclades without putting it up once.


Greece is not necessarily renowned for it's naturist beaches but they are certainly nudist tolerant and it appears that on most islands it is possible to find a beach or beaches where naturism is totally acceptable.
For that reason and because of the size of Naxos we hired bicycles and we were not disappointed with our efforts, our favourite probably being Agios Prokopios where we felt very comfortable sunbathing naked.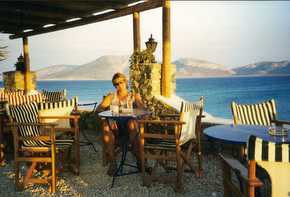 Our next stop was Koufonisia again staying in an apartment in the main little port of Koufonisi. This time we explored on foot eventually finding Pori which was our favourite beach.
We walked across the island to get there the first time but it is well worth walking the coastline and seeing the amazing inlets and caves. You will also come across Platia Punta, the main naturist beach.
The more we saw of Greece the more we loved it.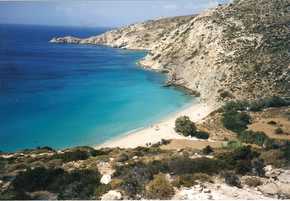 On the way to our next island, Donoussa, the ferry stopped at Amorgos just to drop one person off, and made the most amazing 'three point turn' to get out of the inlet.
We had mixed feelings about our stay on Donoussa. We found one of our favourite naturist beaches of the trip but had several, totally unrelated and non naturist, bad experiences (I think that makes sense) to put us off returning. Read about these on our Donoussa page.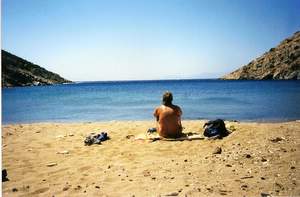 Our final stop off was on Antiparos where we stayed for a week. It can be reached from Paros by a ten minute ferry crossing from Pounta which is reached by bus from the main port, Parikia.
Antiparos boasts one of the few official naturist beaches in Greece but we were determined to find more remote beaches and, in order to do so, this time we rented a moped which, considering I'd never ridden one, was a remarkably easy thing to do.
We were then able to explore the length and breadth of the island, in doing so coming across the amazing stalactite cave, a must for anyone visiting the island.
During this last week we found one of our favourite beaches, Monastiria, some wonderful little restaurants in Kastro, the main village, and an island of Greece to which we would certainly want to return.
---
Please subscribe to our newsletter Naturist Times. It tells you regularly about updates to our website plus other interesting naturist bits and pieces.

Please subscribe to our newsletter Naturist Times. It tells you regularly about updates to our website plus other interesting naturist bits and pieces.


Return from Island Hopping in Greece to home page