How Our First Time Naturist Experience has changed our Lifestyle
For our first time naturist experience at a campsite we chose Euronat on the Medoc peninsular in France. Despite the fact that we had been many times to our local 'unofficial' naturist beach in West Cornwall we had never been to a naturist campsite. Nervousness and a certain amount of trepidation were our over-riding feelings as we approached.
Having travelled from Plymouth to Roscoffe with Brittany Ferries we had spent our first night with my best man Andy and his wife and children at a non naturist campsite at Royan.

The following morning we made our way to the port at Royan in order to catch the ferry across the Gironde to Le Verdon on the tip of the peninsular.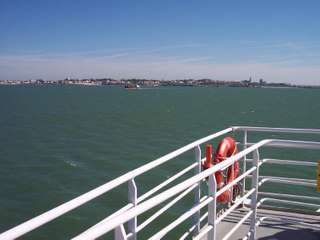 This, in theory, was going to be the quickest way to get to Euronat, rather than drive down and around Bordeaux and back up to the campsite.

What we hadn't accounted for was the fact that this was the last day of the French holidays and there were huge queues on both sides for the ferry.
After about a three hour wait we caught the ferry across the estuary.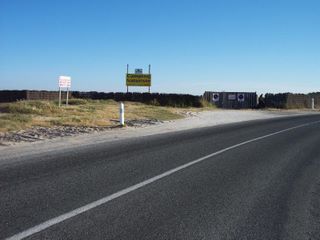 The delay, however, meant that we arrived at Euronat late afternoon. We approached with our hearts in our mouths.

All naturists have to have a first time naturist experience and it is reassuring to know that many have had the same feelings that we were going through.

We arrived at reception to be met by a really friendly young girl. She obviously sensed our nervousness after we had tried to book for just one night. She explained that it would be better to book for longer to ensure we kept our pitch but we would only pay for the number of nights that we actually stayed.

On that basis we booked for five nights and then were led by a young lad on a bike to our pitch. The pitch was great! At first I thought that the parking space was for the tent as well but, in fact, the camping pitch was further in again. Perfect.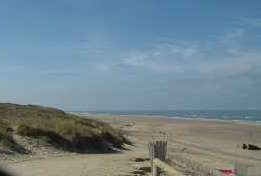 By the time we had put the tent up and organised ourselves evening had drawn in and many people were dressed to go to dinner or just to sit outside the tents.
After supper and a drop of wine we turned in and had a good nights sleep. However, the next problem arose the next morning when insecurities crept in and I refused to get out of the tent until I had seen someone walking around naked.

Once that problem had been overcome we never looked back. A more detailed account of Euronat can be found on our Euronat page.

We hired bikes to cycle to the beach and had a brilliant four days. We felt as though we had turned from first time naturist to experienced naturist in this time, so relaxing was the atmosphere. We still had another ten days of our holiday to go and were more or less decided to stay here for the rest of the time when a chance meeting changed our minds.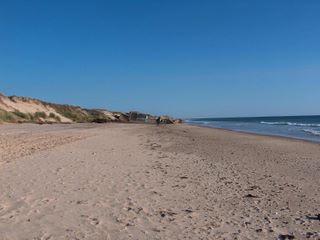 We were cooking at a communal bbq one evening when we started chatting to a couple, also first time naturist, who had stayed at a wonderful campsite in the Dordogne called Cro Magnon and thoroughly recommended it.

So much so that they ripped that page of their map out and gave it to us. We decided that it would be very easy just to stay here so why not extend our first time naturist experience to a second naturist camp.
The next morning we packed the car and then, as our pitch was about half a mile from the bike shop, I said I would ride one bike, wheeling the other one beside me, whilst Jan drove the car. I set off ahead of Jan and my 'system' seemed to be working quite well. It was only when I approached the village that I started to doubt as to how I was going to stop.

It was when I decided to have a trial stop that things went wrong. I slowed quicker than the bike beside me which shot across in front of me causing carnage. Jan drove around the corner to see a crowd of people trying to untangle me from various bits of bike. My only saving grace was that I wasn't naked!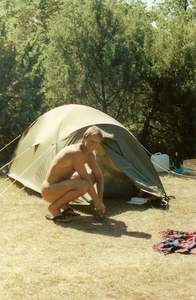 We had thoroughly enjoyed our first time naturist experience at Euronat and were quite sad to leave but now looking ahead to our next 'adventure'.

Cro Magnon took longer than expected to reach but when we arrived, what a difference! From the relative liveliness of Euronat we had discovered the peace and calm of a beautiful countryside naturist camp.

Before I go any further and get you too excited, Cro Magnon is, sadly, no longer naturist.

We were met by the lady owner who was very friendly and helpful and, because the French season was just about over, we had a choice of pitches. We chose one in a really secluded area skirted on three sides by gorse bushes. It was idyllic.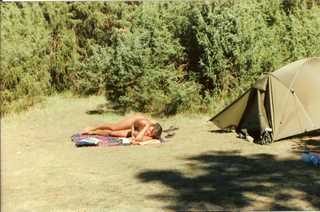 The campsite was on the top of a hill overlooking the River Dordogne on which we went kayaking one day. (There are now several naturist campsites in the Dordogne from which this is possible). It was also within easy reach of Sarlat which is a lovely town and well worth a visit if you should ever get the chance.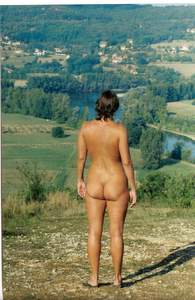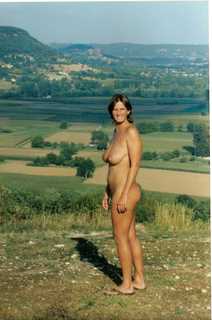 We spent five wonderfully relaxing days at Cro Magnon which convinced us even more that the naturist lifestyle was certainly for us.

Since then we have had at least one naturist holiday a year. It does not have to be expensive particularly if, as we do, you cook mainly outside the tent.
Over the years we have built up our camping equipment which has made life a lot easier!

To any potential first time naturist person, couple or family we thoroughly recommend that you 'bite the bullet' and try a naturist holiday.

You will possibly have reservations at first but you will look back in years to come and be so glad you went out of your comfort zone because it will repay you time and time again.
DO YOU HAVE A 'FIRST TIME STORY?
SHARE IT WITH US HERE!
We hope you found our first time experience amusing! We did. What about your first time experience. We've all had one unless you have never experienced naturism. If that is the case and you are reading this then, hopefully, these stories will put your mind at rest and help ease any natural reservations you may have.

Let us know of your first time experience and let's help spread naturism!


What Other Visitors Have Said
Click below to see contributions from other visitors to this page...

Let others know about this site by bookmarking it at your favourite social bookmarking engine:
---
---
Return from here to Naturist Experiences
Return from First Time Naturist to Naturist Holiday Guide Home Page