Euronat - Never a Dull Moment!
Euronat was the first naturist village we ever visited (read about our first naturist holiday here!) and remains a firm favourite, our most recent visit being May 2012. Why do we rate Euronat so highly? Here are some of the many reasons...
The endless sandy beach on the Atlantic ocean bordered by undulating sand dunes, reserved for naturist swimming and sunbathing.

The beautiful environment of the soft scented pine forest.

The freedom to choose which of the many sports and leisure activities to do....

....or whether to laze the day away in the sun on the beach!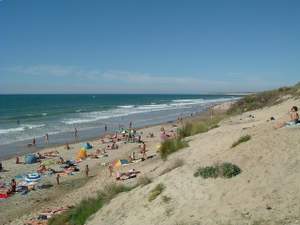 Euronat is situated in the South West of France approximately one hour's drive from Bordeaux, just below the river Gironde. A visit to the reknowned vineyards and chateaux of the Medoc is a must for wine lovers, and of course the "degustation" (wine-tasting!)
Bordeaux itself is also well worth a visit. ( It is our nearest city, so we tend to be a little biased!) It offers fantastic restuarants, shops, museums,18th century architecture, exhibitions and festivals. There is something for everyone!
The resort itself is a huge, well established naturist holiday and residential site covering 335 hectares. It truly is an international centre, with visitors of many nationalities and the staff being multi-lingual.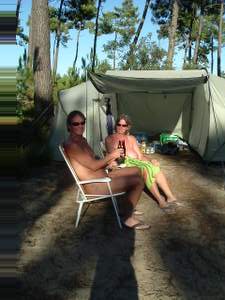 Even though the resort is one of the largest in Europe, it never feels overcrowded and it manages to maintain that personal touch. The many camping and caravanning areas are clustered around sanitation blocks and this helps to keep the friendly, peaceful village feel.
We have always used it for camping, but it also offers self-catering studios, apartments, chalets and fully equipped tents all nestling in the acres of pine forest.
In fact it is possible to buy your own property here! The centre can build you one of 5 different types of chalets sleeping from 4 to 6 people.

So, what exactly is there to do at Euronat?
Where do we begin!
The beach tends to be the focus for many people, as it usually is for us! Although it is possible to walk there it can be a bit of a hike if you are at the East end of the site. Therefore the most common mode of transport on the site is the humble bicycle! You can hire them from the commercial centre or of course bring your own. Another wonderful thing about the site is the speed limit of 20km per hour, so cycling is a very safe option. We have no worries about Harry cycling around - a favourite pastime of his!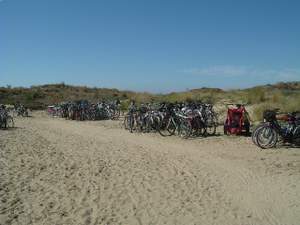 If you are unable to walk or cycle, or are just feeling really lazy you can always drive to the beach as there is ample parking space.
You could spend hours just exploring the resort itself and indulge in a leisurely walk or cycle through the pine trees.
We often do an evening cycle through the different permanent villages dreaming of the day when we own a chalet in Village Afrique or an apartment in Village Europe....
There are also many cycle tracks out of the resort making it very easy to explore the surrounding region. A lovely day out!
Then there are the many leisure and sporting activities available, around 40 altogether, catering for everyone.
Take your pick from various arts and crafts, excursions, cultural activities, games and many different sports such as archery, volleyball, badminton, tennis, jogging etc.
There are dances, discos and cinema showings. (Although you would have to have quite a good grasp of French as most films are shown in French!)
A new event in 2006 was the medieval equestrian show every Tuesday evening.
And we musn't forget the fantastic huge indoor swimming pool and outdoor fun pool with slides. As far as Harry is concerned, this is the best part of Euronat!
Back to the beach again....the sea conditions can really vary from one day to the next, but the Atlantic coast is well known for its rollers, making this a surfer's paradise! Lifeguards (normally the local police!) are on duty from mid June to mid September and there is a first aid post. Also there is a cafe and toilets at the top of the beach - always a bonus!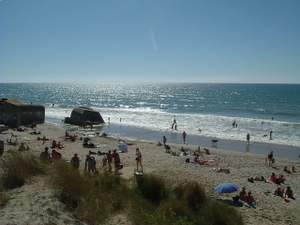 Want to feel good in both mind and body? Then try out the Thalassotherapy. There are many different treatments and packages to choose from so that you can treat yourself to the ultimate de-stressing and relaxing holiday!
You could actually spend your whole holiday without leaving the resort as there is a comprehensive shopping area comprising restuarants and bars, boutiques, a newsagent, a fishmonger, butcher, boulangerie (baker) and shops providing ready made meals.
If you do want to explore further afield then a car is essential. Also if you are flying in to Bordeaux then you will need to hire a car to get to Euronat.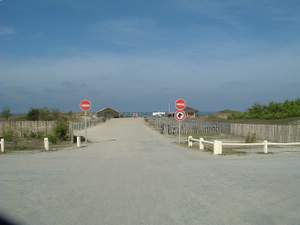 You've seen why WE love this resort!
Discover the resort for yourself and indulge in the holiday that YOU want!
If you should contact Euronat please mention that you read about them first on The Naturist Holiday Guide.

Click here to visit the Euronat website

---
Please subscribe to our newsletter Naturist Times. It tells you regularly about updates to our website plus other interesting naturist bits and pieces.
Return from here to France
Return from here to First Time Naturist
Return from here to Naturist Holiday Guide Home Page