Escape to Bagheera,
a Naturist Haven
on a Beautiful Island!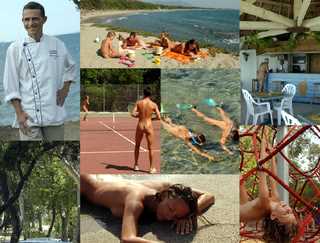 Discover the magic of Natustar member Bagheera, set in a remarkable natural landscape of stunning sandy beaches, hidden coves and villages nestling in the mountains.

This lovely naturist resort is situated in Corsica, sometimes known as "L'Ile de beauté", a spectacular French island in the Mediterranean sea.
The resort has a long, sandy beach skirted by an immense eucalyptus forest which is where you'll find the 190 camping places.

The pitches are shaded, with or without electricity and are suitable for tents, caravans and camper-vans. You can choose either a beachfront or forest location!
You may prefer to stay in a mini-villa or wooden chalet which are scattered amongst the trees, but close to the sea. They all have a sheltered terrace and an equipped kitchen and bathroom. This is naturist camping the easy way!
Whether camping or in a mini-villa or chalet, whatever you choose you are assured of a serene, back to nature experience, but with modern conveniences!

The facilities here are excellent. Let's start with the beach which is suitable for everyone. You can choose to spend your time lazing under the sun (there is beach umbrella and deckchair rental) or perhaps go snorkeling around the rocky inclines, or hire a sailboard. After all this activity perhaps you will want to have a bite to eat at the snack bar or pizzeria on the beach.
Back at the centre there is plenty of choice for things to do such as tennis, volleyball, boules, sauna, massages and so on! You won't get bored!
There is a restaurant with panoramic views and a self-service restaurant, as well as a mini market if you like to do your own cooking.
If you wish to venture out to explore the stunning island of Corsica itself, then you could take a tour in an air-conditioned bus or perhaps hire a car and do your own thing! There is certainly plenty to see and do here.
So whether you decide to relax or explore, de-stress or discover come and find the freedom on offer at this wonderful naturist resort!

If you do decide to stay here, please could you mention that you first read about Bagheera on the Naturist Holiday Guide. Many thanks!


For 2022 prices please visit the Bagheera website 

Return from here to Natustar page

Return from here to home page

Please subscribe to our newsletter Naturist Times. It tells you regularly about updates to our website plus other interesting naturist bits and pieces.