Our Motorhome Adventures

Buying a motorhome had always been an ambition of ours, even if at some points it was just a pipe dream.
When we used to take our grandson (who is now 25 years old) to Arnaoutchot as a toddler we would joke that we were going to buy a camping car with a two bike rack. He insisted it had to have three.
Three years ago we achieved our dream and bought our first motorhome. It appears that most owners have a name for their vehicle. Ours is 'The Van'!
Before buying The Van, we visited many dealers around the Bordeaux/Angouleme area. We found them all very helpful and with their advice, and certain ideas that we had, we gradually decided on the type of vehicle that we were looking for.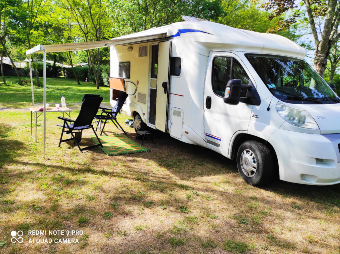 We ended up buying our van in quite unusual circumstances. We often do our shopping in a town called Barbezieux, about 25 minutes away, and in doing so we had to drive past a motorhome dealer.
He often had three or four vans parked outside next to the road and we could see several more inside his courtyard. For whatever reason, we had never considered going in to have a look.
Anyway, one day as we were driving past, we decided to call in. It is a small family business and we met the owner, Pierre, and his wife Linda who were very friendly.
Pierre showed us several vans, none of which appealed to us but he did say he was having another van in the following week which may be of interest. So, over a cup of coffee in their kitchen, we agreed to call back next week.
The following week, there was the van parked up in the courtyard.
One criteria we did have was that we wanted it to be under seven metres which would make it cheaper on the ferry when we bring it to England. At 6.8 metres this was perfect.
We took it for a short test drive down the N10, and straight away we were sold. Apart from the obvious fact that it is bigger, it was like driving a car. We said to Pierre that we would like to think about it as we were looking at another vehicle. He said no problem and that he would hold it for us for a few days. We didn't take long to decide that it was for us and we went ahead and bought it.
The van is a Giottiline, a make that we had never heard of, but Pierre assured us that it was a very reliable make and that has certainly proved to be the case.
We have now had it for three and a half years and Pierre has always sorted any minor problems that we may have had. He also takes it for its CT test (the French MOT equivalent) every two years which is a real bonus from our point of view.
The double bed is actually at the back right hand corner which does involve me sqeezing past Jan's feet for the loo.
But, because of the positioning of the bed it has allowed space for a shower, toilet and washbasin in the back left hand corner of the van, which is perfect for us.
Together with a three ringed gas cooker, a fridge, a freezer, a television and swivel driver and passenger seat, we absolutely love it.
With regards to trips, we have been away many times, but for the time being no longer than two weeks.
We have been a few times to Arnaoutchot and the pitches there are really good.
We also stay at a non naturist campsite 'Jardin pres de l'Ocean in a town called Les Mathes, near Royan on the Gironde Estuary.
Although this may appear to be a little against the grain, we both love cycling, and there are some lovely cycle paths through the forest which eventually take you to Cote Sauvage, a fantastic beach several miles in length with a large naturist section and, sometimes no-one within one hundred metres of us!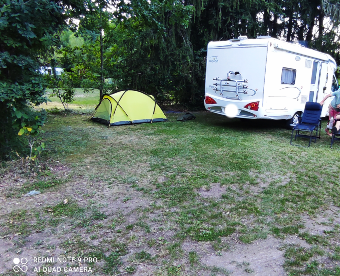 We have also taken two of our grandsons, aged seventeen and nineteen, down to Italy.
This involved two overnight stops and although we originally bought a four berth for this particular occasion, we decided it would be far easier to stick them in a little two man tent of ours, which they thought was great.
We have used it on occasions if we are going to friends for dinner and we want to stay overnight. There is also a pub about half an hour from our house that sells real ale and conveniently has a church car park next door.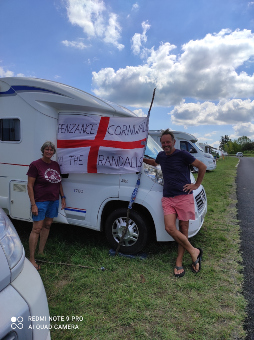 Living where we are, we have stayed at several vineyards, one of which involved watching a time trial stage of the Tour de France near St.Emilion.
Owning a motorhome is certainly a learning experience, and we learn something new every trip. One thing that we have found really useful is a Ulys e-toll badge.
This is stuck on the windscreen and enables you to go through toll booths without taking a ticket. This saves time through there often being no queues at these barriers and also not having to take a ticket.
That is a particular advantage because sometimes the car ticket slot is too low and the lorry slot too high which is a real pain. The cost for this is two euroes for every month of use over and above the toll charges which are exactly the same.
We have a couple of trips in the making for next year. Firstly to Portugal and the Alentejo coastline which we absolutely love. We are also hoping to go to mainland Greece which would be a new experience for us.
When we go we intend keeping you updated on our trips and letting you know of any naturist 'gems' that we discover.
As we said, we are still learning, but if you feel that we can help you in any way, or if you already own a motorhome and have information to share, please do not hesitate to contact us.

---
Please subscribe to our newsletter Naturist Times. It tells you regularly about updates to our website plus other interesting naturist bits and pieces.