About Us and Why We Created our Website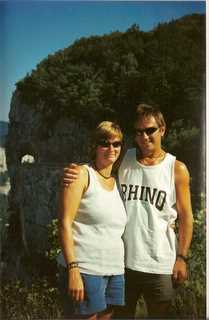 We are Rog and Jan Randall and we are lucky enough to live in the heart of the beautiful rolling rural countryside of Charente, France.
We say we are lucky (and so do a lot of our friends!)....but in fact it wasn't luck but choice that led us here. We decided that we wanted to live in France, so we made it one of our goals.

IN THE BEGINNING....
We were both teachers living in Cornwall, England and we knew that we wanted to change our lifestyles to spend more time together and to do the things that WE wanted to do...We also knew that probably the only way that we could live wherever we wanted to was if we had internet based work.
We have both been naturists (or nudists if you are living in America!) for many years now and so we have always been constantly looking for either naturist holidays, or naturist beaches if we happened to be at a textile resort. France was always one of our favourite destinations and camping our preference - we love the outdoor life!! The feeling of freedom that you get camping naturist is absolutely amazing! And of course there are always the wonderful people that you meet along the way...
We usually tried to find out about naturist accommodation, resorts, camping and beaches on the internet for our holidays and although there was a fair bit of information available it was scattered all over......hence a seed was sown....this is what we would really love to do....live the naturist life in full and start our own naturist website that would provide the information that people wanted, either from our own experiences or that of other naturists....
ONE BIG STUMBLING BLOCK!! We didn't have the faintest idea how to go about it. Neither of us are particularly computer literate and we certainly had never built a web page in our lives. What was HTML and how on earth could we design our own website?!! We did go so far in the summer of 2000 to ask campsite owners, as we travelled through France, whether they would be interested in being on a website, and the answer was a resounding YES!!
Then, back at home in Cornwall, our working and everyday life took over once again and our wonderful ideas went onto the backburner.
LEAVING CORNWALL FOR FRANCE.......
However we did stay focused on our goal of wanting to live in France and in December 2001 we finally took the plunge! By July 2002 we were both living in the South of Charente full time. Finally we could spend time doing the things we wanted to....renovating our house....growing our own vegetables....long cycle rides and walks with our dog....and of course naturist camping holidays!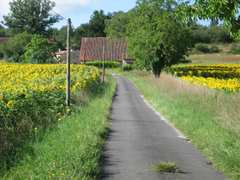 The down side... Jan had to keep returning to Cornwall to do contract teaching to top up the funds - not an ideal situation, but a compromise...at least she wasn't teaching full-time with all the inherent stresses....but this was not how we truly wanted to live our lives!
WHERE ARE WE NOW.......?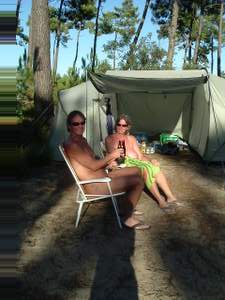 Living happily together in France and writing this website that you are visiting! We started in August 2006 and haven't looked back since.
We can't believe how many visitors we are getting and the positive feed back we get is tremendous!
(A big thank you to all those people that have taken the time and trouble to write to us.)
We love what we do, we can live the naturist life and take naturist holidays and we know that finally it will give us the financial freedom for Jan to completely give up teaching!
"Do you want to discover how we are working towards living our dream life through our online business?"
Return from About Us to the Naturist Holiday Guide home page
Please subscribe to our newsletter Naturist Times. It tells you regularly about updates to our website plus other interesting naturist bits and pieces.