Discover How

YOU

Could Build a Website with

SITE BUILD IT!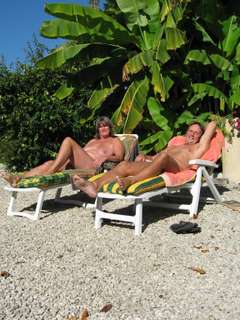 Let us just tell you how Site Build It really has changed our lives!
As we mentioned in our 'About Us' page, we had wondered years ago how we could use the internet to our advantage. Now we were living in rural Charente our thoughts again turned to the internet....this had to be the way forward if we wanted to live the life we wanted, together and full-time, in France.
We started doing hours of research into all the different ways we could work with the computer and internet, when we literally stumbled across SBI! which stands for Site Build It!. What was this all about?!! It gradually dawned on us that this could be the way that we could finally build our passion, naturist holidays, into a business! Site Build It! offered us the opportunity to build a website using a step-by-step system and we didn't need any programming skills or web design knowledge to do it. (As you read before, this was essential criteria for us!) Unbelievable we thought, (because during our many hours of research we had come across a lot of 'scams' and 'get rich quick' schemes), we needed some proof. Perhaps we should add at this point that Jan was a Maths teacher - always looking for proof! SBI! was able to provide that as well.
WHERE DO YOU WANT TO BE.......?
The fact that you came to this site looking for information about naturist holidays probably means that you are free-spirited like us, and so we wanted to share our business building experiences with you. SBI! has certainly changed our lives.
We are passionate about the naturist way of life (especially the holidays!!) AND we can make money from what we do. What is your passion? Is it a life skill, a hobby, a sport, your family, or a business you are already involved in? Whatever your answer you can build a website just like we did and let your passion change your life.

There are many SBI! websites that feature in the top 1% most popular websites on the internet, and we are already in the top 2%! Yes, us!! You should have a look at all the truly amazing things that people decide to write about....we couldn't believe all the different topics that were there!
SBI! has even featured on the Oprah Winfrey Show!!
Why not have a look at the Video Tour to get an idea of how SBI! works, or try the Quick Tour if you are on dial-up.
If you have an exciting idea, loads of motivation but still have questions why not ask the SBI! Team.

We hope that all your questions have been answered! If you would like to share your passion with other people and turn it into an income then your next stage is to order from here! with a 100% money back guarantee!
Should you decide to go ahead and build your own website please let us know because we would love to visit it!
Enjoy life and please keep in touch with our site!
Naturist Regards
Jan and Rog



Return from Site Build It to the About Us page

Return from here to home page