The Idyllic Naturist
Beaches of Greece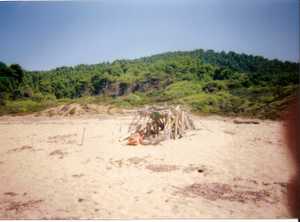 Ever since our honeymoon on Skiathos, Greece has held a special attraction for us. From the moment we stepped off the plane and the heat hit us we knew we were going to love it.
When you read about our trip to Skiathos you will understand why we knew we had to return to Greece.
Talking about Skiathos, read about Tim and his wife's discovery of Banana Beach.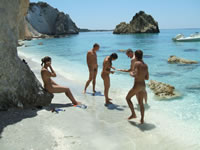 Kefalonia is the largest and one of the most popular destinations in the Ionian group of islands.
Apart from the wonderful, mountainous scenery inland, Kefalonia also contains 254kms of coastline containing many secluded coves and beaches.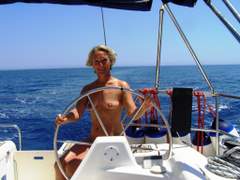 On the mainland you will find the stunning and unspoilt area of the Peloponnese.
Here you will find miles of empty sandy beaches, little Greek fishing villages, lakes, olive groves and mountain villages. Idyllic! It is recognised as Greece as it was twenty years ago.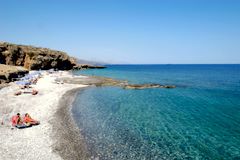 Crete is the largest of the Greek Islands, with an area of 8336kms. and a coastline of over 1000kms. If you are thinking of taking a naturist holiday there you need look no further than Vritomartis Resort on the beautiful south coast of of the island.
If you stay at Vritomartis Hotel and Bungalows you are able to walk naked to their own official naturist beach of Filaki!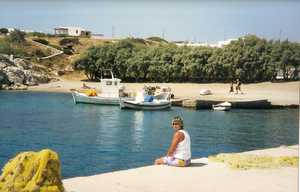 When we returned to the Greek Islands two years after our Skiathos trip, it was for an Island Hopping adventure! The ferry journey from Athens took us to Naxos where we spent several days and found Agios Prokopios beach, our first naturist experience of the trip.
On to Koufonisia a lovely Island of many inlets and caves, and the naturist beaches of Pori and Platia Punta.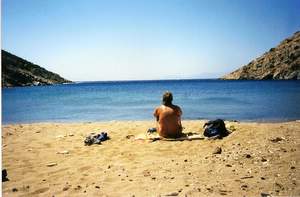 Our next stop took us to Donoussa. Potentially another pretty Greek island. Read why we left Donoussa rather hurriedly and with not the greatest memories of the island!
We would certainly recommend Antiparos the final stop of our trip. Hiring a moped would be useful, certainly to reach one of our favourite beaches of the holiday, Monastiria (see the photograph of Jan).

If you have any stories you can share with other naturists regarding the Greek Islands (or anywhere else) please visit our naturist experiences page.
---

Return from Greece to Naturist Holiday Guide home page
Please subscribe to our newsletter Naturist Times. It tells you regularly about updates to our website plus other interesting naturist bits and pieces.