Cuba
The Caribbean Sea
and the naturist Cayo Largo
In 2008, Naturist Holiday Guide readers George and Diane visited Cuba, and the beautiful naturist friendly island of Cayo Largo.
They were kind enough to send us a wonderful picture of Diane walking on a deserted beach for us to put in our 'Your Experiences' section, together with a short description of their stay.
This so attracted our interest that we contacted George and Diane and asked if they would be willing to write an account of their holiday.
They were only too pleased to do so and as a result you are able to read their version of the holiday in Cuba, together with further pictures that they sent. 

---
We flew into Havana late afternoon and spent the evening exploring the old town, *see pics*, and had a meal in one of Ernest Hemingway's favourite haunts. Next morning it was a short local flight to Cayo, about 30 minutes.
It was a 5 min drive to the Hotel Sol Cayo Largo Del Sur.
 They had two hurricanes within a month, but no damage worth mentioning, apart from the beach umbrellas and the sand which had been washed out to sea, from our hotel and the east. The west was unaffected. There are only 6 hotels on the island and all but ours were closed due to cancellations and some damage. Our hotel was only ever 25% full, at most, and at one point there were only 50 or 60 guests....?!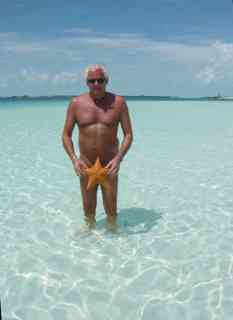 The beaches were deserted with much wildlife such as Iguanas, Pelicans, Turtles, Star Fish and many Crabs...even in the restaurant...not on a plate I hasten to add..! *see pics, *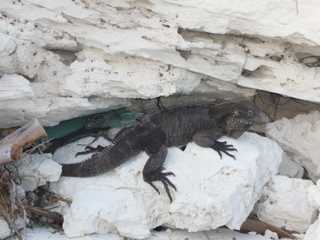 It was an all inclusive holiday, all food, drinks and entertainment included. Not our thing normally...we like to go native, and do our own thing...but this was such a beautiful place, it was OK. We spent most of out time on the beach, on long walks, naked of course, swimming in the 30 degree water and just relaxing. This was only interspersed with the odd lobster lunch..*see pics.*
The staff, I hasten to add there are no locals as the island was uninhabited until recent times, were very friendly and welcoming. Nothing was too much trouble. There was plenty to do... Tennis, Gym, Yoga, pool games, cycling, Tang, Table Tennis, etc, etc. as well as Jeep and Moped hire.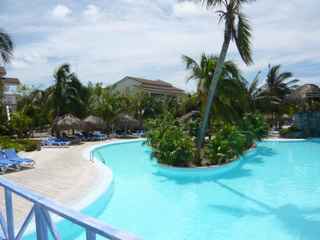 The accommodation was textile, but topless around the pool - this was our experience anyway. The mix of nationalities was not the norm, some being quite prudish, so much so that when we walked along the beach naked from our favorite spot to the lunch stop we were the centre of attention...! We did cover up at the bar/restaurant. That, we were told was very unusual, just the mix of people at that time. The lunch bar (not part of the hotel...it's 2km away) does have naked eaters at times, we were informed.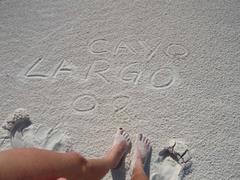 All in all a great place to holiday, the only fully naturist island in the Cuban archipelago. There are 8 or 10 holiday islands, mainly on the northern side. Cayo Largo is to the south.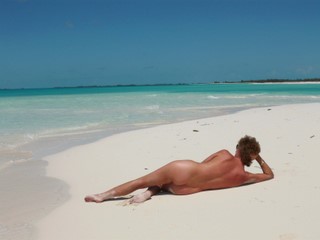 After a holiday like that we can only imagine that George and Diane are dreaming of one day returning to Cayo Largo!

---
Return from Cuba to Naturist Holiday Guide Home Page

Please subscribe to our newsletter Naturist Times. It tells you regularly about updates to our website plus other interesting naturist bits and pieces.