SKIATHOS for a Wonderful
Honeymoon and Special
NATURIST BEACHES
Jan and I chose Skiathos for our honeymoon for one good reason. For an island that boasts between sixty and seventy beaches around it's forty four kilometres of coastline we felt that there was a very good chance that we would find some secluded 'unofficial' naturist beaches.
Although we were married in July we had to wait until August to go because Jan was teaching.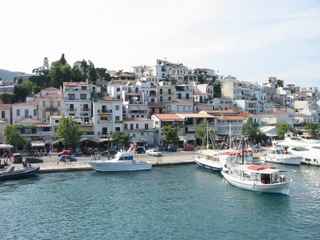 Friends told us we were mad to go to Skiathos then because it would be so crowded but we were determined to find quiet beaches.
Having studied brochures in some detail we finally decided to stay in an area called Koukounaries in the south west of the island.
This was partly because there is the well known 'Banana Beach' in the area which is used greatly by naturists but also because we saw a lovely little one bedroomed chalet advertised which was perfect for us. It was the furthest up the hillside overlooking Koukounaries and totally secluded.
We can't actually remember the name of the chalet but if you want to be near Banana Beach, there are plenty more apartments in the area.
Noula Apartments, Amalia Apartments, Kaiti, Lakes Apartments, and Filia Studios Apartments at nearby Troulos are all within easy reach!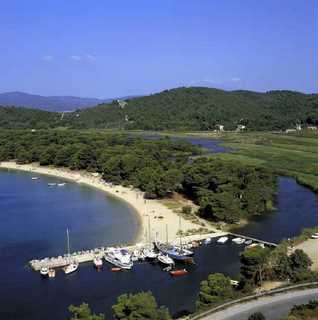 We were met at the airport by a rep and a coach and gradually made our way along the thirteen or so kilometres of road on the south coast dropping other visitors off on the way.
We were the last to get off and shown the direction of our chalet. It was quite a climb but what a view when we reached it.
That evening we wandered down towards Koukounaries and ate in one of several restaurants along the main road that leads to Skiathos town. Our evenings tended to alternate between eating out, which was relatively cheap, or cooking back at the chalet and enjoying the sunset.
On the first full day of our fortnights holiday we went into Skiathas town a) to look at the town itself and b) to get as much information as we could about Skiathos island.
The town was, as expected, busy but it was a relaxing busy with everyone enjoying the beautiful temperatures. The one thing that struck me as we stepped of the plane was the heat bouncing off the ground. Wonderful.
Average temperatures in Skiathos at that time of the year are in the mid to high twenties, eleven hours of sun and no rain.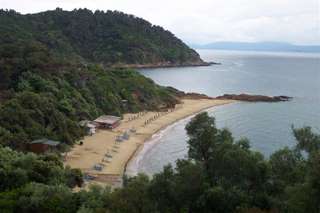 During the afternoon we caught the bus back to Koukounaries. The bus service is really good with busses running regularly and making many stops along the way.
The stops coincide with many of the little coves and beaches along this stretch.
Having read about them, though, none really looked to have 'naturist potential' until the far end and 'Banana Beach'.
Late that afternoon we decided to have a look at the beach so after dropping off our supplies we walked down there. When we arrived we were a little apprehensive because it appeared to be completely textile but we were aware that there was another section of the beach, over the rocks on the right hand side, that could be naturist.
Our hopes were fulfilled. It was almost completely naturist, many people using the sunloungers and umbrellas, and there was a really friendly atmosphere there.
We stayed for a couple of hours watching the sun drop before making our way back for supper. This became a bit of a ritual at the end of the day but we never spent the full day there.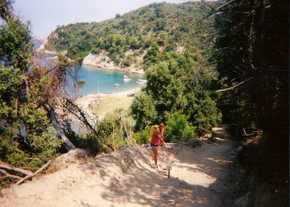 The reason for this was, having studied all the information, we decided to hire bikes and make a more thorough exploration of the island.
The following morning we caught the bus into Skiathos and sorted out a couple of bikes.
After coffee then lunch, we really liked Skiathos town, there was not enough time more than to cycle back to Koukounaries and start the next day.
We had heard of a naturist area at a beach called Xanemos. However, as this was almost directly under the flight path of planes flying into Skiathos, we decided to give it a miss.
We chose to get off the 'beaten track' and explore towards the north coast and so, as near as possible, followed our tourist map and cycled inland. The road gradually became hillier and rougher and it was at this point that a 4x4 drove past.
Quite by chance we saw the couple later who said 'Are you the mad couple we saw cycling earlier?' It was hard to disagree.
This was eight years ago and 4x4's were very rare on these roads. We could go for over an hour without seeing anyone. I'm afraid the situation may have changed now.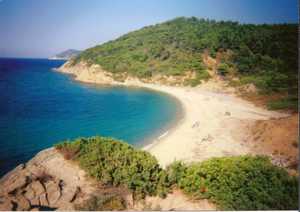 It was during this day that we came across the monastry of Panagias at Kounistras which was quite a surprise as it seemed to be in the middle of nowhere. There were beautiful views from here.
We had a great day finding various beautiful little coves but none of which we would have been comfortable naturist. It was after a couple of days that we came across the Mandraki peninsular further over towards the west.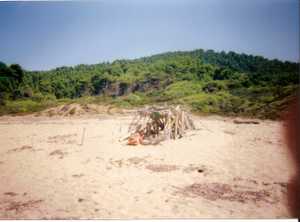 Straight away this area seemed more promising. We liked Elias beach and were quite comfortable there as there were other naturist people.
However, to the right of Elias there is a small headland and the other side is Agistros beach.
This, we decided, was the beach for us. It was virtually deserted and had a series of little huts built from driftwood where it was possible to keep food, and if necessary us, in the shade.
The one slight disadvantage was the litter at the back of the beach that had been washed in during the winter storms. This certainly did not spoil our enjoyment of the beach and we spent many relaxing days there during the fortnight. The other bonus was that it was only about thirty minutes walk from our chalet.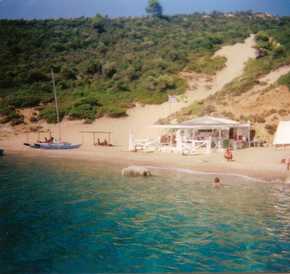 Because of this we only kept the bikes for another couple of days.
On the last day of the bikes I had a puncture about eight kilometres from Skiathos town but the bus driver was really helpful and loaded the bike on the bus for me.
During our second week we arranged to meet up for the day with friends who happened to be staying on Skiathos and we hired a little motor boat.
This was great because we were able to go along the south coast which just confirmed that there were no suitable naturist beaches there.
Two particular places of note that day were Tsougria Island which is not too far off Skiathos town, and Lalaria beach.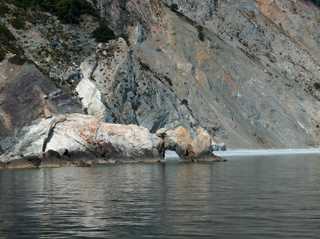 Tsougria was great because as we landed there was a little shack where it was possible to buy a drink and barbequed sprats.
We didn't spend long there but it certainly seemed to be an island with naturist potential.
Lalaria beach is spectacular, situated beneath huge cliffs and only being accessible by sea. For this reason it is not really suitable for naturism because there is a constant flow of craft visiting the beach.
Nevertheless, it is well worth a visit for the sheer beauty of the place with the tunnels in the rocks at the end of the beach.
Our honeymoon on Skiathos was great. We did plenty of cycling and exploring, and we also found a lovely beach. Probably more importantly, it whetted our appetite to visit more of the beautiful Greek Islands.

---
Please subscribe to our newsletter Naturist Times. It tells you regularly about updates to our website plus other interesting naturist bits and pieces.

Return from Skiathos to Greece page

Return from Skiathos to Naturist Holiday Guide home page