Naturist Holiday Guide Blog
This Naturist Holiday Blog will always show you the latest additions and updates we have made to our Naturist Holiday Guide. It......
...lets you know whenever any new web pages appear or have been updated on Naturist Holiday Guide, telling you about new campsites, beaches etc. that we have heard of
...keeps you up to date with any relevent information such as travel news, travel accommodation etc.
...tells you about our, or our fellow naturists, adventures or travels that may be useful when planning your holiday
To subscribe to our Naturist Holiday Blog (no e-mail necessary), right click on the orange RSS button (see bottom buttons to the left), left click on "Copy Shortcut" and then paste the URL into your RSS reader. Or click on the My Yahoo button or My MSN or Add to Google button if you keep a personalized page there.
If you are not sure what RSS and blogging is all about, don't worry! Just click on the 'What's an RSS Feed?' link in the same box.
Once you start, you will be amazed what RSS can do. Enjoy!
Dec 09, 2022
Our Motorhome Travels and Adventures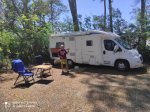 Owning a motorhome has always been a dream. It is now a reality. Read about why we bought the van that we did and our adventures since.
Please subscribe to our newsletter Naturist Times. It tells you regularly about updates to our website plus other interesting naturist bits and pieces.