Welcome to Les Lauzons Where You Can Enjoy Peace and Sunshine!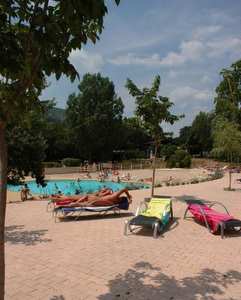 Imagine camping at Les Lauzons, a member of Natustar, and being surrounded by fragrant lavender fields, old villages and rolling hills.
Or if you prefer, stay in one of the recently built, peaceful chalets available for renting.
This naturist resort is situated in the heart of Provence on the edge of the beautiful Luberon Park and bordered by the 'Lure' Mountain. 
The resort is located over 150 acres of wooded hillside in a naturally protected environment.
There are 150 comfortable pitches, both sunny and shaded, spread over 4 fields and with wonderful views, so there is plenty of space and peace for everyone!
Each field has its own sanitary block with both disabled and baby facilities. The chalets have their own field near to the centre.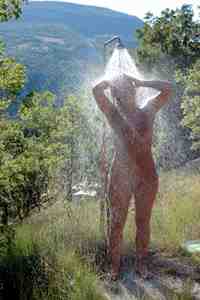 At the centre of the site is a magnificent 300 year old Provençal "Mas" or farmhouse. Here you will find extensive facilities such as a restaurant, a bar, a grocery shop, a library, an open air cinema, ping pong, and a sauna and gym, just to name a few!
What could be more pleasant than a lazy day around the pool? Ideally placed in the centre of the domain near the bar. There are three of them and each one is intended for different desires according to the hours of the day.
Also for the children is a lovely playground, a visit by clowns and puppets, and body painting.
One of the main attractions for many people is the varied, dynamic and original programme of activities that takes place. In the high season it is not unusual to find up to four entertainment leaders.
Amongst the many activities during the summer are archery, water polo, aqua gym and concerts. They also have communal meals and there are celebrations on 14th July.
You will certainly never get bored here!
Should you wish to go on a days excursion, there are many opportunities.
You are staying in the Provence at its purest. There are many beautiful fields of lavender and little villages hiding away in the hillsides.

So whether you dream of lazy afternoons basking in the sun or a holiday filled with fun activities, you will find it all here!

If you do decide to stay here, please could you mention that you first read about Les Lauzons on the Naturist Holiday Guide. Many thanks!

Visit Les Lauzons website

Return from here to Natustar page

Return from here to home page

Please subscribe to our newsletter Naturist Times. It tells you regularly about updates to our website plus other interesting naturist bits and pieces.