Escape to Creuse Nature
A True Naturist Paradise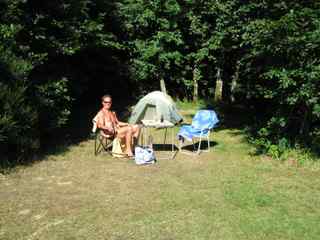 For some time we have wanted to visit Creuse Nature naturist campsite in the Limousin region of central France.
The end of June was really hot, and we had a spare weekend, so we decided to 'go for it'.
We had fleeting thoughts as to whether 3 hours was a long time to drive for two nights camping.
As it turned out it was worth every second!

Creuse Nature is situated along a quiet country lane, the D15, just outside Boussac, and is very well signposted.
As we arrived at around 7.30pm, reception was closed and the evening meal had started.
This takes place in the restaurant which is part of a large round building in the centre of the site which is also where all the main facilities are situated.

We were immediately made to feel very welcome and were invited to join the meal but declined because we wanted to put the tent up. However, we certainly enjoyed a welcome drink in the bar given to us by Els, the very friendly and helpful owner.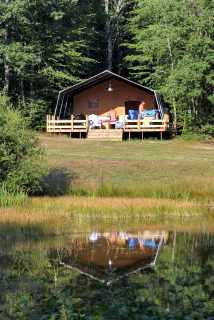 She took us to reception and gave us details of the site, including a map, and told us that we could choose a pitch and she would then check for availability for the next two nights.
There is a large variety of lovely pitches, a total of one hundred in all. A choice of in the woods or by the lake, in the sun or in the shade.
We chose a pitch which was by the lake with the evening sun.
Creuse Nature has wonderful Glamping Safari tents.
These are huge tents, and as you will see from the photographs below, with all comforts, even a bath.
They are 66m² in area and are situated on some of the nicest places on the site.
Until the 2nd of July the tents only cost €470 euro per week. In the high season they are €900 per week.

It is also possible to walk right around the wooded perimeter of the 19 hectare campsite, a wonderful naturist experience!
The campsite is very accessible for the disabled.

The facilities are excellent! There is a sauna, a heated indoor pool, bar and restaurant, spotless showers and toilets which also cater for disabled people, washing machine and tumble dryer, and a small library with internet access.
These are found in the main round building. Separate from this area is a small shop but should you wish to do a larger shop, Boussac is five minutes drive away and has a supermarket.
Alongside this is the terrace where the majority of the meals are eaten. At this point it is certainly worth mentioning that the food was excellent.
Theo, the chef, obviously takes a great deal of pride in his cooking. On the night we arrived he had cooked moules frites (mussels and chips) which smelt and looked delicious.
We ate there on the Saturday night and the meal was onion soup followed by a giant piquant meatball and chips finishing with fruit pie, with plenty of wine to wash it down.
This meal was taken at a long communal table which gave us plenty of chance to talk with the team of helpers that assist Els and Reinier.
Everybody was extremely friendly and we had a great evening. The night we were leaving Theo was cooking an Italian meal.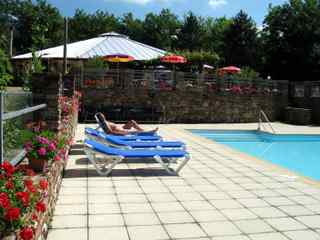 Below this terrace is the main swimming pool where Jan and I spent most of our time, as you can tell from the photograph.
This is such a relaxing area. The main pool has a very safe shallow area for children and the water was a very pleasant 25 degrees centigrade.
We spent quite a lot of time in the pool because of the wonderful sunshine and then dried off on the really comfortable sun loungers.

There are many activities organized during the season including themed weeks such as music, nature and health, clown demonstrations and circus lessons for all ages, various artistic lessons, yoga and meditation, sporting activities including archery and a Saturday night campfire.
There are also activities organized for children and a children's playground. It is also possible to have a massage, which Jan took advantage of!

Creuse Nature is also very aware of preserving the environment and has been awarded 'Les Clefs Vertes' or 'The Green Key'. This is an award for environmental management for tourist accommodation and rewards campsites etc. for their action in environmental stewardship.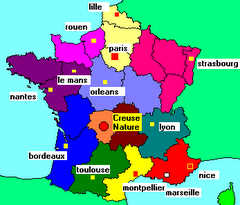 Although situated in the centre of France, Creuse Nature is within easy reach of all the channel ports if you are traveling from the UK.
We recommend that you look at the 'viamichelin' website for exact directions but examples of their estimates are Calais just over 6 hours, Caen 5 1/4 hours and even Roscoff is only 7 hours away, so distance is not a barrier.
We are so pleased we made the effort to visit Creuse Nature. It was definitely worth the drive and we certainly plan to return again this year. This time we will make sure we stay for longer!!
---
If you should contact Creuse Nature please mention that your read about them first on The Naturist Holiday Guide.
Perhaps you could send us a testimonial as well!
 For further details please visit Creuse Nature's website at                     www.creuse-nature.com

Return from Creuse Nature to Naturist Holiday Guide home page
Please subscribe to our newsletter Naturist Times. It tells you regularly about updates to our website plus other interesting naturist bits and pieces.