How Naturist IS Portugal?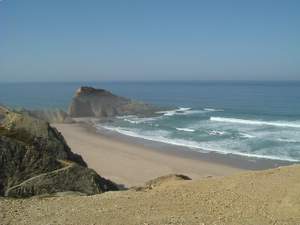 Having heard and read what a warm and sunny country Portugal is, this is a question we decided to answer for ourselves during the summer of 2005. We weren't disappointed!
Immediately on crossing the border from Spain we were struck by the stunning beauty of the countryside. We crossed the River Douro which forms part of the border with Spain and the scenery was quite spectacular.


As we continued our journey, camping on the way, we fell more in love with the country and this was before we had even reached the beaches. This was helped by the extreme warmth and friendliness of the Portuguese people.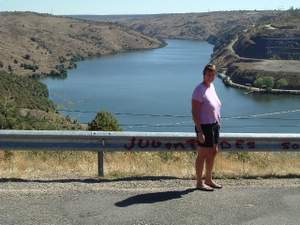 Having reached the coast our search for naturist beaches began. We had done a lot of research before our journey and were delighted to find that this really is a very naturist friendly country. We had marked many potential clothes free beaches on our map and gradually made our way down the coastline.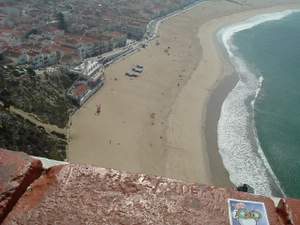 There were some, literally, breathtaking views such as the one from the Plaza in Nazarre with a 300feet drop to the beach below.
Also the picturesque fairytale castle of Sintra is not to be missed.
Perhaps our one disappointment before the trip began was the lack of naturist campsites.
This proved not to be a problem because the municipal and private campsites that we stayed at were extremely clean and friendly.
Also, with regards to naturist accommodation, there are now several naturist campsites and bed and breakfasts.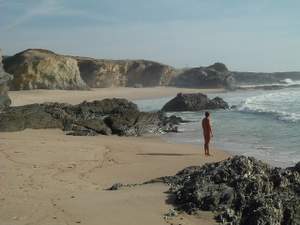 All of the official naturist beaches are situated south of Lisbon such as Praia do Salto just south of Sines, birthplace of Vasco da Gama.
Portugal has been described as an unspoiled paradise. This is certainly the case in the Alentejo region with many miles of beautiful coastline hiding coves and fishing ports.
Also it is very cheap to eat out at the many restaurants in the various resorts, seafood naturally being the local (and Jans) favourite.
If naturism is your way of life you would have to go a long way to find anywhere more beautiful, relaxing and friendly than sunbathing on the
wonderful Portuguese naturist beaches. 


Let others know about this site by bookmarking it at your favourite social bookmarking engine:
---


Please subscribe to our newsletter Naturist Times. It tells you regularly about updates to our website plus other interesting naturist bits and pieces.
Return from Portugal to Naturist Holiday Guide