Which was our FAVOURITE of all the naturist beaches in Portugal?
With 5 official and approximately 40 unofficial naturist beaches in Portugal we realised that it would be impractical, if not impossible, to see them all in one visit.
We were also aware that in some cases we would probably be disappointed, so with this criteria in mind and with research behind us we started our search at Mira, about 30 kilometers south of Aveira. This was because there were only about 4 naturist beaches north of here, none of which were particularly highly rated.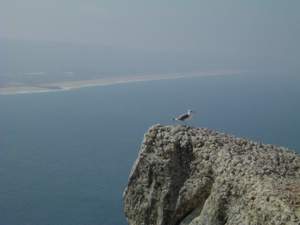 This stretch of coastline consists of mainly dunes and open beaches. There are a couple of areas, Palheiro and Almadoiros, between Aveiro and Figuiera da Foz but we were more inclined to look for coves and cliffs. On past the spectacular cliffside town of Nazarre towards Lisbon were similar beaches with occasional nudism in places but nothing to get the adrenalin rushing!
The most highly rated of the naturist beaches in this area was Ursa, between Sintra (of the fairytale castle) and Cascais. Ursa has been described as the 'most beautiful beach in Portugal'.
We found what we assumed to be the approach to the beach which was a rough track which you would only drive down if you had a 4x4 or you were quite happy to wreck your car! We had misjudged our timing and arrived too late in the day to walk down, half an hour each way.
Decision time again!
We decided to drive on down to Sines, missing the first two official naturist beaches Bela Vista and Meco, as well as the highly rated Fonte da Telha, all of which are just south of Lisbon.
Having arrived at Sines, we did not regret our decision. It is a lovely little fishing port with a spectacular castle, considered to be the birthplace of Vasco da Gama. The only downside are the huge oil refineries in the background leading to possible pollution.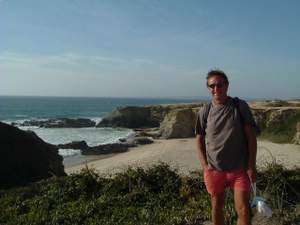 We camped at the campsite in the middle of town which was quite large, clean and very peaceful. The next day we decided to visit our first of the official naturist beaches in Portugal, Praia do Salto at Porto Covo, about 17 kilometres south of Sines. What a beautiful beach!. Quiet, sheltered and soft sand. Thoroughly recommended! The climb down to the beach is not easy but we suggest you wear trainers and take your time. It's worth the effort.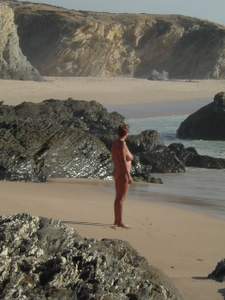 One thing I haven't mentioned is that so far during our trip we hadn't seen a single cloud and so we had managed some serious sunbathing. We spent four really enjoyable clothes free days there and it was difficult to move on. However, there was more research to do and plenty more beaches to tick or cross off the list. During our stay at Sines we had made a short morning excursion to two other recommended naturist beaches. The first, Pessegueirro, just past Porto Covo is a quiet series of rocky inlets with a lovely coastline. There were only two other couples in the area, neither naturist, so we decided to move on to Praia Malhao which was quite highly recommended.
We were disappointed. The approach by car is long and bumpy, not a problem, and when we arrived at the car park it was crowded with cars and camper vans, many of which were being lived in.
The beach was really pretty and busy but we were completely unable to find a single nudist. We also managed to lose our binoculars so we left there a little disillusioned. You may find the naturist area there in which case you would have a thoroughly enjoyable day.
According to our map, the next of the naturist beaches heading south was Alteirinhos near a town called Zambujeira. We first called at Odemira for supplies and camping gas. It can be described as a lively town in a peaceful sort of way and is reached by a very picturesque route. We are falling for Portugal more and more and everyone is so friendly and helpful.
To find Alteirinhos beach we drove into Zambujeira turned left and followed the lane leading over the next headland on the top of which is the carpark, down a little track on the right. Wow!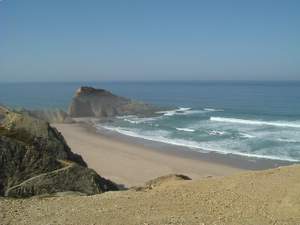 The view from the top is beautiful, this time made even more spectacular by the huge sea caused by the remnants of an Atlantic storm.
The beach is reached by a long flight of wooden steps so access is easy.
We spent the afternoon exploring the inlets on the left of the beach which are accessible at low tide. There were naturists on all parts of the beach which wasn't crowded because of the size of it.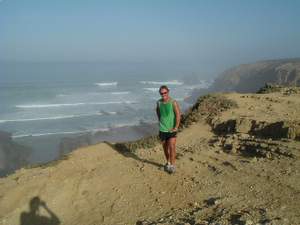 We spent the next five nights at the campsite which is on the left as you approach Zambujeira. Again, very clean with friendly and helpful owners. Jan and I both enjoy running and cycling which meant we could do a little exploring whilst we were there.
Turn right as you approach the town and drive for about two miles along the lane and you come to Porto de Pesca. What an amazing place! A working fishing harbour at the bottom of a great cliff.
Turn left and go straight past the beach carpark and eventually you come to a beach called Carvalhal although this didn't appear to be naturist.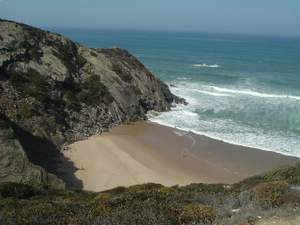 One morning we also searched out Adegas beach, the fourth official naturist beach along this coastline. It is about 20 kms. south and is reached by driving alongside the River Seixe and through Praia de Odeceixe, a lively little resort. The carpark is on the far side at the top of the beach. This pretty beach is small and tucked down beneath the cliff. It was very quiet and not to be missed!
Zambujeira is a lovely little seaside town with spectacular views and lively bars and restaurants which are extremely good value for money. These are all within walking distance of the campsite which is also very useful.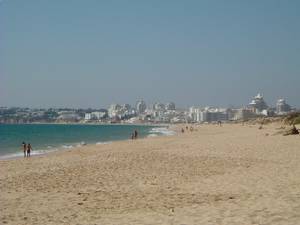 After 5 thoroughly relaxing days of sunbathing and swimming it was time to move out of the Alentejo region and into the Algarve.
Because we were meeting Jan's mum and dad there we cut across land to Faro. In doing so we unfortunately missed the far south west tip and several recommended beaches.
These included Beliche and Zavial near Sagres, Pinheiros and Meia Praia near Lagos, and Afurada near Portimao. The fifth official naturist beach is at Ilha de Tavira near Faro. We did visit a beach on the south coast, Praia Grande, but because of the number of swimsuits just didn't feel comfortable.
So which was the favourite of all the naturist beaches we visited in Portugal? It was a close thing between Praia do Salto near Sines and Altereinhos at Zambujeira but because of the stunning views, the beauty of the beach and the friendly atmosphere of the town our vote goes to Altereinhos.
We hope that this may be of some help to you if you decide to search for naturist beaches in Portugal. Remember that beauty is in the eye of the beholder and maybe you will find your own favourite. Please let us know because we will certainly return.
~ UPDATE ~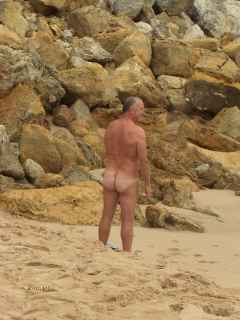 This is my best man, Andy, who went to Portugal in October with his wife and mother-in-law. As you can see from his Speedo tidemarks he is not a regular naturist but he found a beach where he was very comfortable going clothesfree. The beach is called Zavial, and it can be found on the way to Ponta de Sagres from Zagos. Having been brought up in Cornwall, Andy is a good judge of beaches. He said the sand quality was great. I still haven't found out who took the photograph! Another one to add to our list of Portuguese naturist beaches. Thanks Andy!
---
Let others know about this site by bookmarking it at your favourite social bookmarking engine:
---
Please subscribe to our newsletter Naturist Times. It tells you regularly about updates to our website plus other interesting naturist bits and pieces.
---
Return from Naturist Beaches to Portugal 
Return from Naturist Beaches to Naturist Holiday Guide Home Page