Our Naturist Holiday Guide Page of Bits and Pieces
This is a page of naturist holiday miscellany which, for various reasons, at the moment has not been included on our other pages. It includes photos and information on campsites and beaches which we visited only briefly but, some of which, we certainly intend returning to and writing a full page on.

Apologies for some of the photography but most of this was pre-digital and, therefore, involved me marching into the local Boots to get the photo's developed.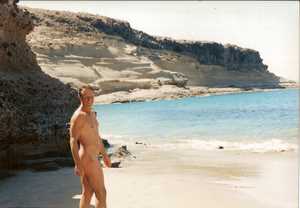 Therefore, in some cases, discretion certainly got the better part of valour! That said we now have a good digital camera and the quality of photography will certainly improve this summer.

These two photos were taken a few years ago when Jan and I visited Tenerife. We flew and stayed at a timeshare in Los Gigantes which, although not ideal for a naturist holiday, was west facing and had a very private balcony so was great for evenings.

We hired a car, which was essential, and during the days explored mainly the west coast of the island.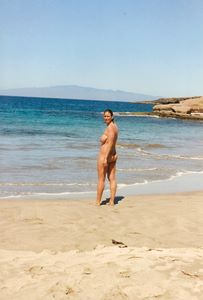 Our favourite was this beach called Playa de Diego Hernandez, about twenty minutes walk from La Caleta. As we climbed around the rocks from La Caleta we passed a little encampment which was obviously quite established as they were raising pigs! The beach was bliss, very quiet, with just a few wild campers at the back.
There was very little information on naturist beaches at the time but it now appears that there are at least six recognised naturist beaches. It seems as though Tenerife could be worth serious consideration for a naturist holiday.
Four years ago we visited
Spain and stayed at a town called Denia. There was one naturist beach, or really a rocky cove, on the outskirts of Denia, but this involved walking to the end of a pathway and going down some really steep steps to the rocks. That in itself wasn't a problem but the end of the path appeared to be a viewing platform for non naturists so we didn't bother to stop.
We did, however, find a lovely little beach at Cumbre del Sol, about half an hour out of Denia past Javea.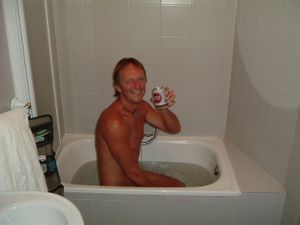 The last time we were in Spain was whilst we were driving back home after our Portugal trip. About half an hour from where we planned to stop for the night the car suddenly slowed right down. My knowledge of mechanics is nil so we limped to this little village in the middle of nowhere. Not only did we find a great hotel but there was a Renault garage that fixed it in about ten minutes. This is me celebrating!


During our naturist holiday travels we have stayed at several campsites that we have only mentioned in passing. Lalbrade in the Midi-Pyrenees was one of our favourites. It is small, very friendly, and has a great naturist trail which takes you down through a gorge. The trails are well marked and, if you enjoy jogging, it is perfect.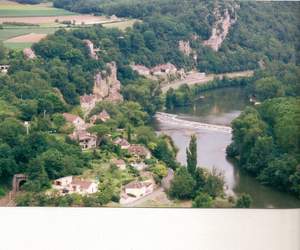 As there are only 45 camping places there is always plenty of room at the swimming pool. If you do camp at Lalbrade an absolute must is a visit to a little village called St.Cirq-Lapopie which is perched on a hill with stunning views over the River Lot.


This photo was taken at a campsite in Provence. Unfortunately we cannot remember the name of it which isn't much help. We wouldn't list it amongst our favourites and only stayed a couple of nights.

As a matter of interest, we have had our two man 'Wild Country' green tent for over twelve years now and it is brilliant. Over the years we have gradually built up our camping gear and camping is quite a luxury now!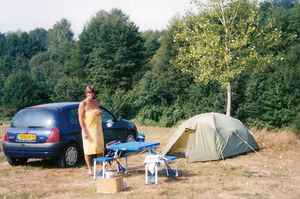 We stayed once at Le Colombier which is situated in the Vendee. Although we were only able to stay for three days we really enjoyed it there. It is a spacious campsite with large pitches and a very relaxing atmosphere. There appear to be plenty of activities organised for children.
We have also stayed at Cap Natur which is situated on the Vendee coast.
Another campsite we would recommend is that of La Petite Brenne situated in the National Park of the Brenne. This is east of Poitiers, near Argenton. We have no photo's of the campsite but we can tell you that there was plenty of room with pitches in several fields. It was possible either to be quite isolated or more in the hub of things. There is a large natural lake in which it is possible to swim and the site also has two swimming pools.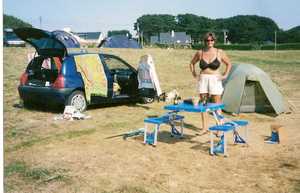 Whenever we camp now we think in terms of a naturist holiday. Naturist camping, however, is not always possible and it would be a pity to miss a beautiful beach simply because we can't camp naturist. One such example is the beach at Trezien on the west coast of Brittany.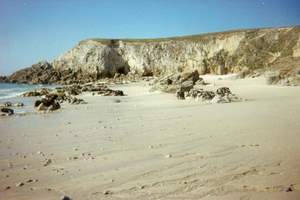 At low tide there is a long stretch of beach but naturists always stay on the right hand side of the beach in a little cove (see picture on home page). There are quite high cliffs and therefore it is often very sheltered. Access immediately into the cove is possible but it is easier further along the beach where there are steps.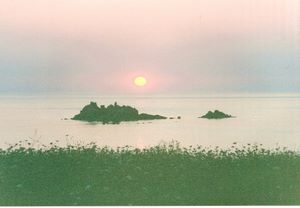 The campsite is a Municipal site and, therefore very cheap. It is about five minutes walk from the beach and, facing west, has amazing sunsets. Trezien is about 45 minutes from Roscoff and very convenient if you should do the Plymouth-Roscoff crossing with Brittany Ferries.

.

We hope that these naturist holiday snippets have been of some help. If you have any advice/photo's from your naturist holiday please contact us.


---
Please subscribe to our newsletter Naturist Times. It tells you regularly about updates to our website plus other interesting naturist bits and pieces.


Let others know about this site by bookmarking it at your favourite social bookmarking engine:
---
---
Return from Naturist Holiday Guide Bits and Pieces to Home Page