Discover Hidden Nude Areas in Cornwall that only the Locals and YOU Know About!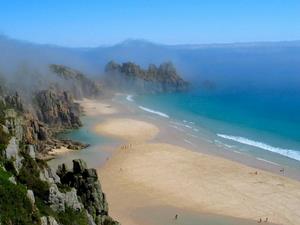 It would be very difficult to write a website on naturism without mentioning Cornwall.

Jan and I are slightly biased as we were both brought up here, but Cornwall is such a beautiful county with a diverse range of scenery and, in particular, coastline.

This ranges from the rugged North coast which typifies most of the coastline from Bude to Lands End, interspersed occasionally by sand dunes and surfing beaches, to the softer coastline of the South coast.


Here you will find wooded estuaries and gentle coves. There is no official naturist beach in Cornwall but this should not deter any naturists from coming here.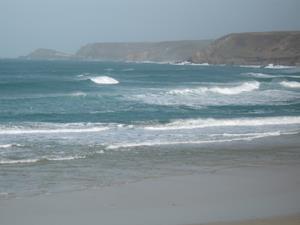 The coastal footpath around Cornwall is approximately 300 miles long. So despite the lack of designated nudist areas, there are many opportunities to spend the whole day naked without offending anyone and, in many cases, without actually seeing anyone else.
In the case of emergency, it is now possible to wear a tan through serong or coverup
. For men tan through swimwear
is also available!
Between us we have spent more than thirty years scouring the coastline for such areas and we would like to share some of our favourite sunbathing areas with you. We will do this by dividing Cornwall into four sections. The first section takes us from Bude to St.Ives.
I will mention in passing beaches or areas that I am aware have been used for naturism but that we have not personally visited, and I will go into more detail on rocks, coves and beaches of which we have personal experience.

This stretch of coastline has beaches at Flexbury, near Bude, and The Strangles at Crackington Haven which are used by naturists.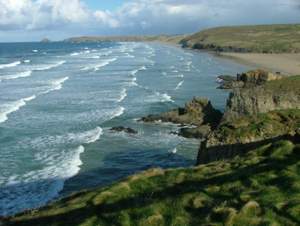 However, naturism at Penhale Sands at the North end of Perranporth and a beach which I have used in the past, is now banned.
* UPDATE* We have just heard from a fellow naturist,(December 2007), that this ban has been lifted after some negotiation between all the relevant parties. This is certainly good news.
There are a couple of little beaches at Basset's Cove and Hells Mouth along the B3301 between Portreath and Godrevy and then there is Porthkidney Beach at Lelant which, as with Penhale, for reasons totally unrelated to the genuine naturist does have a few objectors. For a more detailed description of some of these areas please click on Bude to St.Ives.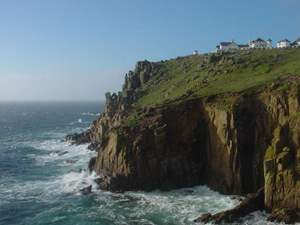 We now move well into West Cornwall and the stretch between St.Ives and Lands End. This is a beautiful length of coastline and if you enjoy walking it would be well worth you going for a hike along the coastal footpath to try and find your own secret area.
However the areas along here that Jan and I have frequented many time in the past are Porthzennor Cove near Zennor, Porthmeor Cove just past Gurnards Head and Nanquidno near Lands End Airport. For a more detailed description of how to find them please click on St.Ives to Lands End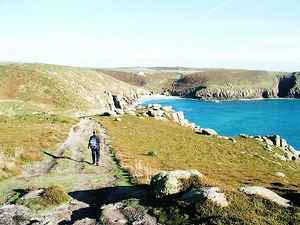 In the next section from Lands End to Penzance I have included the Scilly Isles.

We have visited the Scillies on many occasions and they really are wonderful islands.

Because they are only reached by sea or air there is a limit to the number of visitors they will have at any one time and, therefore, it is easy to find a secluded little area on one of the islands without disturbing anyone else.

That said, I certainly wouldn't plan a naturist holiday around the Scillies. They are certainly worth visiting and a day nude sunbathing would be a bonus.

Probably the best known 'unofficial' naturist beach in Cornwall is Pedn Vounder at Treen, a beach to which Jan and I used to be able to walk from home and where we have had some wonderful days. For more information on this stretch of coastline please click on Lands End to Penzance.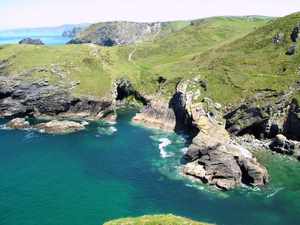 The final section takes us from Penzance to Plymouth, a coastline that we are not quite so familiar with. Nevertheless, the first beach at Kennegie is one that I have visited on many occasions.

There are further areas at Berepper Beach near Helston then moving on past Falmouth there are two beaches, Vault and Great Perhaver, at Gorran Haven.

The final beach to mention in this section is at Downderry near Looe. For more detailed information please visit Penzance to Plymouth.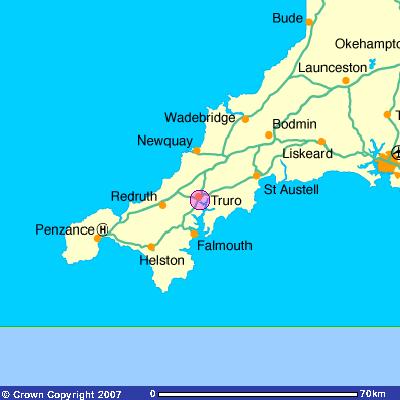 Image produced from the Ordnance Survey Get a Map service. Image reproduced with kind permission of Ordnance Survey and Ordnance Survey of Northern Ireland.


---
Let others know about this site by bookmarking it at your favourite social bookmarking engine:
---
Please subscribe to our newsletter Naturist Times. It tells you regularly about updates to our website plus other interesting naturist bits and pieces.
---
Return from Cornwall to Naturist Holiday Guide Home Page