Find the Perfect 'Unofficial' Naturist Area in West Cornwall!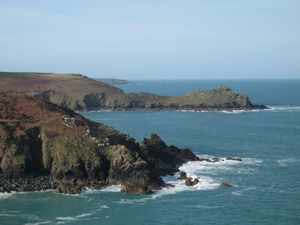 The sheer rugged beauty of the West Cornwall coastline lends itself perfectly to hiding many little coves and rocks perfect for naturist sunbathing. This seclusion is ideal in this area because naturism is not officially recognised down here. For this reason Jan and I have spent many happy hours seeking out quiet spots and spending the day by ourselves.
Accessibility has also been an important issue. Many years ago when my children were young and I was teaching I would take them with me to these various little coves during the Summer holidays, so safety had to be considered. The areas that are mentioned here involve a walk and then a climb of some sort, but most naturists are prepared to make that effort to find their perfect spot.


The area of West Cornwall covered on this page stretches from St.Ives to Lands End. The first cove to discover is Porthzennor Cove, hidden below the cliffs at Zennor Head. From St.Ives you take the B3306 coast road to Lands End. After about five miles you arrive at the beautiful little village of Zennor. There is a car park just below the Tinners Arms and right next to the Backpackers. At the time of writing it costs one pound to park.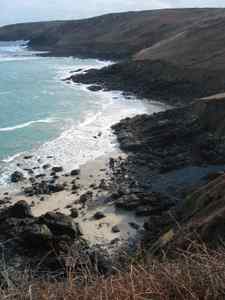 Having left your car you walk up past the pub and turn left. You now have a decision to make. You can either take the lane which leads you to Zennor Head or you can take the fields path. The fields path is quicker (approx.15 mins.) but there is a possibility you could go the wrong way. However, if you keep heading towards the sea you will eventually come to the coastpath. Take the lower path and you will arrive at the top of the steepish path down to the beach. I checked this out on 16 March 2007 and there is sand in the cove but that disappears as the tide comes in. The slope down to the cove was slightly overgrown but it was accessible.
If you decide to go via the lane you will eventually come to Zennor Head and you continue as though you were heading towards St. Ives. You will see Porthzennor down below you on the left (see photo).
To reach the next cove in West Cornwall, Veor Cove, you take the same lane but instead of continuing to Zennor Head you turn left when you reach the coastal path at some steps and walk in the direction of Lands End.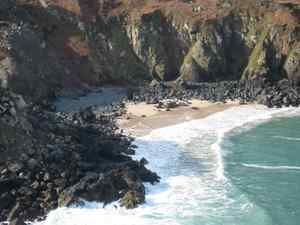 You pass Pendour Cove, famous for the mermaid of Zennor and the next cove along is Veor Cove.
It is many years since I have been down to Veor and so I cannot give an accurate description of access. However, I did used to take my children down so access couldn't have been too severe.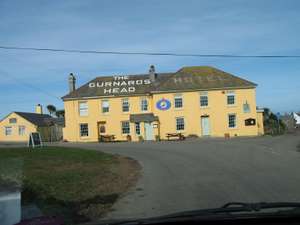 To reach the next cove, Porthmeor Cove, you must continue along the B3306 towards Lands End. You will soon pass The Gurnards Head Hotel (where Jan and I spent our wedding night!) and then you drive past a farm (beware of chickens) and around an 'S' bend.
Almost as soon as you start going uphill you will see a little parking space on your right.

The track to the beach leads from this parking space so if you can't park there park as near as you can and walk back to there.
(This has changed slightly now as a cattle grid has been built in the road. The lane leads from just about where the cattle grid is.)
The path leads straight down the valley to the cove. When I visited there in March there was very little sand at just after low tide so, unless a lot of sand is brought in by a storm which can happen, don't expect to swim from the beach.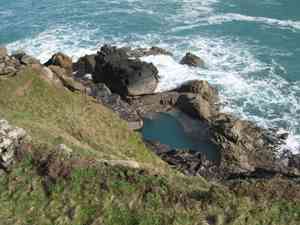 There are plenty of sunbathing rocks, mainly to the right, and with no sand you are unlikely to get families down there.
I sometimes used to take my children out to the left hand headland. There it is possible to sunbathe nude and, at certain states of tide, you have your own private swimming pool. It must be emphasised that there are dangers involved in swimming in the sea and caution must always be taken.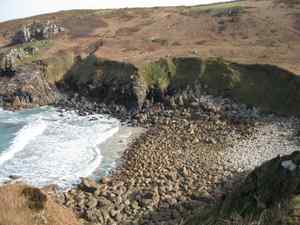 Porthmeor Cove is one of Jan and my favourite naturist spots in West Cornwall and, although first impressions may not be of a beautiful sandy cove, we have spent some very peaceful days there. We have also wild camped there both down by the stream and out on the right hand headland.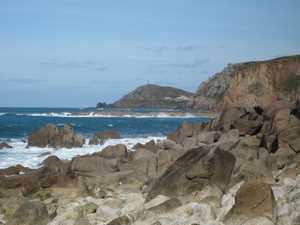 Our final spot in this section of West Cornwall is at Nanquidno, near Lands End airport. To reach here you continue along the B3306, eventually driving through St.Just. As you leave St.Just you will see Lands End airport signposted,still on the B3306. Within a couple of minutes you drive through a little hamlet called Kelynack and then as you leave there you turn right down a road signposted as a dead end.
Drive down this lane and, just before it turns into a rough track, there is a parking space on the right big enough for about six cars. Park there and carry on down the track and, after about three minutes take the left hand path which takes you down to the coastpath. Cross the wooden bridge and go down onto the rocks.
Climb across the rocks until you pass some black rocks. Beyond them are some good sunbathing rocks where you would probably spend the whole day without seeing anyone else.
We hope that this has been a help to you. Should you come to beautiful West Cornwall we're sure you will have some wonderful, secluded, naturist days.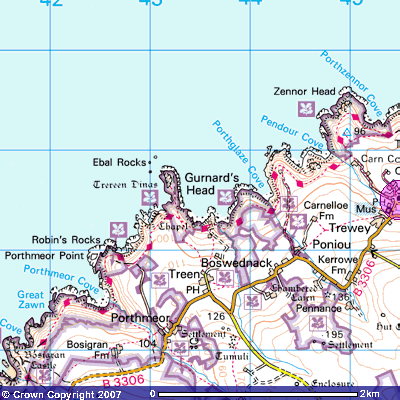 Image produced from the Ordnance Survey Get a Map service. Image reproduced with kind permission of Ordnance Survey and Ordnance Survey of Northern Ireland.

Please subscribe to our newsletter Naturist Times. It tells you regularly about updates to our website plus other interesting naturist bits and pieces.
---
Return from West Cornwall to Naturist Holiday Guide Home Page
Return from West Cornwall to Cornwall Page