Naturist Peace
in Natural Surroundings
at Domaine Laborde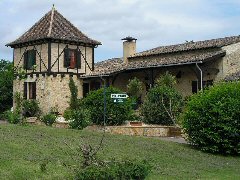 Beautiful Domaine Laborde, a member of Natustar, is set in 20 hectares of wooded hillside, exactly on the border of the Dordogne and Lot-et-Garonne.
This 4 star naturist campsite boasts both indoor and outdoor pools as well as two natural spring-water lakes.
A great place for meeting others, the Aqualudic park comprises three swimming pools and a Jacuzzi.
The large outdoor pool is open from 11am to 8pm from May to mid-September. It is heated to a temperature of 26°C from June until it closes.
Each spacious pitch ( a minimum of 120m2, with power and in either sun or shade) has a natural setting of wild flowers and woodland, and some of the higher pitches have sweeping views across the countryside. There are also 30 chalets and 10 mobile homes available to rent.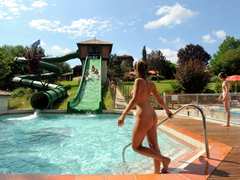 Domaine Laborde has an all weather tennis court, 2 full size, floodlit boules courts, volleyball, badminton and many other activities taking place.
Children are very well catered for. There is a childrens pool, play areas with a trampoline and each week a children's picnic expedition by tractor to the forest (an unforgettable experience).
Each Sunday you can join a communal meal and sample the local cuisine. Otherwise there is the cosy bar, restaurant, pizzeria and snack bar to try.
If you want to do your own cooking then there is a well-stocked shop, with daily fresh bread and milk, and also a large barbecue available!
For some years there has been an internet connection, but now there is WiFi, so you can connect to the internet around the reception and restaurant area to browse, e-mail, do your on-line banking etc. in the sun with their unique WiFi code.
There is certainly something for everyone at Laborde and consequently it is a very popular site.
Should you wish to go on a days excursion, there are many opportunities.
Because of the location of Domaine Laborde, you are able to visit the very popular tourist area of the Dordogne or the undiscovered delights of the Lot et Garonne.

If you are looking for tranquility and are lovers of nature then this is the campsite for you!
If you do decide to stay here, please could you mention that you first read about it on the Naturist Holiday Guide. Many thanks!
Visit Domaine Laborde website

Return from here to Natustar page

Return from here to Naturist Holiday Guide home page

Please subscribe to our newsletter Naturist Times. It tells you regularly about updates to our website plus other interesting naturist bits and pieces.