NATURISME.COM
Everything That is Good
About Naturism
If you are a naturist, or someone considering naturism for the first time, then Naturisme.com could have the answer to your holiday dreams.
Naturisme.com is an association of six campsites and resorts throughout France. You can be guaranteed a warm and personal welcome at any of the sites, none of which are very big, and all very environmentally friendly.
In fact, most of the sites have the eco label "la Clef Verte" (the Green Key), for an environmental friendly management.

Your only problem would be which one to choose to stay at because they are all in such beautiful locations. Perhaps make it a goal to, eventually, visit all of them!!

Creuse Nature
Creuse Nature is a gem of a naturist campsite set over 19 hectares of woodland with 100 spacious pitches. Hidden in the heart of Limousin, a unique region in central France, it is wonderfully situated halfway between the ferry ports and the south coast.
Le Colombier
Le Colombier is situated in the south of the Vendée in France. This beautiful naturist 'domain' of 50 hectares covers an entire valley which includes a stream, a small lake, meadows, 14 hectares of forest and of course an abundance of wildflowers.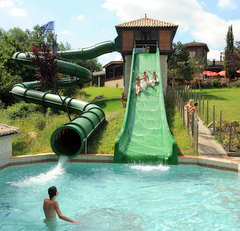 Domaine Laborde
Beautiful Domaine Laborde is set in 20 hectares of wooded hillside on the border of the Dordogne and Lot-et-Garonne.
This 4 star naturist campsite boasts both indoor and outdoor pools as well as two natural spring-water lakes.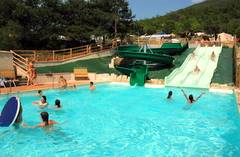 Les Lauzons
Imagine holidaying at Les Lauzons and being surrounded by fragrant lavender fields, old villages and rolling hills. This naturist resort is situated in the heart of Provence on the edge of the beautiful Luberon Park and bordered by the 'Lure' Mountain.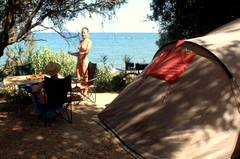 Bagheera
Discover the magic of Bagheera, set in a remarkable natural landscape of stunning sandy beaches, hidden coves and villages nestling in the mountains. This lovely naturist resort is situated in Corsica, a spectacular French island in the Mediterranean sea.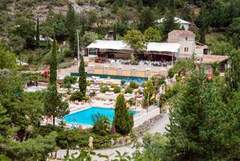 Origan Village
Origan Village is nestled in a hillside of the Haute Provence region of France. It is approximately thirty kilometeres, as the crow flies, from the Mediterranean Sea, guaranteeing a wonderful climate for your naturist holiday.
If you do decide to stay at any of these campsite or resorts, please could you mention that you first read about them on the Naturist Holiday Guide.  Many thanks!

---
Return from Naturisme.com to France page

Return from here to home page

Please subscribe to our newsletter Naturist Times. It tells you regularly about updates to our website plus other interesting naturist bits and pieces.