LOVELY CORFU  VILLA 
FOR  SALE
Corfu Villa with Guest cottage, pool and tourism licence. 
  Currently operated as a naturist /couples only bed and breakfast.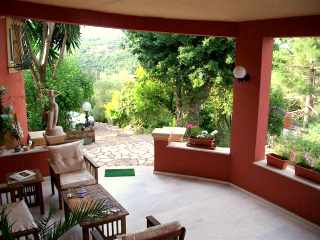 Price: €670,000 ono
If you are considering buying a Corfu villa then this is an opportunity not to be missed!
This beautiful villa is located in a unique position, nestling on its own hillside surrounded by wonderful countryside.

The villa and the separate guest house, which is currently being used as a naturist style holiday resort, sit proudly at the high point of the grounds looking down over the traditionally stepped gardens.

The grounds, totalling 5000 square metres, are typical of Greece, with fruit trees, olives, oaks, and tropical palms, yukka's and many other plants, all of which provide numerous colours and scented aromas at different times of the year.

Enjoy apples, grapes, cherries, oranges, olives, limes and figs from the various trees around your garden.

ECO FRIENDLY FEATURES INCLUDE
2kw pv plug in system, variable speed pool pump and Solar water hot water system

The 2kw pv system generates around 3000kwh's per year, great to see the meter going backwards! 
The variable speed pool pump costs only 3 ( three )cents per hour to run.
From the moment you step inside the villa you are struck by the quality of the craftsmanship and the splendour of the furnishings, all of which are included in the price!

Entering the villa from the marble tiled porch you are in the roomy entrance hall with a sofa and a curved archway which leads to the dining room on the left.

Straight ahead is the stairway which leads to the upper, double bedroom. On the right of the hallway is a large double bedroom with en suite facilities.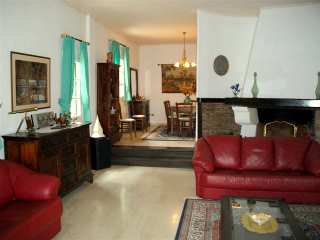 The raised hallway which also leads off the entrance hall leads to two further double bedrooms together with a bathroom, shower room and toilets.

All bedrooms of this Corfu villa have fantastic views across the countryside. From the upstairs bedroom you can even see the Greek mainland and Albanian mountains!

There is a further living zone/bedroom with a single bed and a large curved fireplace which can be found down steps also leading from the entrance hall.

From this there is an inner room which could be used as an office. A double window opens out onto an extensive patio area.

Back in the entrance hall, go through the archway to the beautifully furnished large dining room with a chandelier and 10 seater table.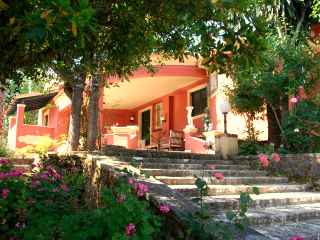 From here, steps lead down to a sunken lounge that is very roomy, again with wonderful furnishings and a large curved open fireplace.

French doors lead out to a covered balcony again with lovely views.

There is a fully equipped, country style kitchen with a breakfast room which is incorporated within the kitchen. This has a large benched seating and table area with numerous cupboards and storage space.

Outside the kitchen is a glazed porch area which leads to the garden at the rear of the villa.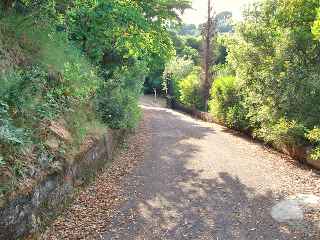 Here you will find a large purpose built barbecue with electric spit roast and oven, and an eating area with a bench and a lawn area. All this is in the shadow of a mature olive tree.

Entry to this Corfu villa is through main gates which have coded entry and are electrically operated.

You are then on the driveway which is approximately 180 metres long and leads to a double garage which has full electricity, a water pump, and is also situated at the rear of the villa.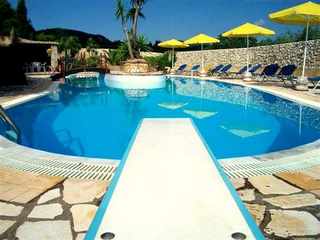 In the garden, much of your time could well be spent getting an all over tan by the beautiful swimming pool.

The pool (approx 22m x 7m) is kidney shaped and has an island and diving board.
The area surrounding the pool is made from natural stone with a pretty grassed area that has a tropical feel with yuccas and a new palm.

The views from here are beautiful and provide a lovely private area for sunbathing which is positioned for maximum sun all day.

At night the pool and surrounding area are backlit so when the sun sets the evenings can be enjoyed in comfort.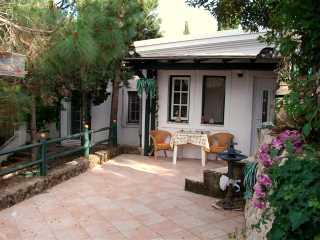 There is an 'around the garden background music system' and also extensive background lighting to guide you around the grounds.

The whole perimeter of the main villa is paved with coloured slabs which makes maintenance of the building and general tidiness very simple.

A large patio area at the front of the villa makes another great place to relax. The whole villa has oil fired central heating and has also recently been extensively rewired with a new electricity supply.

The separate guest house / granny annex is an open plan, two bedroom, two bathroom cottage, of approximately 100 sq m.

There is a large fitted kitchen with a breakfast bar suitable for stools and a large dining room that leads off to a sunken lounge which again is a good size with an open fire place.

There are two double bedrooms with fitted wardrobes. One bathroom has a full size bath, twin sinks and vanity unit and the other has a shower with toilet, all areas being tiled.

The guest house also has a large private patio area and has independently operated central heating.

Combine all this with the fact that there are many naturist beaches on Corfu!

A short 10 minute drive takes you to Mirtiotissa, one of the most stunning beaches in Europe, which has been a popular naturist destination for many years.
You may be wondering why such a beautiful property in Corfu has come on the market!
The owners are an English couple who have lived in Corfu for nearly 10 years. Their reason for selling? Simply 'time for a change'.

Should you wish to receive more details, photographs etc. or have questions for the owners of this Corfu villa, please fill in the form below which will be sent directly to them.
Corfu Villa
Return from Corfu villa to Naturist Holiday Guide home page
Please subscribe to our newsletter Naturist Times. It tells you regularly about updates to our website plus other interesting naturist bits and pieces.