The Greek Island of NAXOS and its Choice of Naturist Beaches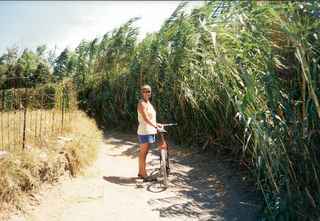 With our taste for Greece having been whetted by our honeymoon in Skiathos, in 2000 Naxos was to be our first stop on a trip to the Greek Islands of the Cyclades. The plan was also to visit Koufonisia, Donoussa and Antiparos and camp during our three week stay. The mission was to look for naturist beaches on these islands because information, at the time, was a little sketchy. Our journey started with a flight to Athens in order to catch the ferry from the port of Piraeus. A word of warning. I am sure we had the only dishonest taxi driver in the whole of Athens but make it quite clear what size note you are giving him (particularly if he parks in the shadows at night time) and check your change in front of him. On leaving Athens, our first stop off point in the Greek Islands was Naxos, the largest island in the Cyclades.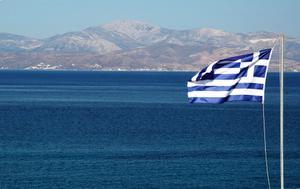 The ferry took about six hours to reach Naxos. On stepping off the ferry in the main port we were surrounded by people offering accommodation of various types, mainly apartments and rooms. I think, partly because we were tired and also because we were carrying two large rucsacks and all our camping equipment we immediately decided a room for the night was the easier option.
The fact that one of the crowd offered to take us there by minibus made the decision even more straightforward. Now, until this stage, our only other experience of the Greek Islands was our lovely cabin in Skiathos so to arrive at, what can kindly be described as, a rundown campsite came as a disappointment. We rented a room which was basic in the extreme with just two beds and mattresses. Our neighbours were Romanys who had decided that this was a cheap way to spend the summer (it was really cheap) and the showers and toilets were filthy. We decided that the moral of the story was to always check the room before making a decision and parting with money. That evening we had a few beers and a meal there which was ok and already things were looking up.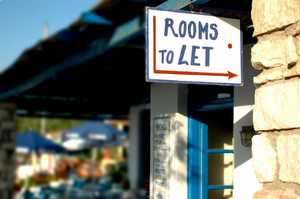 The next day we decided to go in search of some of the forty kilometers of beaches boasted by Naxos. The campsite was about 4 kilometers south of Naxos so we walked up and over the hill towards Prokopis and eventually arrived at Agia Anna where we were able to hire bikes. We made our way to the little headland with a chapel on it for a climb on the rocks. There is one amazing rock that looks just like a sharks head. We then climbed around to the left and found a lovely beach, which turned out to be at the north end of Plaka, where it was virtually entirely naturist. We then spent the rest of the day there and felt entirely comfortable which was a real bonus as it was our first day and we had no Knowledge of nudist beaches on Naxos.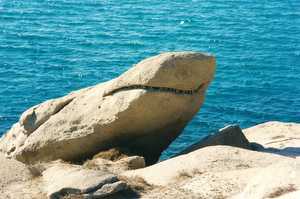 During our morning walk we had a coffee in a restaurant called, appropriately, 'Annas', and so that evening we cycled there for some drinks and a meal which we really enjoyed. The lady running it was Dutch and, thankfully spoke very good English.
As we had the bikes, the next day we had an early morning cycle to Prokopous which was virtually empty at the time but which, we have since discovered, is also one of the recognised naturist beaches on Naxos. That morning we cycled into Naxos to check on ferry times and had a wander around the fascinating back streets of Chora, the really old part, and had a coffee. After that, as we had enjoyed yesterday so much, we returned to the same beach and had another great day ending up at 'Annas' again in the evening. As there were several other islands we had to visit we decided to spend just the four nights on Naxos so on the third day we planned to explore the island further to the south.
That morning we spent some time on our beach and then set off along the road towards Kastraki. We should have known better but we completely underestimated the temperatures (averaging above twenty degrees celcius between May and October) and, consequently, didn't have enough water with us. By the time we arrived at Kastraki we were absolutely gasping for a drink and so found a bar and had a coke.

We then started heading inland much to the bewidered looks of some of the locals. At first we were a bit puzzled at this until after about an hour of uphill cycling we appeared to be in the middle of nowhere. Luckily, at one point, we found a field being irrigated by a sprinkler and we just stood under it to cool off. As we carried on we started to get a little worried because we were becoming more tired, thirsty and, we thought, lost. However our instincts proved to be correct and we eventually arrived at Vivias. This was a relief because it was getting late but at least we knew it was virtually downhill all the way from here. We went down through Agios Arsenios with fantastic views on the way and ended up at 'Annas' for a well deserved beer and meal.
Three days was not enough time to do Naxos justice. However, we saw enough to realise what a beautiful island it is and that, should we return, we will visit other naturist beaches such as Kastraki, Pyrgaki and Aghia Annas. Time to move on and the next morning we were taken to the port to catch the ferry to Koufonisia.
---
Please subscribe to our newsletter Naturist Times. It tells you regularly about updates to our website plus other interesting naturist bits and pieces.
Return from Naxos to Greece
Return from Naxos to Naturist Holiday Guide Home Page