Kijk Duin Holland
by jandk
(Northants UK)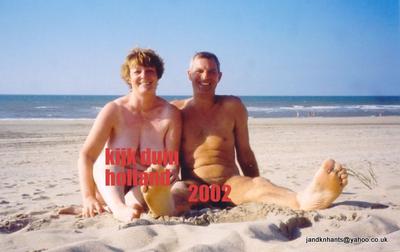 our first time nude in public
It's been a number of years now since our first appearance in public nude.

Neither of us had been nude at home or on holidays before topless was the most K had been.
We were in our caravan in a site adjacent to the beach in Kijk Duin a very nice site.

One afternoon we went for a walk along the beach just to pass time and came across a warning sign to the effect nudes ahead!

There was no sand line to cross but as I crossed the imaginary line I just said to K 'I'm dropping my trunks' or similar. The beach was quiet despite the sun we could see perhaps 6-10 nude bathers and several others dressed just walking along the beach as we were.

My trunks came down and we walked on K kept her cossie on. I never felt different or odd just strangely free and a draft on my nether regions well more warm breeze.

We walked down the to sea and took the plunge now that was cold. Next we found a place to lay and dry soaking up the sun. Here I found the advantage of no trunks as I dried quickly in the sun K was laying in a sand covered wet cossie.

After a brief chat off we strode back to the sea and into the cold waters. There K decided to join the liberated minority and took her cossie off never to use again in a naturist environment.

The whole experience was fun and enjoyable we never thought about others watching or were self conscious.

Most of our holidays have been naturist since and we take our caravan to France-Holland-UK sites and each year go self catering to Spain.

All you who are thinking about going naturist give it a try, you have nothing to lose have you.
Join in and write your own page! It's easy to do. How? Simply click here to return to First Time Naturist Experience.
Please subscribe to our newsletter Naturist Times. It tells you regularly about updates to our website plus other interesting naturist bits and pieces.