Which are the Best Naturist Campsitesin the World?
Camping at naturist campsites has given us many happy memories and will continue to do so over the years. Our knowledge, so far is of campsites in Europe. However, it has always been said that the best advert is 'word of mouth'. This is where we rely on YOU.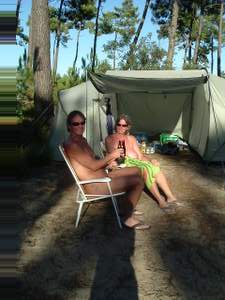 "Click here to share your favourite campsite with visitors to this page!"
There are only so many campsites we can visit and we would really like you to let us know of your favourites! Give other naturists (and naturists to be!) the benefit of your wisdom. Tell us of campsites we have not mentioned or give a review on some we have. Campsites are opening all the time throughout the world. The more information we get from you the better for everyone!


WHICH is YOUR FAVOURITE

NATURIST CAMPSITE?
You may have gathered from our site that we have a very special spot for Arnaoutchot in South West France, and Lalbrade further north and inland. But there are just so many that we will have never heard of!

Our aim is to share as many worldwide naturist campsites as possible on our website which are YOUR recommendations! We all have our favourites. Let's spread the word and help other naturists!

Which is your best of all campsites and why? Give us directions!!


What Other Visitors Have Said
Click below to see contributions from other visitors to this page...

return from naturist campsites to naturist experiences