Laulurie, Dordogne
by Brian
(Scotland)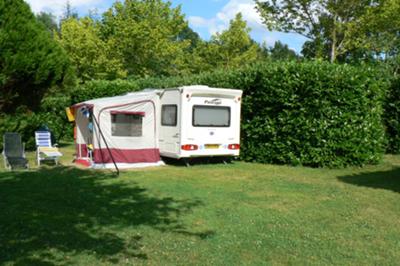 Peace and tranquility at Laulurie.
Set amidst the rolling hills of the Dordogne region of France, and surrounded by magnificent forestry, is the beautiful site of Laulurie.
The site is only a few kilometres from the large village of La Douze, which is about 12 miles south-east of Périgueux.

The peace and tranquillity of this easily-accessible site are matched by the excellent facilities, provided by the resident hosts, Francis and Yonnie Toutain who are two of the friendliest people one could hope to meet. Francis also has a reasonable command of English, which may help to explain the unusual situation of no less than ten British couples/families on site during our first visit. The separate car-park looked, at times, as much like Asda as Auchan!

A magnificent, fully-tiled, pool is the centrepiece of the leisure facilities, but this is complemented by pétanque pitches; a tennis court; table-tennis; a basketball practice net; and a volley-ball pitch. For these activities, the necessary materials are available for loan at no cost! Archery is also available, but residents must provide their own bow and arrows!

The all-grass pitches are available as either secluded, laurel-hedged, spots in the upper in the upper part of the site, or as more open pitches in the lower part of the site. By the way, it is from those same laurel hedges that the site takes its name! There are excellent showers, and a mixture of continental and British toilets.

Barbecues are dotted around the site, and are, again freely, available for use. The only stipulation is the eminently sensible and practical requirement that they be fully extinguished at the end of the cooking session.

There is a small library, although the number of English-language books is small, that also houses a television set. A shop provides those basic items that we forget to purchase at one of the easily-reached supermarkets, and there is a bar that is open from 8.00 p.m. until 11.00 p.m.

As is common in naturist sites, there are a number of opportunities for a communal meal each week. One of these is a 'bring-your-own' BBQ one. On the week in which we were there, was a meal of freshly-prepared duck; and the other is 'Moules et frîtes' which, for some strange reason, most of the British contingent managed without!

On Sunday evenings there is a film of the local area showing some of the major tourist attractions, and on Monday evenings, there is a karaoke session. Wednesday evening - definitely not to be missed! - sees an introduction to the traditional dances of the area, that prepares for the Saturday evening dance that follows the communal BBQ. However, unacceptable noise is totally absent - we naturists tend to be a very quiet bunch!

The area itself is extremely beautiful, and offers a great deal in the way of day excursions.

The Medieval-Renaissance town of Périgueux, capital of the Périgord district, provides 2,000 years of history including a museum to the ancient walled town of Vesunna. It is also the home of the magnificent Byzantine Cathedral to Saint Front.

Numerous Chateaux, an Abbey, and a Castle, are all within easy reach, and ensure that even over a period of many visits to the area, there is always something new to visit. Canoes, or kayaks, may also be hired at Les Eyzies, only about 15 miles away. However, the main attraction is the archaeological one. The whole Valley of the Vézère is believed by some to be the cradle of humanity as we know it, and there are a number of sites that introduce us to 'Cro-Magnon' man. La Grotte du Grand Roc is a developed cave of stalactites, stalagmites, and other crystalline features, opened in 1927 by Jean Maury. Beside it is an opportunity to view the dwellings of early men - and even have a go at using a 'spear-thrower' (now used only by Australian Aborigine hunters!).

On-site, or off-site, Laulurie has much to offer the discerning naturist caravaner (or camper). We've been for two consecutive years, and hope to be back next year - see you there?!