Naturist Beaches? We All Have Our Favourites!
Naturist beaches are a very subjective thing and we all have special reasons for liking a particular beach. Here, we have listed three of our all time favourites!
"Click here to share your favourite naturist beach with visitors to this page!"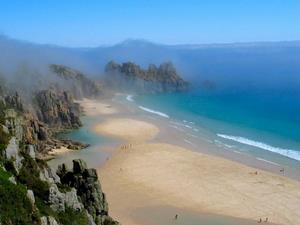 Treen beach, also known as Pedn Vounder, is situated just along the coast from the world famous cliffside Minack Theatre. The best approach to the beach is to park in the village of Treen. Turn left as you leave the car park and just follow the lane towards the campsite. After about five minutes you will cross the Cornish coastal path. Keep going straight and you will see Pedn down to the left.
Carry on walking and soon you will see the steep path leading down to the left. The last part down onto the beach is quite steep but just take your time and there will be no problem. The amount of sand can vary from year to year. Sometimes there is a big bank of sand at the back of the beach with a sandbank further out and a lagoon between. That is probably the ideal because at low tide it is possible to walk along the sandbank towards the famous rocking stone, The Logan Rock, perched on the headland. As with most of the Cornish beaches, take care when you swim and find out tide times to avoid getting cut off.


---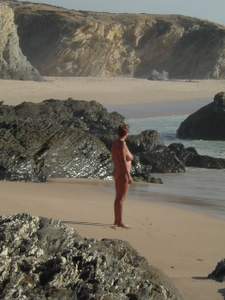 During our Portuguese trip we visited one of the official naturist beaches in Portugal, Praia do Salto at Porto Covo, about 17 kilometres south of Sines. What a beautiful beach!. Quiet, sheltered and soft sand. Thoroughly recommended! The climb down to the beach is not easy but we suggest you wear trainers and take your time. It's worth the effort. We spent four really enjoyable clothes free days there and it was difficult to move on.


---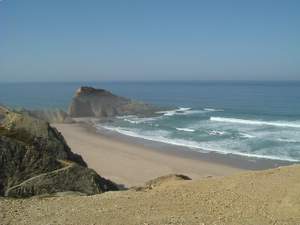 Also in Portugal is another of our favourites called Alteirinhos near a town called Zambujeira.To find Alteirinhos beach you drive into Zambujeira turn left and follow the lane leading over the next headland on the top of which is the carpark, down a little track on the right. Wow!The view from the top is beautiful.
The beach is reached by a long flight of wooden steps so access is easy.
We spent one afternoon exploring the inlets on the left of the beach which are accessible at low tide. There were naturists on all parts of the beach which wasn't crowded because of the size of it. It is a beautiful beach and well worth a visit if you are in the area.
---
When sunbathing nude it is absolutely vital for us to feel comfortable on the beach without the risk of offending anyone. Because of this we have made many a wasted journey along coastal paths, through fields etc. only to find a beach with many costumes on it. Occasionally, this has not been a problem, particularly on mainland Europe, but we have often thought if only we could check out this area for naturist beaches on the internet.


WE NEED YOUR HELP!
Our aim is to list as many naturist beaches as possible on our website which are YOUR recommendations! We all have our favourites. Let's spread the word and help other naturists!
WHICH IS YOUR FAVOURITE

NATURIST BEACH?
You may have gathered from our site that we have a very special spot for Pedn Vounder in Cornwall as we do also for Alteirinhos in Portugal. But there are just so many that we will have never heard of!

Our aim is to share as many naturist beaches as possible on our website which are YOUR recommendations! We all have our favourites. Let's spread the word and help other naturists!

Which is your best of all naturist beaches and why? Give us directions!!



What Other Naturists Have Said
Click below to see contributions from other visitors to this page...