Polemi Beach Kos Greece.
by Martin
(UK)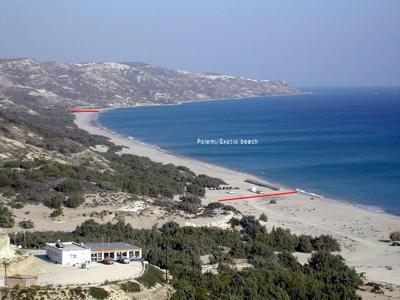 It was the first and now only one we visit on a regular basis, it is much more than a Naturist Beach though.

It is vast, plenty of room to find your own private space, it has few sunbeds.
The waters are clean and safe and is visited by a wide range of folk and has fantastic snorkling.

The guy that maintains the sunbeds supplies cold beer and sandwiches at a small price, but it is a please yourself kind of place.
Mixed in ages,and family friendly.

But a Naturist Beach is nothing if the place you are staying is bad.
Nearby Kefalos is peaceful has no big overdeveloped hotels being mainly small family run, and is mostly self catering apartment blocks.
Probably the cheapest resort you will find in Greece in fact, and very very friendly locals.

But then apart from Kos Town and Kardamena all resorts have a very traditional laid back relaxed feel about them.

There are several other beaches of clothing optional on Kos, but this one's ours.
Always happy to give locations of others.

To find Polemi also known has Exotic Beach head towards Kefalos from the Airport, look for a sign which says Magic Beach Fish Taverna and turn there. At the bottom of the Hill the road forks.
Take the left hand turn and drive 300 yards.
You have arrived.

Why Kos?
When Summer elsewhere is a long past memory, Kos is far enough south to continue long after more notherly Islands have turned cooler.
September-October the sun continues to blaze down.
Late in the year bookings means cheaper deals.
The Island is just a short hop to Turkey also, only 20 minutes by Ferry.

What are you waiting for?