Holkham, Norfolk UK
by Steve
(Ely, UK)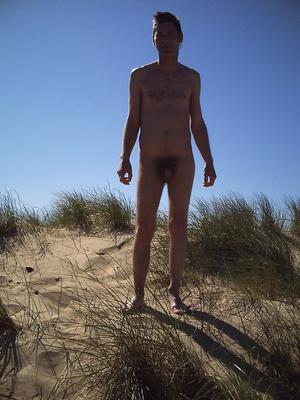 me in the dunes May 2012
Somewhere that shouldn't need any introduction to any British naturists is Holkham in north Norfolk, or to be more precise, the dunes between Burnham Overy Staithe creek and Wells.

A vast empty wilderness of sand with a large section officially recognised for nude bathing, the dunes run for three miles from the rustic fishing village of Burnham toward the small coastal resort of Wells-next-the-Sea.

Small rivulets run along and across the beach, at low tide creating small pools of warm water full of shellfish. The sands undulate under foot as you head towards the shoreline, the tides ebbing and flowing over a distance of several hundred metres.

Cool, refreshing winds blow with the sea, the only sounds that of the birds and the waves. So vast, it's never crowded, with space for all, families, couples, singles alike, the die-hards on the beach, the newcomers sheltering in sand bowls amongst the dunes.

Clothed and naked bathers seem to mix happily without fear or resentment for the others encroaching on 'their' space. No noise, no music, no fairground, no arcades, no litter, just peace and tranquility. And if you really want it, you'll get complete solitude. Not the easiest place to get to though, and certainly not for anyone with mobility difficulties.