Itanos beach, North of Vai, Crete
by R Ramon
(Banffshire, Scotland)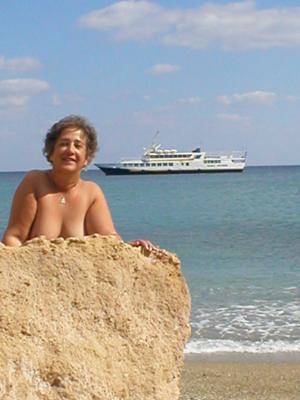 My wife and I visited Crete a couple years ago during one of our winter breaks. We heard about Via on the East Coast of Crete as a good place to swim and tan in the nude. We found Itano beach instead, just some miles north of Vai, less crowded so we decided to give it a try. This was our first nude venture and ever since then we never looked back.

We were all alone on this beach with just a few textile couples some hundred yards away. I took the initiative with my wife soon after taking the "plunge". The sea and the sand was warm and we had a great day sunbathing and the picnic even tasted better!

That was 3 years ago and where ever we go on holiday we look out for naturist beaches. After Itanos we went the following days to Agio Pavlos, Kommos and Lentas beaches, on the south coast of Crete. They too have long beaches, again with very few people about that time of the year which made it very enjoyable for us.

Join in and write your own page! It's easy to do. How? Simply click here to return to Favourite Naturist Beaches.
Please subscribe to our newsletter Naturist Times. It tells you regularly about updates to our website plus other interesting naturist bits and pieces.