Magical Creuse Nature, The Ultimate in Rural Camping!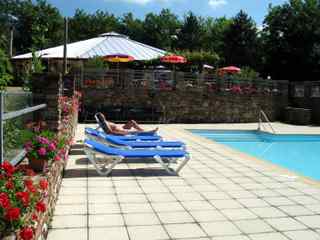 Creuse Nature, a member of Natustar, is a gem of a naturist campsite in a lovely woodland setting.
Hidden in the heart of Limousin, a unique region in central France, it is wonderfully situated halfway between the ferry ports and the south coast. This is a lovely area for walking and cycling, and there is much sightseeing to be done too!
It is known for its sunny and warm summers as well as its beautifully restored castles and famous tapestry at Aubusson. The area is full of picturesque villages just waiting to be visited!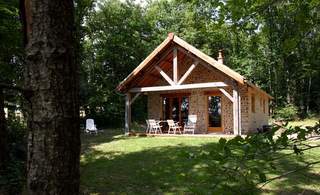 Creuse Nature is set over 19 hectares of woodland with 100 spacious pitches. You can decide on the type of pitch you would like: in the sun or the shade, in the peaceful woods or by the lake, by the pool or the children's playground.
It is also possible to hire a tent, mobile home, chalet or even a luxury ecologically built cottage! The choice is yours! The one thing that you can be sure of is the very warm welcome that you will receive!

The facilities are excellent and include a large outdoor pool, with a safe shallow area for children, a heated indoor pool with a sauna, a bar and restaurant and a small library with internet access. These are all situated in the round building at the heart of the centre. There are also immaculate toilets and showers which cater for disabled people.
There is a real family atmosphere here and this is especially seen in some of the activities that take place. There is a campfire once a week creating spontaneous musical gatherings.
There are communal meals every evening in the lovely restaurant, which has a great terrace overlooking the pool. You can take part in circus lessons, yoga, sporting activities, art lessons - you name it!


You can immerse yourself in the magic of the campsite by simply relaxing in the woods and basking under the sun or by being as active as
you
want to be and joining in some fun!
If you do decide to stay here, please could you mention that you first read about Creuse Nature on the Naturist Holiday Guide. Many thanks!
Visit Creuse Nature website

Return from here to Natustar page

Return from here to home page