L' Ancien Tabac
Seclusion and Relaxation
The Ideal Naturist B & B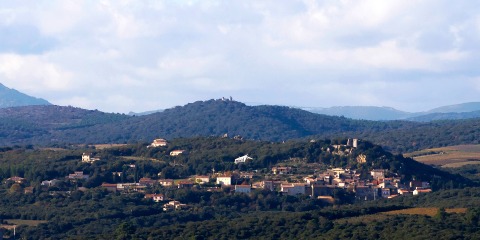 L' Ancien Tabac is a naturist bed-and-breakfast located in an old
winemaker's house in Gabian, a picturesque village in the heart of the
Languedoc, about 15 minutes drive north-west of Pézenas.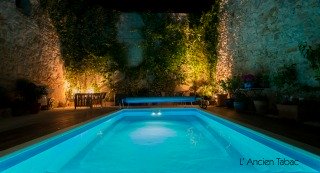 There are two charming guest rooms, each with ensuite and a very comfortable double bed.
Behind the house there is a wonderful terrace and a very peaceful, secluded garden with a heated 3×6 metres swimming pool.
This laid-back, clothing optional environment is ideal for those in search of relaxation with a genuine Mediterranean ambiance.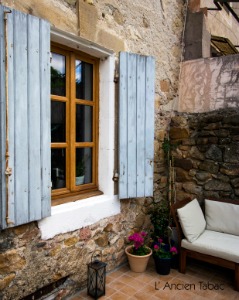 Rooms cost 60 euros per night in high
season and the price includes continental buffet breakfast.

The beaches of the Mediterranean are about 45 minutes drive away.
The closest, and possibly the best, of the naturist beaches is Sérignan Plage but Cap d'Agde, Leucate, Maguelone and Espiguette are also within reach.
If you have had enough of beach life the countryside surrounding the
village is a wonderful place to explore on foot, by bike or in a car.
Gabian is located between the coastal plain and the high hills of the
Languedoc, on the southern edge of the beautiful Haut Languedoc regional national park.

Here, in the heart of the largest wine-producing area in the world,
winemakers abound and they are always eager to let you taste their
products.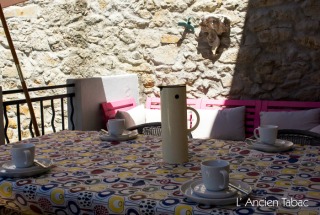 During the summer there are wine festivals and other wine related
events.
These take place in many of the towns and villages in the local area, like Faugères, St Chinian, Pézenas and Béziers.
The hosts at L' Ancien Tabac are always happy to suggest vineyards and other places of interest that you might like to visit.
Relaxation
Food, of course, is one of the great pleasures associated with being in
France.
There are a number of really good restaurants within easy reach of
L' Ancien Tabac.
If you are interested in seafood the area around the lagoon of the Étang de Thau by the Mediterranean is highly recommended.

If, on the other hand, you prefer to eat at home your hosts can serve a four course table d'hôte meal with choice local wines at a very reasonable price.

L' Ancien Tabac is owned and run by Anne, who is originally from Norway,
and Richard, who is from the UK. They have both spent most of their lives in Sweden.
They bought L' Ancien Tabac in 2011 and have been lovingly renovating the old house since then. A part of the bottom floor used to be a tobacconist's, which explains the present name of the house.

Poolside
If you should contact Anne and Richard please could you mention that you read about L' Ancien Tabac on The Naturist Holiday Guide.
Click here to visit the L' Ancien Tabac website
Click here to return to the Naturist Holiday Guide home page
---
Please subscribe to our newsletter Naturist Times. It tells you regularly about updates to our website plus other interesting naturist bits and pieces.