Plan Ahead and make Your Journey an Enjoyable Experience!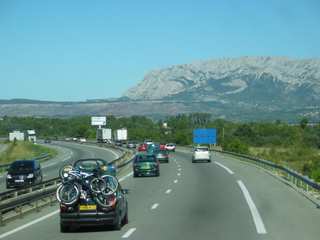 The terms 'journey' and 'enjoyable' don't always go together. However, with some forward planning and the right mindset the journey can all be part of a wonderful naturist holiday. This is not intended as the definitive guide to travelling abroad. Hopefully, though, we can pass on a few tips that will make your trip more enjoyable.
For travellers from the UK, if you are driving abroad make sure you have all the necessary documentation such as driving licence, mot certificate, vehicle registration documents and valid vehicle insurance plus passports and European health Insurance card (E111 no longer valid). Other requirements vary depending on which countries you are driving through. It is generally recommended that you have in the car a fire extinguisher, first aid kit, spare bulbs, tool kit, fluorescent vests and at least one hazard triangle. These should cover most European laws. If your number plate does not have the GB symbol on it you will need a GB sign and British cars will also need beam benders.



From the UK, the journey will inevitably start with a ferry crossing.

The moment you arrive at the French ferry port is when 'teamwork' kicks in. You will now be driving on the 'wrong side' of the road. If you have never driven abroad you may have spent some considerable time worrying about the prospect. Don't! French roads are generally extremely good. It is now possible to drive from Calais to Biarritz on either dual carriageway or Autoroute, and roads from other ports such as Caen and Roscoff are also very good.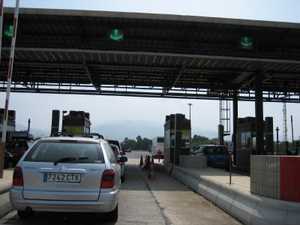 Unless you plan your journey to stay on the National Routes (NR) which are free, at some point you will come across a peage. These are a series of ticket booths across the Autoroute. The ticket is issued from a machine on the left of the car so the front seat passenger needs to be ready to take it. When you eventually leave the Autoroute you will go through another booth where someone will take your ticket and charge you for the distance you have travelled. Do not lose your ticket or you will be charged for the furthest distance you could have travelled.
On the Autoroute in France the limit is 130kph in fine weather and 110kph in the wet whilst on the NR the limit is 90kph and in towns 50kph. Speed limits vary slightly in other countries but are well marked. There are speed cameras shooting up all over the place but you are given a warning sign. We have the 2006 edition of the Michelin road map which shows many of the cameras and also accident 'black spots'. It pays to have regular stops and there are many 'Aires de Repos' or rest stops, mainly of very good quality.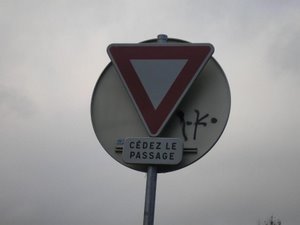 But at some point on the journey you are almost certain to be driving on ordinary roads and this is when it is useful to have a gentle reminder from your 'navigator' to 'keep to the right'. This is particularly useful at junctions or leaving service areas on the National Routes. Always remember that as you approach a 'Cedez le Passage' sign or a roundabout, traffic will be approaching from the left. It is on these roads that you may come across a typical French manouvre of tailgating (driving very close behind you). You are best to just ignore it and don't be bullied into driving faster than you want to. Generally, they are not being aggressive, it's just the way they drive and eventually they will overtake.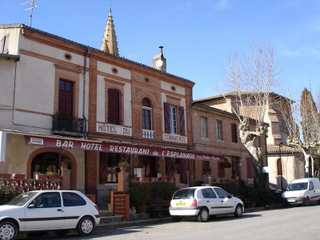 The journey will often take longer than you have estimated but if time isn't of major importance it is interesting to get off the Autoroute and travel through villages. This will obviously take longer but can be far more relaxing and interesting. If you are planning an overnight stop many of these villages have pleasant bars and hotels. They also often have municipal campsites which are very cheap and adequate.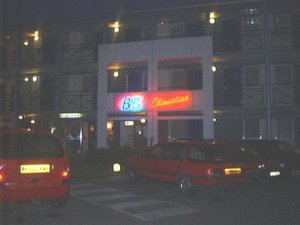 If this a bit too much like hard work and you stay on the Autoroute there are many motels such as Formule One, Etap and B&B, mainly near major towns, which are also relatively cheap and you pay for the room which can often sleep four. If you decide that this is the better option it may be as well to book in advance during the busy season. On booking you will be given a pin number which, if you are late arriving, will open the front gate, the front door and the bedroom door.
A couple of words of warning! The drink driving limit is lower than in the UK. In other words it is safer not to risk it at all. If you are going to drink, park up for the night and enjoy yourselves. Secondly, the police can appear quite menacing at times as they carry guns. Always carry documentation with you when driving and, should you commit a minor offence, there is a risk of an 'on the spot' fine. You must pay it but get a receipt. Just a couple of precautions which probably aren't necessary.
If you have any travel tips that you feel would be of use to fellow naturists please contact us via the link at the bottom of the page.
Have a great journey. Make it part of a fantastic naturist holiday!
*TRAVEL TIPS UPDATES*
---

A fellow naturist has contacted us suggesting that it is much cheaper to cross the channel to Dunkirk with Norfolk Line rather than paying inflated prices to travel to Calais. There also appears to be no time limit on your stay abroad. This certainly seems worth considering.
---

Many thanks to one of our readers who has given us the following tips regarding travelling on the continent (or UK).
By using the on-line Michelin route planner (www.viamichelin.com) you are given a very detailed route description. This will give you the exact route required including exact distance and costs including petrol and peage tolls. The peage tolls are even broken down to show how much you have to pay at each toll booth so that you can have the exact money ready. There are also pictures of the route signs at the intersections and exits which you will need to take. Another advantage is that you are told exactly where all the speed cameras are along the route.
We entered details from our house in France to where we stay in Cornwall. It even gave us directions from our front door and down our lane to the first 'D' road. The one problem that we found was that it routed us to Calais and then from Dover to Cornwall. We would, in fact, drive to Roscoff and then from Plymouth. Therefore, it would be preferable to break your journey down to travel in the UK to your prefered port of departure and then a second route when in France.
This is certainly a great website and worth a look for anyone uncertain of their route whilst on holiday.

---

Please subscribe to our newsletter Naturist Times. It tells you regularly about updates to our website plus other interesting naturist bits and pieces.
---
Return from The Journey Page to Travel Tips Page  
Return to Naturist Holiday Guide Home Page
Return from The Journey to Travel Tips Contact Page